At the BAFF mod party, we did a decent amount of modding. We finished a bunch of Nite Finders for our group stash for pistol rounds so that everyone has the same sort of blaster for that round. This is one of them, which happens to be my new personal sidearm: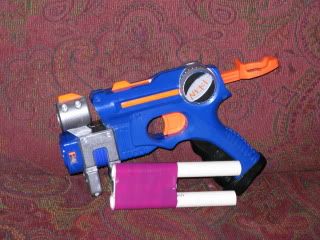 Modifications include a no dead space coupler--actually an end-cap with a hole drilled through--, [k26] spring replacement, teflon tape and an extra o-ring for a perfect seal, modification to keep it stock looking (orange sights, light, ammo holders), painting the silver with bolt-gun metal paint, and a custom speedloader
Ranges: Fairly good for a sidearm, I'd say about 65 feet flat with my slug darts and 6 in barrels.
I tried to resize the pics, but they are being retarded.
Edited by jakejagan, 14 November 2010 - 12:25 AM.