Phew. This has a hell of a learning curve. I'm still having some issues producing the orange parts at the right shade, and I may just have to give up on trying to cast them as opaque. That pigment only seems to produce clear parts with this urethane, so that may have to be how they end up since adding opaque white just weakens the orange too much.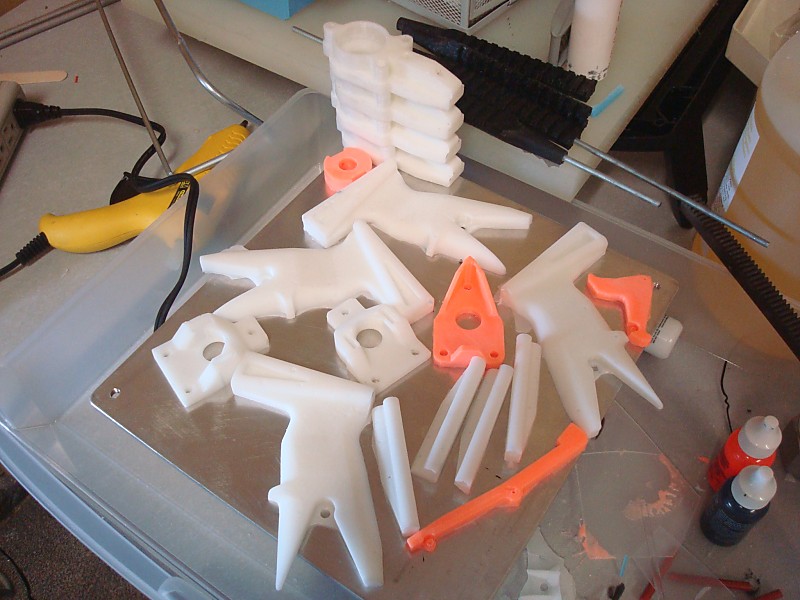 The "demold time" listed for this material is completely wrong for the kinds of parts I am making. If I want a 30 to 60 minute demold time I will have to pour into the mold, then stick the mold into a proofing oven at 150F. This urethane requires heat to cure, so if you just leave the mold to sit at ambient temperature you won't be able to demold for at least 6 hours. Doing it any earlier than that without heating and you will risk distorting your parts as you pull them out of the mold.
One-sided molds are also trickier than I anticipated. Half of the above parts have a bubble or two in their flat side. If I want to cast parts without bubbles they have to be poured, placed in the pressure pot for 30 minutes, then placed in the proofing oven for 30 minutes. But for the majority of these parts, some surface bubbles don't impact part performance, and are only cosmetic defects. And with the number of parts I need to produce per blaster, having to load all of them into a pressure pot would require having multiple pressure pots.
This product also has far too little pot life for vacuum to be used to de-air the poured mix. Supposedly you can de-air or just dry Part A in vacuum prior to mixing and that supposedly reduces the quantity of bubbles. I might consider just storing it in a vacuum chamber in the future, but that would require pouring it into a much larger container.
Edit: I'm going to do one further attempt at spincasting. Some of the spincasting molds may not be worth doing that way and as a result might get cut up into individual molds. This would make a set of molds much easier to fit inside of a pressure pot for curing.