Looks pretty fun. I might consider heading out to one of these get-togethers eventually.

Flaming hilt, are you the one with the yellow-green 2k? I don't know why you'd have trouble competiting with the homemades with a single-barreled (& what looks like) brassed 2k. Sure the ranges it gets don't quite match a homemade, but the ROF it's got has to do some damage. And comsindering it's your primary (or appears to be) you really wouldn't need to holster it anyway, would you?

Whatever works for you. I'm just thinking that you don't necessarily need a homemade to be able to compete with homemades.

I mean, I live in So-Cal, and we don't really allow homemades, but if I went up and played with you guys sometime in the future, I wouldn't bring a homemade just so I could "compete". Heck, if Veggie can do well with a barely touched Dart Tagger, you can do just fine with that 2k. Just don't worry about putting it in a holster, because the holster won't help you any more than it will hinder you.

We actually don't use homemades, but we modify our stock blasters a lot. 3M really emphasizes ROF in modifications and his single barreled 2K, while superior in range, was a bit slower to reload than what we were working with.
EDIT: Come to think of it, our modifications are so heavy on some stuff it would be hard to classify them as stock blasters anymore. Me and veggie are pretty close to stock whereas lefty was going with an extended 2k in an interely pvc shell. He switched weapons a lot, but did use that beast a bit. Picture below: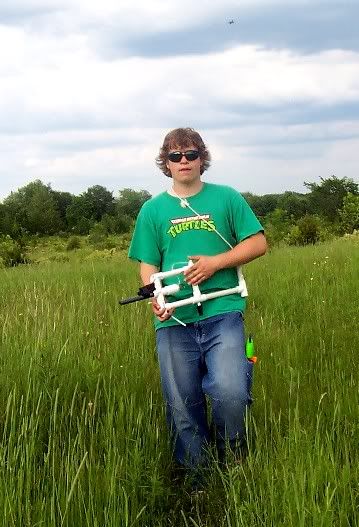 Edited by LOMHawkeye, 11 July 2006 - 06:06 PM.