For everyone asking about the 3D files, yes I will post them RIGHT HERE
https://drive.google...WG8tOGxPNHJ4WnM
Preface
The ESLT is one of those blasters that is ubiquitous throughout the community. You see at least one at every war, and the [EDIT: stock] performance just does not live up to the hype, at least not without significant upgrades to the design. The seal leaks in both the front and at the plunger head itself, the "plunger rod" is a specialty component that can only be made if you have a lathe available;  any seal that might have been made at the front redirect piece is broken the second that rod starts moving. Overall, you're left with a blaster that approaches double rainbow weight with modified rapidstrike performance. While ideal for indoor skirnmishes, to say this competes with rainbows and SNAPs is, (as far as I'm concerned) an outright lie. This prototype, soon to be production, blaster is meant to be the next evolution of the ESLT and combines my experience with rainbows, solid modelling, and actual nerfing to create a blaster that fills all the roles previously described.
Objective
Create a blaster that is shorter than a traditional rainbowpump, with a muzzle velocity comparable to that of a low end rainbow (>220 FPS).
Create a blaster that weighs less than the ESLT (<3 pounds, 4 ounces)
Allow for quick change of barrel, (<30 seconds)
Allow for quick user servicability (Replace spring and back up in <2 minutes.)
Allow for easy lubrication (No special tools to lubricate)
Solve the leaking issues of redirect blasters
Use 3D printing where applicable to provide an ergonomic blaster experience.
In short, Create what the ESLT SHOULD have been.
PCSR: Pumpaction Compression Spring Redirect Blaster
(or Politically Correct Soviet Russia, depending on who you ask)
The prototype looks a little different than the initial model, so bear with me here. Operation, however, is identical.

This was the original design from back in August. School brought blaster production to a hault until now, but I am very pleased with the results. Let's take a look inside, shall we?

This is the beauty of the PCSR. There is no forward barrel rest like on the ESLT, so that barrel up there can be any type and any length of barrel you want. So whatever's already on your Rainbow/SNAP at home? throw it right on here and it will work with YOUR DARTS and not proprietary darts that only one person makes. And that main energy spring in the back? It's a [k25], and can be subbed out for a [k26] with the removal of 2 screws. You can upgrade or swap out your spring in under two minutes with nothing more than a screwdriver. So if you're indoors and don't feel like blowing holes in people, you can put in a weaker [k25] spring and an 8 inch pistol barrel, or throw in a [k26] and a 14 inch barrel for outdoors play.
Back to operation: The trigger is connected to that black nylon rod on the bottom. That rhinocerous shaped piece in the stock is actually the catch, it is pulled forward by a rubber band wrapped around a screw just in front of it (not pictured). It catches in the little recess in the floating piston and that's what locks it in place. You'll see in the next photo.

That stock-catch moves up and catches in the recess of the piston. This is what locks it in place. When the blaster is primed, the pump is pulled back and the nylon rod in the main tube pushes back on the floating piston until the piston is locked back. See that little black piece in the redirect piece? That's a specialty McMaster component that costs a touch more that the o-ring that the ESLT uses, but ACTUALLY SEALS AGAINST THE PUSHER ROD. It's used in pistons and actually creates a decent seal. The whole seal on the prototype isn't perfect, but I have concluded that's because I messed up the normal "goop seal" and the next one should be better. Still seals better than an ESLT. moving on...
Ready to fire. The pump is pushed all the way forward. Because the rod is stationary when the blaster is fired, a better seal is created because nothing is moving through the rubber piston seal. There's no movement to break the seal. When the pump is all the way forward, it opens up the channel in the redirect piece allowing air to flow to the barrel. Much like how a throttle works, really. This piston seal has another benefit: It grips against the rod tightly enough that THE PUMP DOESN'T SLIDE AROUND when the blaster is primed. This is the only pumpaction homemade that I know of with this feature, meaning this blaster can be fired safely, without damage, with one hand, so long as the pump is already all the way forward. You can run with the thing one-handed and not have to worry about the pump sliding back.
To fire the blaster, the trigger is connected to a nylon rod which pushes down on the rhinocerous catch. When the catch drops, the piston slams forward and we all are happy that the experimental blaster actually works. Now onto the real thing...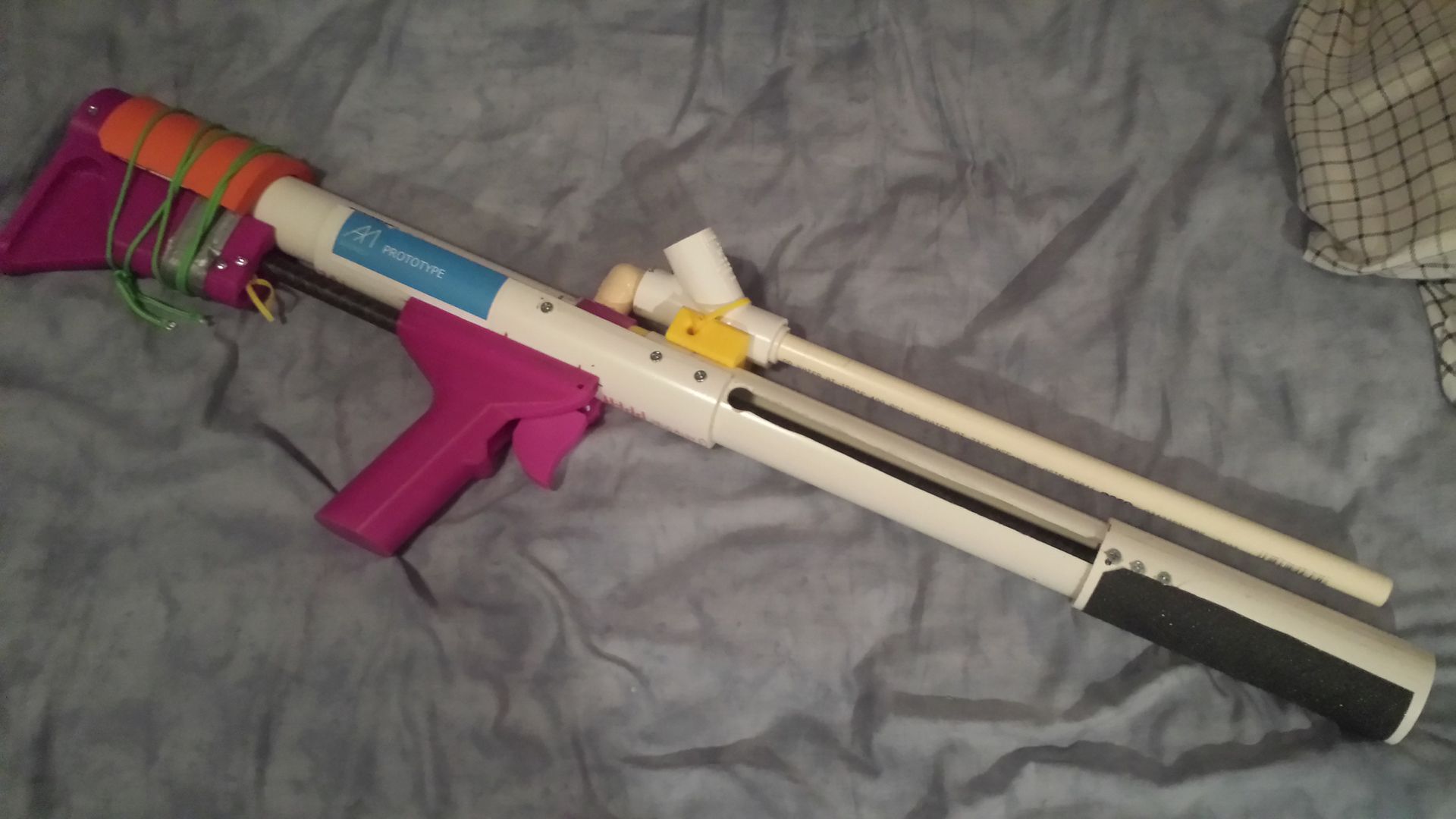 She's beautiful, ain't she?
Shitty size comparison. This was for instagram, so it's not perfectly straight, but you get the idea ; )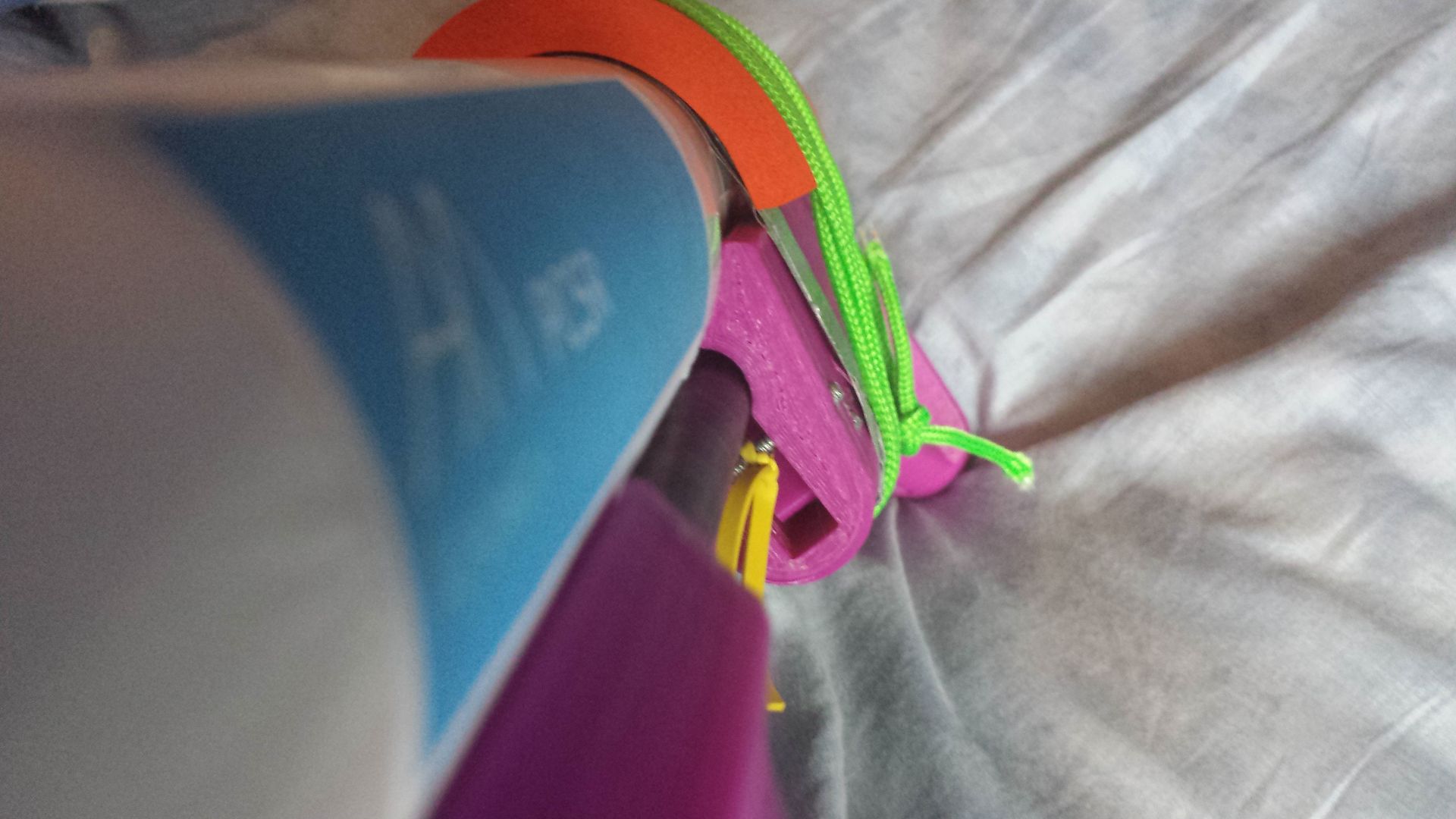 Here you can see the catch in the back of the stock.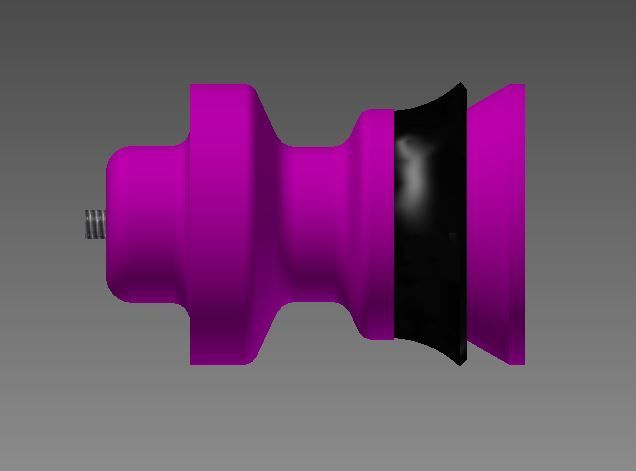 Modified the piston from an o-ring to a skirt seal piston, because initially it wasn't sealing. If this exercise has taught me anything it's that O-rings are utter shit.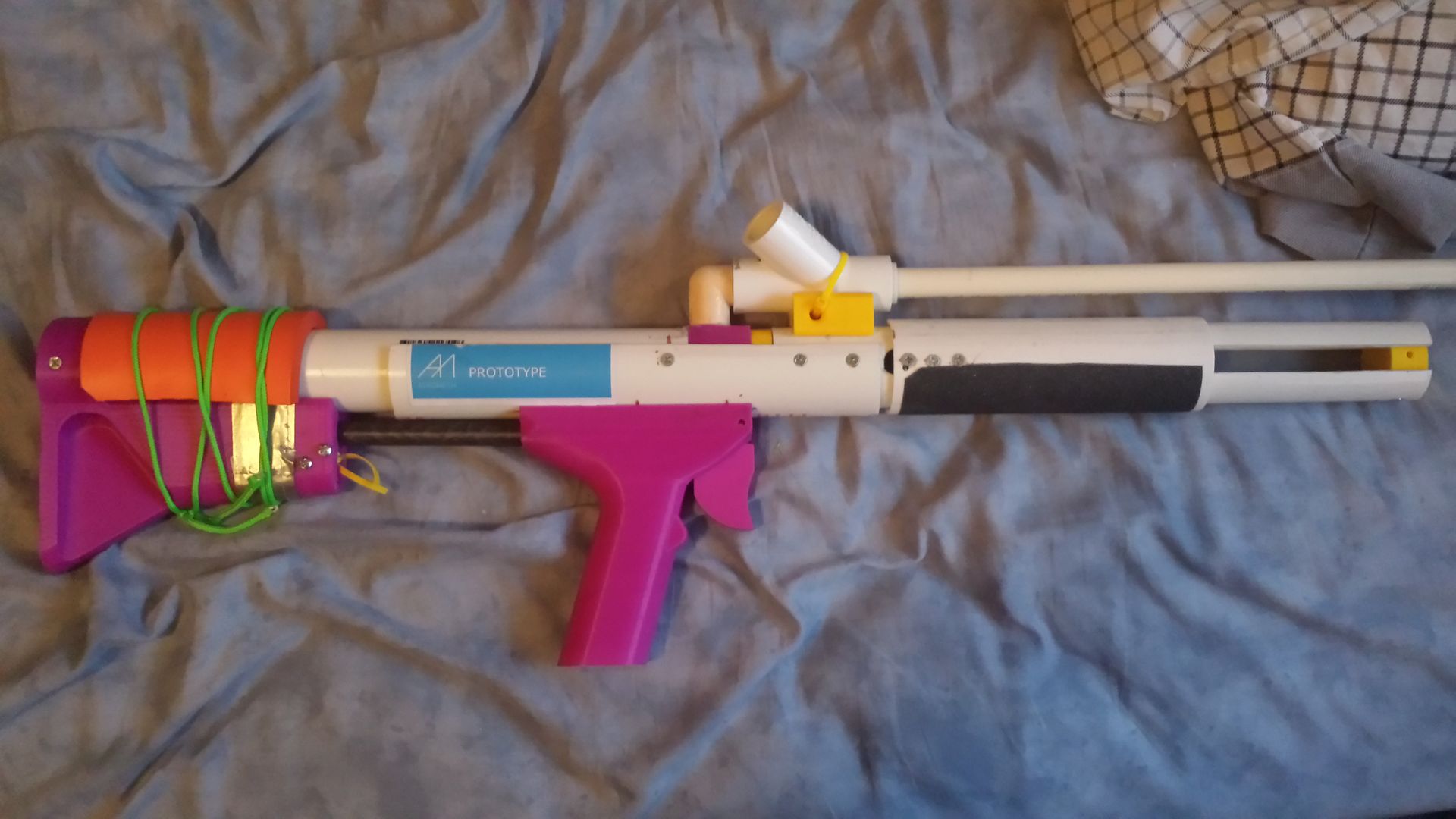 Primed back. The draw is longer than a traditional blaster because it has to overcome the extra distance from the redirect piece, but it's something you get used to. Overall length is 3 inches longer than an ESLT, but that's only because of the length of the pump. Could easily be made shorter, but I like my pumps long.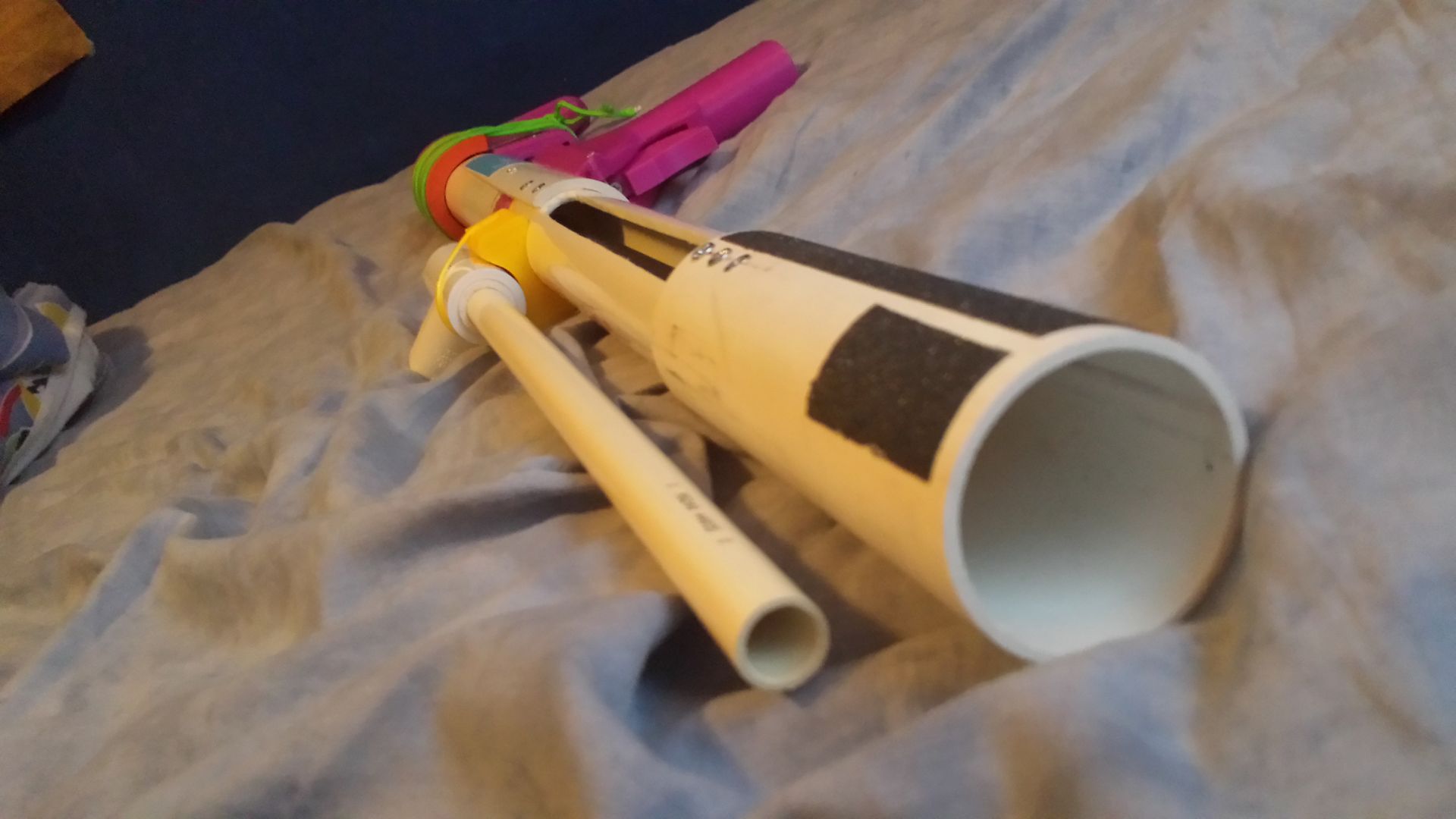 She's fucking gorgeous and this is only the prototype. I should have another (production model) ready for Frozen Foam on Saturday. In Summary:
-Half a pound lighter than an ESLT
-4 inches longer than an ESLT in current configuration. Much shorter than even a Double rainbow when barrel length is included
-Roughly 220 FPS with a [k25] (untested but sound/echoes in my hallway match roughly 220 FPS)
-8 inch pump draw
-Pump stays forward when primed due to friction from pump-rod seal, a feature unseen in any other homemade.
-Roughly 6.5 inches of spring compression with .75 inches of pre-compression.
-Uses commonly available springs for propulsion and only one "specialty" part (the rod seal, but it's $5 for 5 on McM, so it won't kill ya).
-Certainly not 100% seal, but better than an ESLT
-Can change a barrel as easily as any traditional homemade.
-Pump comes out with two screws only, allowing for fast lubrication of the pump rod.
-Spring removes with two screws only (production model won't use duct tape, and will instead use zip ties or an extra ring on the stock to hold in place.)
-Pretty comfy, yo (not quantitative, but hey it just feels good).
-Uses only 10 3D printed parts.
-Still needs slots to be made, but hey ya can't win 'em all.
This blaster has met every goal I've set for it and then some. It gets Double rainbow performance at close to the size of an ESLT, at 15% lighter weight. Adding a little bit of a pump-grip to the thinwall PVC will probably negate that weight difference, but for me, I like the AR-15 cylindrical pumps so long as they have traction, i.e. I am a filthy skater and have skateboard tape laying around. I think I found myself a new primary.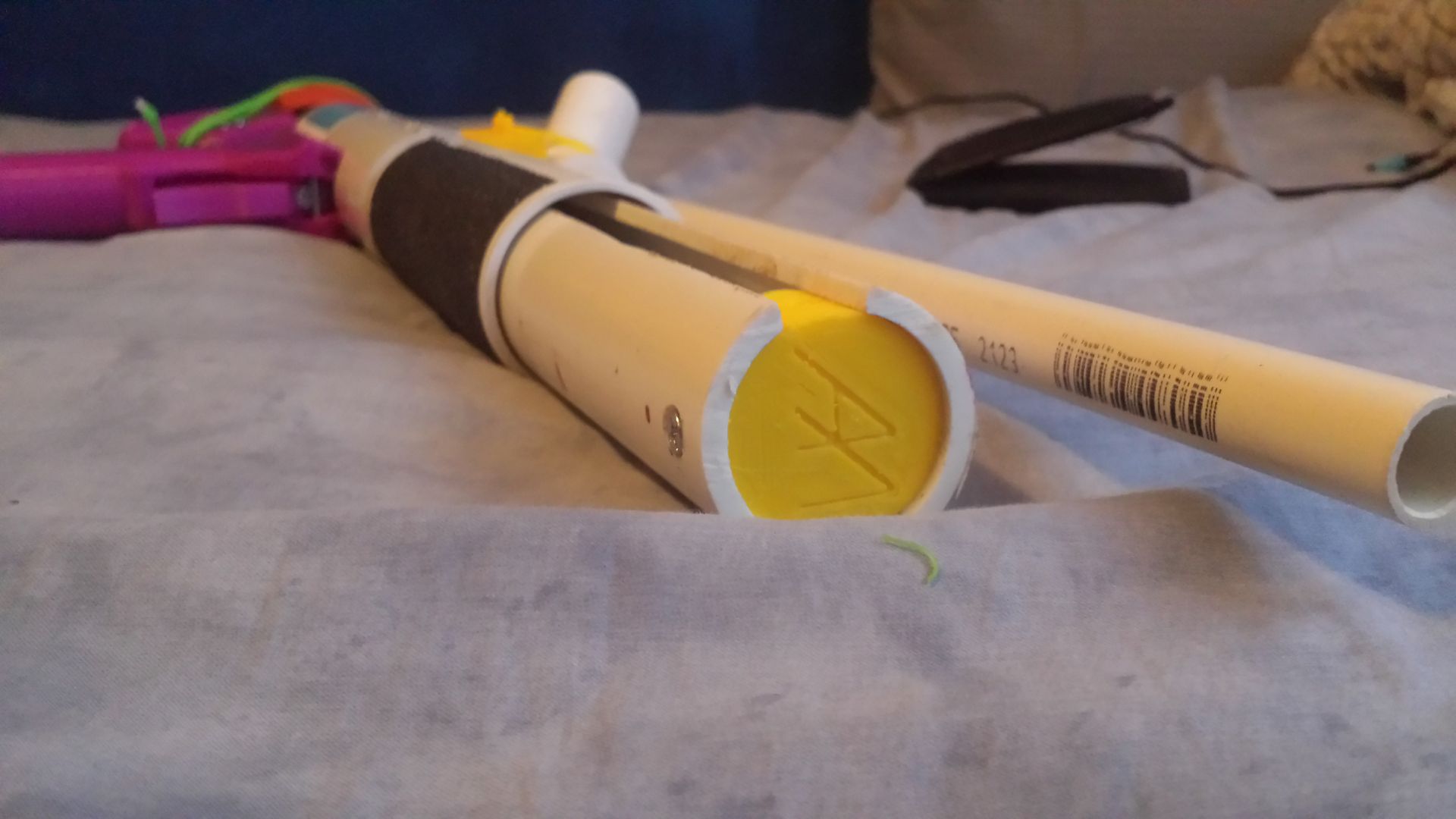 And just in case you were wondering, yes I have a HUGE ego.
-Aeromech
Edited by Aeromech, 27 April 2016 - 12:45 AM.