It's definitely about time I get this post up here... This is long, long overdue. Like, I've had it finished since the beginning of this year overdue. Because of this, I have forgotten all the precise measurements and I can't open the gun back up. However, if I can figure this stuff out, then you should be able to as well. At least it taught me to put all important information into the little captions under the pictures in my Photobucket. Anyway, on to the mod.
The Expand-a-Blast... A not-so-popular gun, and at first glance, it's not surprising why. The gun is large, way too large for a sidearm, but it seems to lack the potential to make it a primary. My goal was to change that.
So first is to, obviously, open the gun up. No real secret screws that I can remember, and it's got those nice big screws that the older guns have, I really like those. Sorry I don't have any pictures of the internals, but they're nice and simple. Remove all of that expanding garbage, it's all useless. Keep the black handle though, it's nice to have and we'll be using it later. Just keep the plunger, plunger tube, trigger and the catch.
First, I did a simple spring replacement. I used one of those handyman springs that are real popular to use for Nitefinder spring replacements. The dimensions are 7/8" x 4" x .080". The length might be slightly different, as these are the dimensions to what my Home Depot now stocks, and if I remember right, were a little bit different. The 7/8" width and .080" gauge are what's important.
Next up, the air restrictor. Get your plunger tube, and make it look like this.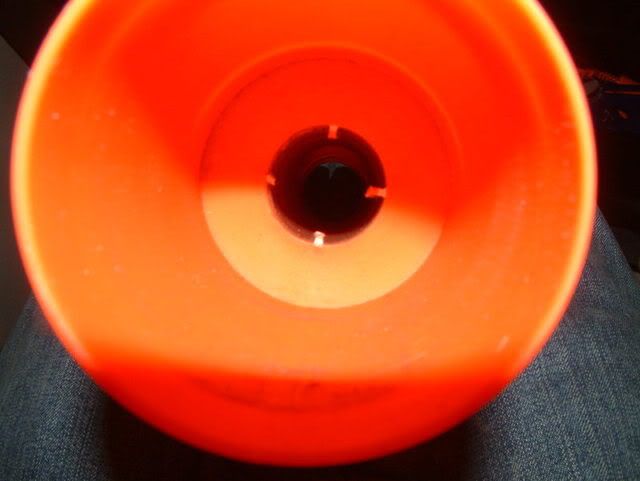 Alright, here's where things start to change. Take a look at the internals. There's a huge useless barrel in front of a very short but wide plunger tube, allowing for a shorter but faster airflow. To me, this thing just screamed "Inline Clip!". So get a 1/2" PVC coupler and chop one side off, so you have a section for 1/2" PVC to go then the little divider thing. This needs to seal in the big barrel as close to the plunger tube as possible. Wrap electrical tape around it until it fits snug back there. Don't make it too tight or you will stress the plastic. You should be able to push it down fairly easily, but it should be snug.
Now you need a section of 1/2" THINWALL PVC to be the inline clip. This will attach to your half coupler in the back of the barrel and connect to a full coupler on the front for a barrel. Cut it long enough so you can fit a coupler on top that sticks out about halfway. Glue the half coupler to one end of this.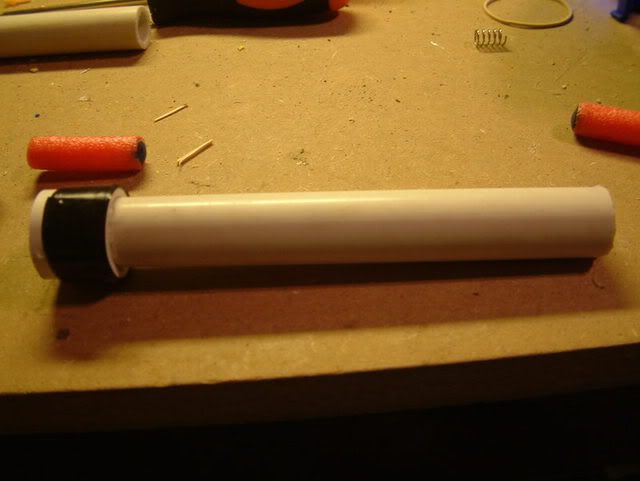 Now on the end of the half coupler you need something to keep the darts from falling into the plunger tube. I cut a toothpick to size and glued it on there. Anything will work as long as there's no chance of a dart slipping through it. Note in this picture I was using 1/2" Sch. 40 PVC, not thinwall. It didn't work. I had to switch over to thinwall.
Now slide that into the plunger tube. If your electrical tape is snug enough, it shouldn't need to be glued, the tape should seal well. Here's a picture of about how far your full coupler should stick out. Mine is almost a perfect size and sits just short of flush with the case when the gun is together. Once you have that measured out alright, glue the coupler to the thinwall PVC. Then wrap electrical tape around the coupler and glue it to the big orange barrel. When you put the case back together, you might notice that it doesn't come together in the front. You need to Dremel it out to make room for the coupler.
I think mine had trouble catching, so I reinforced it a bit.
And now it needs a barrel. Cut a length of 1/2" PVC and put a barrel of choice on there. You want it to be tight in the back. Otherwise when the gun is fired, darts will just fly through your barrel instead of stopping in the back.
In case you don't know how an inline clip works, I'll give a little description. Darts are loaded end to end in the thinwall PVC, then one is loaded in the barrel. When the gun is fired, most of the pressure from the plunger flows around your stacked up line of darts and shoots the dart out the barrel, and some of it pushes your line up, where a dart is then pushed into the back of your barrel, ready to be fired. Pretty neat. Thank Carbon for coming up with and building the first inline clip. It's a brilliant design.
Ok, so now you have your inline clip Expand-a-Blast. And you're not done yet. I don't know about you, but I wouldn't want to go into a war with just that as my primary.
So I decided to take another step and integrate a SuperMaxx 1500 into it. Yes, I'm sure an Airtech 2000 will work as a substitute. I had three or four SM1500s sitting around at the time, so I decided to use one of those.
I figured right where the black handle is would be the best, and maybe the only, spot where the tank could fit. So bust out your Dremel and prepare to sand. A lot. First, take your black handle pieces that look like this:
And do this: