I bought a Titan a while ago and did the usual mods, plugging the overpressure release valve and such, but it took way too many pumps to be effective in a war. What I came up with was this:
I removed the extra crap, basically did the micro-titan mod. Then I cut the bottom of the grip flat and added a full-size bike tire pump. The pump has enough volume that at one pump with the twelve inch barrel I can hit about 60' flat.
This made the Titan a versatile long or short range weapon with a decent rate of fire, but what's the point of having a modded Titan if you can't pick off an opposing player at 150 feet? For that I have a 24" barrel with a silencer. The inside barrel of the silencer is thin-wall 1/2" PVC, which has a slightly larger ID than normal SCH40 but the same OD. This keeps the dart from rubbing against the walls of the silencer, but is still tight enough to prevent blow-by and hissing as the dart exits the barrel. With the silencer, you can barely hear the gun at all.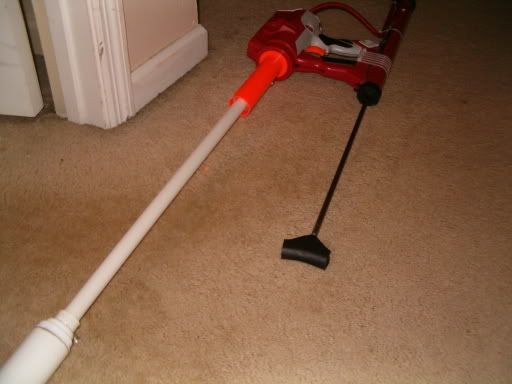 Ranges: I don't have a very large area to test flat ranges, so I could only do the single-pump range. To get a basic idea about how far the 24" barrel fires I shot some stefans down my street, which has a slight downward slope. Not a precise test by any means, but it did show something impressive: I was able to easily put darts 230 feet downrange with excellent accuracy.
Questions? Comments? Anti-Titan flames?