The OOTWW, or Out of the way Wye is a new and easy way to fix most Wye problems, like blocking view and being hard to reload on the run.
Edit: First Writeup
Materials:
*Basic Wye setup
*PVC conduit 45 degree pipe section
*Something to seal the PVC conduit (1/2 PVC end cap, 3/4 CPVC ball valve, or Etc.)
Setup: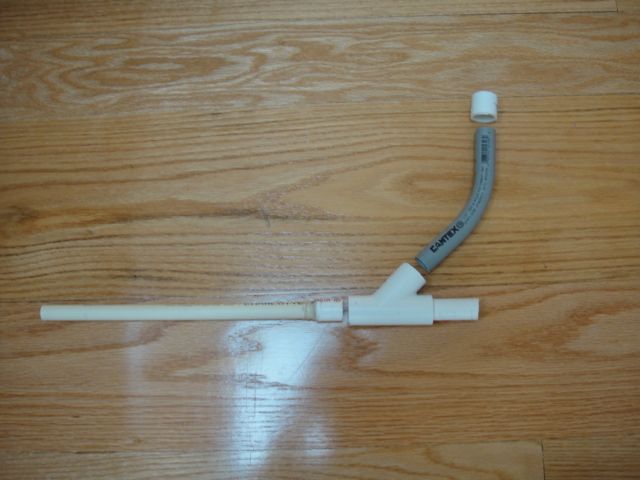 Not Final Product Just Layout Of Parts!
All parts needed in photo above!
What it should look like, the camera angle makes it hard tell how the PVC conduit it bent...
Specs:
+Works like a hopper, you don't have to tilt it down like a RSCB.
+Works with slugs and domes.
+Stealthy and sleek.
+Not hard to straighten like a RSCB.
+Rarely jams like a hopper, again only with bad darts.
+Very easy to reload, If you have two hands, I didn't in the video as I was holding the camera.
-Ranges decrease as darts leave the PVC conduit and out the barrel, like all hoppers and RSCBs, this is just an assumption due to trends.
-PVC conduit isn't clear, but most nerfers don't use clear PVC.
Overview, Firing test, and Assembly:
http://www.youtube.com/watch?v=JHHaWG4Ojwc&feature=plcp
Thanks,
JR