I've seen a lot of people adding things to blasters. Sights, handrails, shotgun foregrips, etc. The list goes on for a while.
Here are some of the things I use fairly effectively.
Umbrella stock
Basically, this is an extendable stock made from an old umbrella I had laying around. orginally used it on my AT2K, but can be adapted to any gun. Here it is on my DTG:
Materials: retractable umbrella, scissors, wire cutters, some sort of adhesive to mount it on your gun.
All you have to do is strip the umbrella down to the handle and shaft assembly. Then mount the end on your favorite gun and pull it out when you want to. This isn't really
too
useful, but can help you steady your aim if it is really bad.
Here is an FPS view of it partially extended (shown with DTG front handle mod):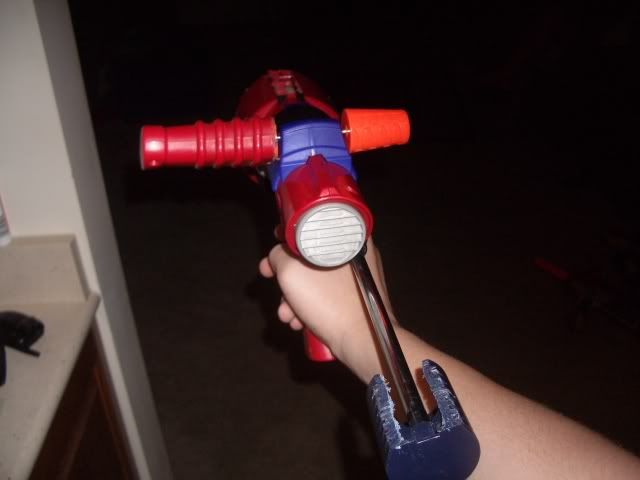 Elastic stripper clips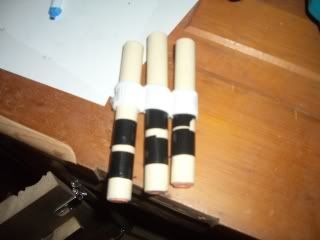 Everyone knows the advantage of a good stripper clip/belt clip. This just takes it one step further. It allows the barrels to move freely while they are mounted. This helps prevent breakage, looks a little better than duct tape (but who cares about looks?), and makes storage a tad easier.
I mainly made this, though, for guns without couplers, like the LSB and BBB, in which I use the stock barrel as abetter form of "coupler". They're also very good when you don't have a lot of space to move around, or when there is a lot of places where a large clip can be caught on things (i.e: small indoor spaces, forests, etc.)
There are only 2 problems. 1: It is hard to add more loops to it once you've made it. And 2: Longer chains' barrels clank around when you are running, but it's not too loud.
DTG front handle mod
Materials: DTG, LS bolt (both handles), copious amounts of hot glue, 3/16" drill bit and drill/drill press.
First, cut the DTG's front handle off of the gun. Then, take the handle off of the LS bolt rod. Remove the 2 screws from the handle and discard the conical , but keep the flat peice that holds the bolt in place. Hot glue this flat peice into the top of the front handle It should look like this:
And here are both sides together:
Drill a hole through both sides the DTG's cocking slider. Insert the new bolt rod (either way: this is an ambidextrous accessory) throught the holes.
Here is an FPS view of the handle:
Holster with carabiners
I know I am not the first person to come up with a holster, but here is a simple way to keep it attacked ot your pants: D-Ring carabiners. Just loop attach them to the belt loops on your pants. I also recommend a shoulder strap in addition to these rings, as it adds a lot of stability. I don't recommend the ones with a screw-type closing. Just use the regular clip-style ones.
Here is my holster with 2 d-rings (Note the shoulder strap is just not all the way in the pic):
Don't loop the d-rings to the same belt loop. Use 2 adjacent ones.
Using a stock barrel as a coupler for a CPVC barrel
Materials: CPVC, electrical tape, 11/16" spade bit, drill
This probably isn't new, but I prefer this to using a coupler. Couplers just aren't as accurate and are
too
easy to knock out of whack. I find that boring out the stock barrel with a 11/16" spade bit works quite well for CPVC. WIth some stock barrels, you will have to wrap a loop or two of e-tape around the CPVC to het them to stay in there. This works well with the LSB and BBB. I don't really think a pic is necessary.
Carrying strap
Basically, affix a length of fabric (the tougher the better) to the front and back of your gun. This isn't too practical, but helps you carry and use a primary and sidearm/2 primaries fairly well.
Ammo Holders
These definitely aren't mine, but I do use them a lot.
Materials: any scraps of a barrel material that tightly fits your darts, some form of adhesive, file/sandpaper
You will want to file/sand down the inside edges a bit so that only the middle part of the holders is actually very tight on your darts. This helps keep their size as well as makes them easier to remove when you need them. Just put them anywhere you think they are accesible. Here are a few (of many I have yet to add) on my BBB:
I have more, but I can't think of any now.
EDIt: forgot about ammo holders.
Edited by commander erik, 27 May 2007 - 05:54 PM.