I just bought the new longshot and, of course, it sucked out of the box. When dry fired, it sounds like no air is being pushed into the barrel. To fix this, I removed the rear restrictor that's blocking the air from getting through. This is the first mod that I have been nervous about. There is a lot at stake here, but it isn't hard to do. I see no need to take out the peg yet, but may need to in the future.
Ok, take the longshot apart. You'll need to get to the plunger tube, so take it out. Once you have the tube in your hand, unscrew the back of the plunger tube, and take out the plunger. When you look inside, you'll see the restrictor with three prongs jutting out of the center of it. You need to cut out only the center, like you would do with an NF restrictor. Cut out the back until the center of the restrictor is flush with the walls. The way I did it was by using a buzz saw bit on my dremel. You can probably drill it out, but I don't recommend it. Once the back is cut out out, you will see the restrictor spring. Take that out. Next comes the restrictor. It has a + on the back of it like all of the other restrictors. I was able to get ahold of that with a leatherman and pull the restrictor out. This should be very easy if you dremeled right. Here's the finished gutted plunger tube from the back:
And the restrictor:
I also added an NF spring and two o-rings to stabilize the stock spring: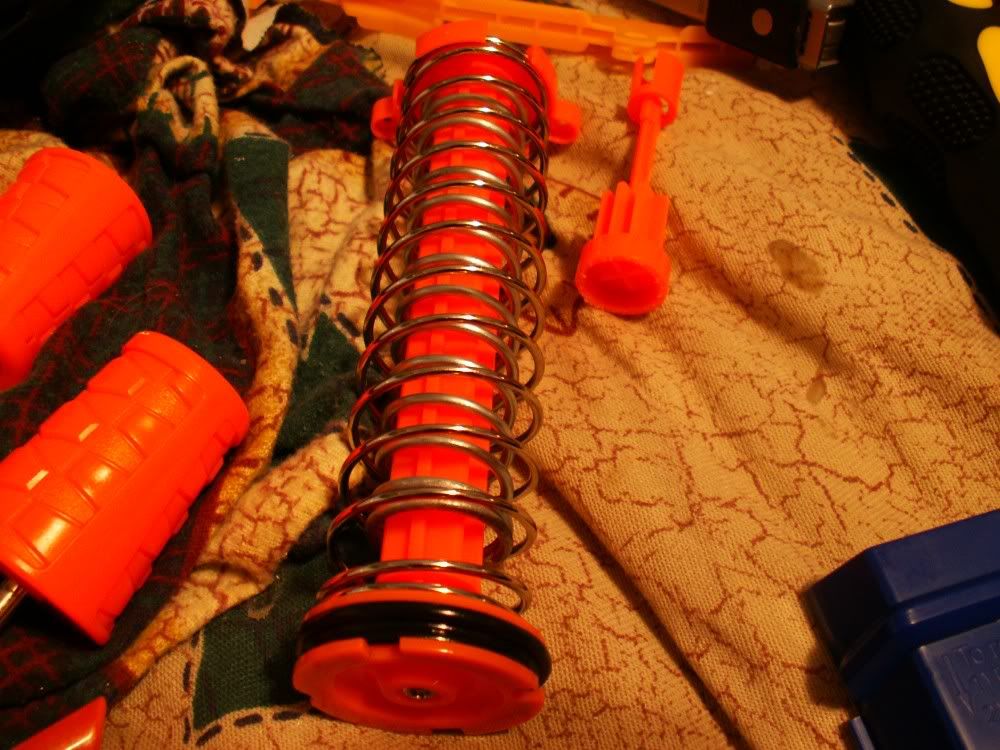 Adding the NF spring will make the gun fire louder because it isn't as long as the plunger rod. It bounces and makes noise.
This is a very simple mod to do and it will greatly increase the range of the gun. I'll have video and ranges tomorrow. I also made stefans that work quite well. All that and more tomorrow at noon!