College football! Fuck yea!
NAVY's obviously my team... We could be undefeated right now, but we dropped those games to UMD and Stanford early, both games we definitely were in the right spot to win... (UMD has 4th and 7, and somehow 3 guys miss a tackle and they get the first down... WTF?!)
But something sweet that y'all should check out is sprint football. Division 1 varsity intercollegiate football with a 172 lb. weight limit... Yeah its so average-sized guys like me who never thought they'd get a shot at college ball can play, and believe me the quality of the football played is jsut as good, and much faster than the "big boys" game because the linemen move just as fast as the backs!
Either way I play offensive and defensive line for NAVY's sprint team. and we're currently undefeated and on our way to another league championship.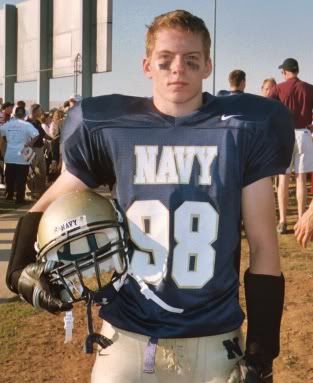 That's me after we beat Army 33-3 in the pride bowl.
Either way... Football is pretty much the greatest single thing on God's green earth, and don't any of you forget it!