My snaps: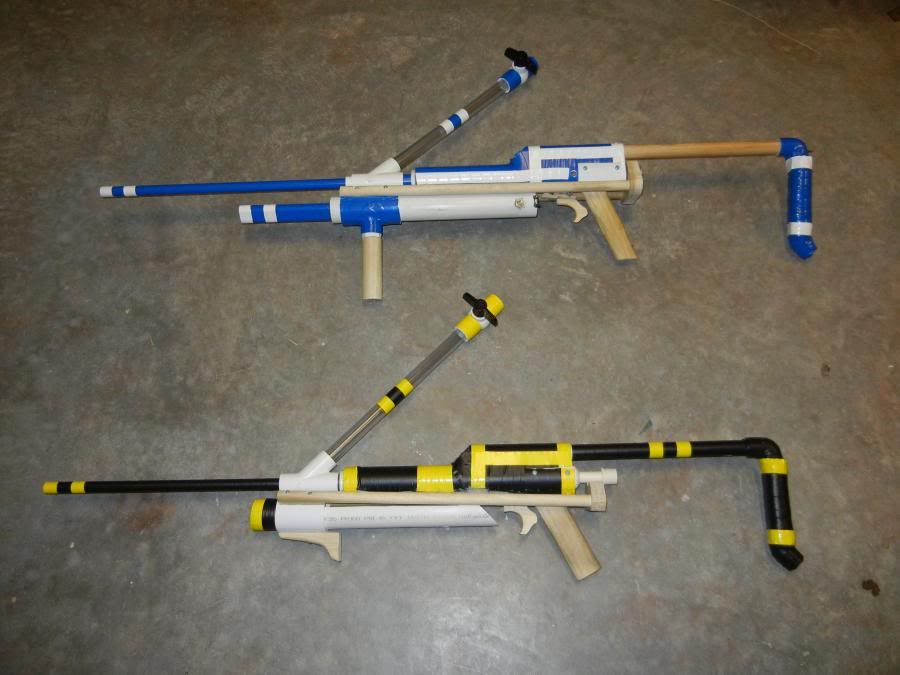 The yellow/black dates from sometime last October. It's basically a Snap Mk. 5, though I wasn't paying attention and picked up thinwall pvc for the plunger tube instead of regular, thick wall. It still has a perfect seal, which I attribute to the fact that the washer that makes the seal is slightly swollen. Hits ~100. This was my first snap, and the pump action grip obviously needed a bit of work, as it isn't the most ergonomic. Still a great blaster though, and it's super lightweight cause of the thinwall pvc.
The blue/white snap has some new stuff in addition to all the basics. Basically an updated Mk. 5, except with a modified superlative head that uses a U-cup seal -- very low friction, 100% seal. It's awesome, hits around 110 with slugs. This blaster is rock solid. The pump action follows Rork's design, using a tee as the grip, which I find significantly better.
Where I deviate from normal design, however, is the 1&1/4 piping the grip rides on. Inside is a homemade air tank filled from the brass nipple you can see there. I don't have internal pictures, but it borrows heavily from Lt. Stefan PVAT, with the crucial difference that: 1) The air flow is better, and 2) It has a constant OD and as such can be combined with pump action for a kick-ass blaster. It's permamently shotgunned to three barrels, which I usually load with a total of 9 darts -- it hits around 90ft. The best of both worlds: pump action and an under-slung shotgun.
PM me with any questions.