Date:
Saturday August 1st, 2015Time:
Arrive by 9:30. Leave yourself plenty of time to find parking and walk to the staging area.
Location:
Deal Test Site
(Joe Palaia Park) in Ocean Township, New Jersey.
Directions below.
IF THIS IS YOUR FIRST NERFHAVEN EVENT
- You will need a blaster that fires homemade darts, preferably a home made spring powered blaster or an approved pump/valve style blaster. The majority of the games we are playing are not designed to accommodate blasters that fire stock (store-bought) darts. I strongly recommend that you come to another NerfHaven war first before you attend your first Apoc.
DIY Darts:
http://nerfhaven.com...showtopic=23034
DIY Blaster:
http://nerfhaven.com...showtopic=24406
Buy Darts/Blasters:
http://nerfhaven.com...showtopic=25583
PARENTS
- This event is not a day care or a summer camp. This is an event run by irresponsible foul-mouthed college kids. The ammo most people are using contains metal. There is no adult supervision, no liability insurance, and no one who will take responsibility for your kid. People frequently get bruised, and occasionally get minor injuries consistent with other sports and outdoor activities. If none of this scares you, congrats on being an awesome parent! But if you wouldn't let your kid go off into the woods to play paintball with a bunch of teenagers unsupervised, maybe skip this one.
Facebook Event:
https://www.facebook...25767564251605/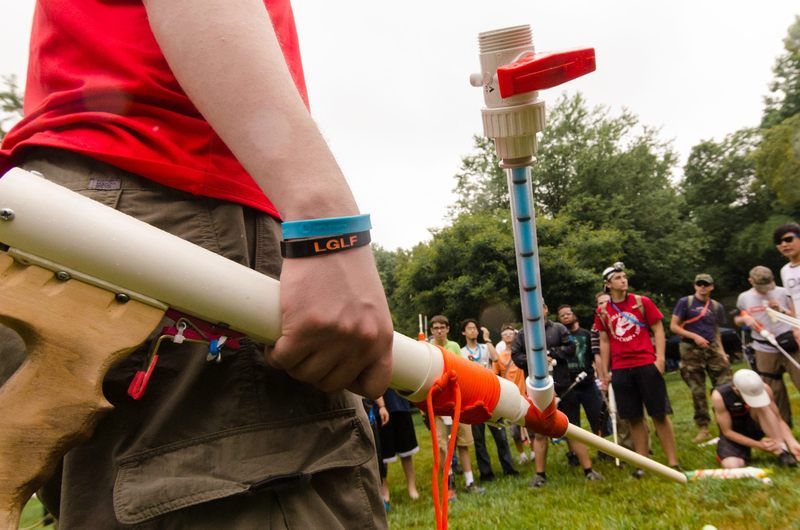 YOUR RESPONSIBILITIES
-Be 13 years of age or older. If you're not old enough for this site, you're not old enough for this war.
-Familiarize yourself with the rules and schedule
-Show up on time
-Attend the orientation if this is your first Apoc. Orientation will be held at 9:30 in the staging area. Try to arrive by 9:15
-Be familiar with dart/blaster restrictions
-Bring Protective Eyewear.
Everyone is required to wear eye protection
. Goggles or safety glasses which are rated for impact are strongly recommended. Masks of any sort are discouraged (This isn't Canada, no one is aiming for your face).
-Bring your own darts and blaster. Assume you will need around twice as many darts as usual, and/or be prepared to sit out a round just for dart sweeps. Bring a backup blaster. Don't expect anyone to wait for you to fix your gun to start the next round. Bring a springer pistol.
-Lunch is your own responsibility. There will not be enough time to leave for lunch. I suggest you bring a packed lunch and eat on the field. If you leave for lunch you *will* miss one or more rounds.
-Bring Water. It will be extremely hot and humid. A minimum of 2 liters of water/Gatorade is recommended (many people bring at least a gallon). There is nowhere to get water on the field.
-Bring Hat/Sunscreen/Sunglasses. It will be hotter than satan's taint, and there is not much shade at the park. Bring sun protection or you will burn.
-Follow the instructions of the hosts and field supervisors. Certain people will be designated as field supervisors and will be helping us run rounds. Listen to what they say. Our authority as hosts and admins extends to them for the purposes of this war.
-Clean up after yourself. Flagging tape, bottles, etc must be removed from the park.
DART RESTRICTIONS
All home made darts must be made using a 1/2" diameter 1/8" thick adhesive-backed felt bumper from McMaster-Carr, part#
8771K12
. Darts may only be weighted using a single #8 or #6 washer, which must be entirely covered by the felt bumper. Unmodified stock darts are also permitted.
See this thread for more details
Contact me via PM if you have any difficulty purchasing the McMaster materials.
Stock nerf brand ammo is permitted.
MHA pink silicone dome darts are permitted.
BLASTER RESTRICTIONS
DO NOT BRING Blasters that look like guns. If your blaster does not look like a toy, cover it in orange tape, or we will tape it on-site. Blasters in this category include: blasters painted black (especially pistols), ERTL Pump action shotguns, and blasters painted brown, olive drab, or any other 'realistic' colors.
TITANS and anything with a titan tank in it must fire stock titan rockets or Draconis rockets. You may not fire any size dart out of a Titan.
SCEPTORS must be colorful. Make it look as little like a paintball gun as possible. Wrap the tank in fabric or stripey tape or something. If you replace the tank or pump, the OPRV must be kept at the same pressure and the tank volume may not be made any larger (stock is about 800cc). If you bring a Sceptor, BRING ANOTHER PRIMARY, as sceptors may not be allowed in certain rounds.
UMBs, BIG BLASTS, ANYTHING DESIGNED TO SHOOT AMMO LARGER THAN A MEGA DART must include the
stock
OPRV. No McMaster OPRVs, and no 'tweaked' OPRVs. If we suspect your blaster does not have the stock OPRV, Muttonchops will be allowed to pump it until he hears an OPRV kick in, or the tank ruptures.
DO NOT BRING Homemade Airguns (includes anything with a pump/valve that isn't made by hasbro/lanard/buzzbee such as those drain cleaners)
DO NOT BRING Super Soakers
DO NOT BRING Melee weapons/swords
DO NOT BRING Shields (hits to any shield-like items you may be carrying will still count as a hit)
If you are not sure about a blaster, leave it at home. If you want to be the guy at apoc who's gun shoots farther than everyone else's, *you* should stay home.
ROUND SCHEDULE
The round schedule is tentative and subject to change. Each line below is a block of time which may consist of multiple rounds. The blocks where you have a choice between two gametypes are bolded.
Orientation at 9:40
Full Roster 3-15 Deathmatch
Freeze-Tag
More Freeze-Tag OR Superstock
Lunch
Speed Rounds
Carpe OR Gunslinger Heaven
Wildcard Deathmatch
Asymmetrical Clusterfuck (not slaughter)
More 3-15 or more Freeze-Tag (time permitting)
Core Penetration (bring your Draconis rockets and other rocket firing blasters)
Dart sweeps, cleanup, closing ceremonies.
MAP
Note the alternate parking areas, marked with blue 'P's, and the NEW Staging area, marked in Green. Fields are marked in Yellow.
View this map with a detailed legend in a larger window.
DIRECTIONS/GOOGLE MAPS/GPS INFO:
40°15'21.85"N 74° 1'25.08"W
40.256069, -74.023633
271 Whalepond Rd.
Oakhurst, NJ 07755
(if you don't specify the town it will take you to the wrong 271 Whalepond)
Deal Rd & Whalepond Rd
Oakhurst, NJ 07755
My best advice is to use a GPS or Google Maps to navigate to one of the coordinates, address, or intersection above. Depending on what direction you're coming from, you'll either end up on W Park Ave, or Deal Rd.
If you are driving on W Park Ave, you turn
right
at the light on to Whalepond Rd and make a right into the
third
park entrance. Parking on right. If you end up at another traffic light, you missed it. Turn around and follow the directions below.
If you are driving on Deal Rd, you turn
left
on to Whalepond Rd at the light and make a left into the first park entrance. Parking on right. If you end up at another traffic light, you missed it. Turn around and follow the directions above.
CANCELLATION POLICY/RAIN DATE
Short answer - there isn't one.
Subscribe to the
NerfHaven.com twitter account
and have notifications send to your phone via text if you don't have a smart phone. Any emergency notifications that go out on the day of the war will be posted to the twitter account as well as this thread. I will also be available via the LGLF hotline at (732) 903-5453 (732-903-LGLF) on the day of the war. I doubt any of this will be necessary and you should assume that Apoc will proceed as planned.
TIPS FOR THE WAR
Dealing with the heat
What to bring, and what not to bring
Rules and conduct