I am Ranger Dave, I'm a Mechanical Engineer at The Ohio State University, and i build unconventional nerf weapons. Recently I came across a pair of broken Tommy-20 flywheels in my friend Xellah's parts bin, I decided that there was just too much potential to leave them just sitting there and set to work. After one trip to radio shack and 7 hours of tinkering around i was left with a beautiful launcher that could sail darts farther than 50 feet. For anyone with a pair of flywheels just lying around gathering dust I highly recommend tinkering with them,they are the perfect size for integration because they can fit just about anywhere, plus they're just so fun.
This is my weapon so far, i plan to build and integrate a clip as soon as possible.
Materials Needed
1X Pair of flywheels
2X Radioshack Metal Gear 1.5-3 VDC Motor
1X Push-button or flip switch (don't use a momentary switch unless you plan on holding it down for as long as you use it, its a pain in the ass)
1X Three AAA Battery holder
Whatever you plan on mounting it to or integrating it into
Wires
Soldering Iron
Drill
Knife
Hot Glue
Step 1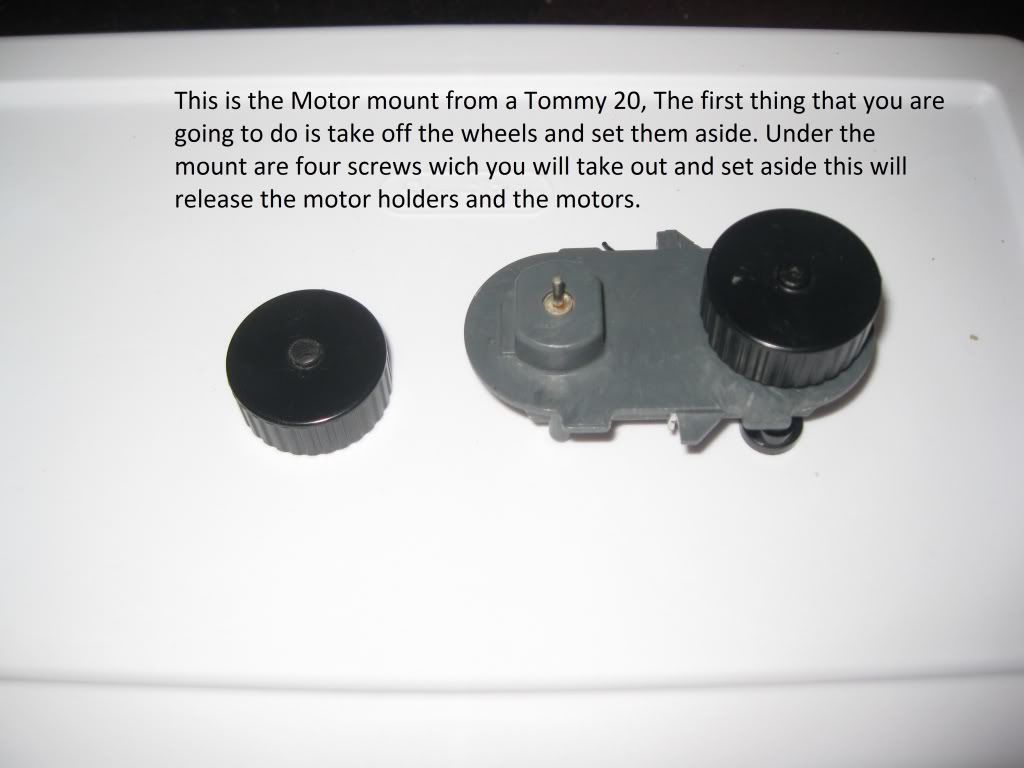 The first thing your going to want to do is replace the motors in the flywheel sub-assembly, in short they suck and they are one of the main reasons the tommy twenty isn't taken seriously. You can replace the motors with any motors you like as long as you can get them centered properly. I choose two 3 volt motors with 8700 RPM (no load) because they were the exact same size and shape of the motors i was replacing, i went with these because it was easier, but if you get motors with higher RPM you could probably get even better distance than me.
Step 2
Now that its all apart, get rid of the shitty old motors, make them into a desk fan turn them into a RC car i don't care just keep them out of the gun. Next measure the gear on the top of your motor and find a drill bit about the same size or a little smaller.
Step 3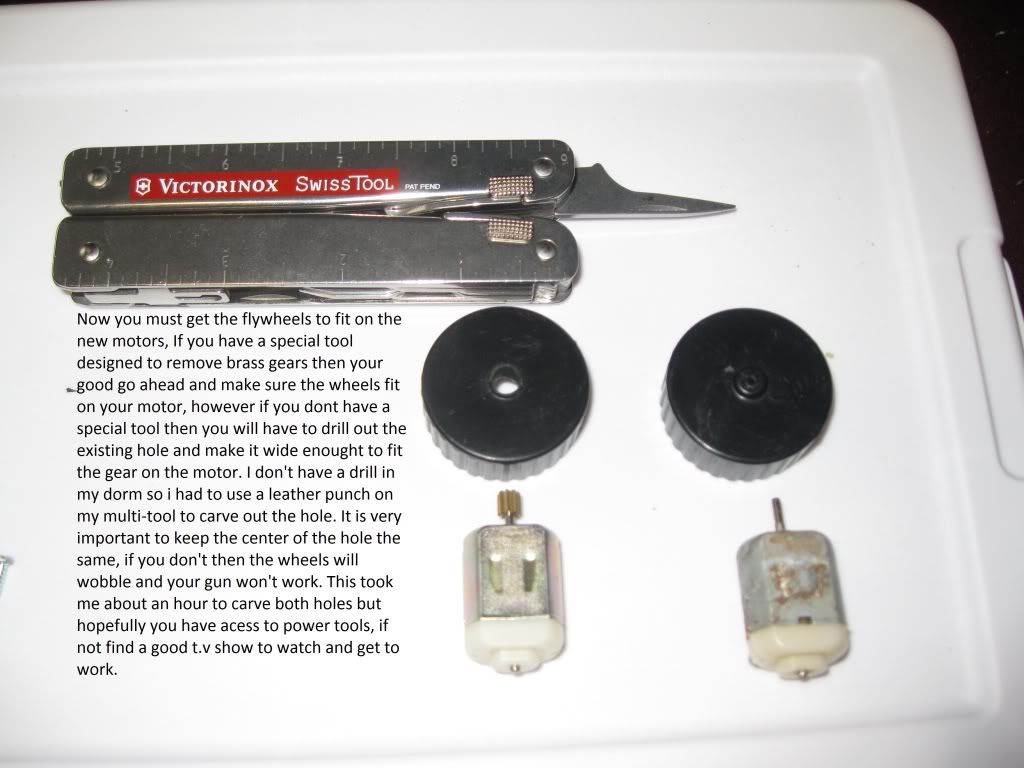 Once the wheels fit re-assemble the holder and
make sure the motor leads are pointing at eachother.
Then use hot glue to attach the wheels to the gears take care to get them as even as possible, too much wobble on the axle and your gun will be worthless.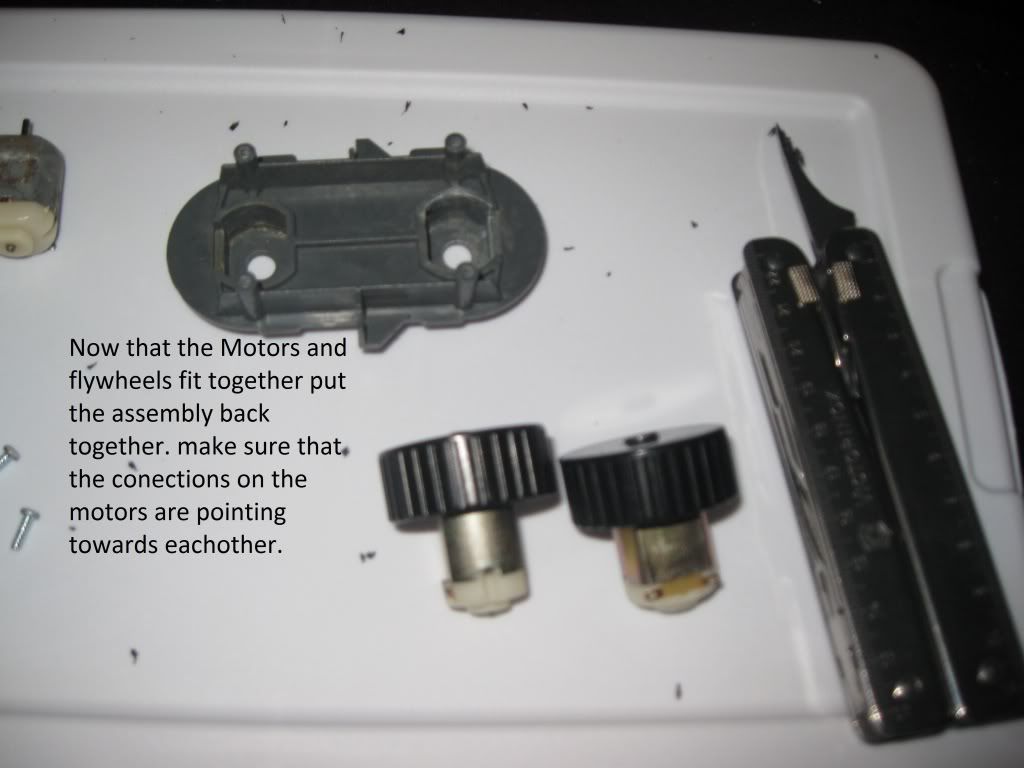 Step 4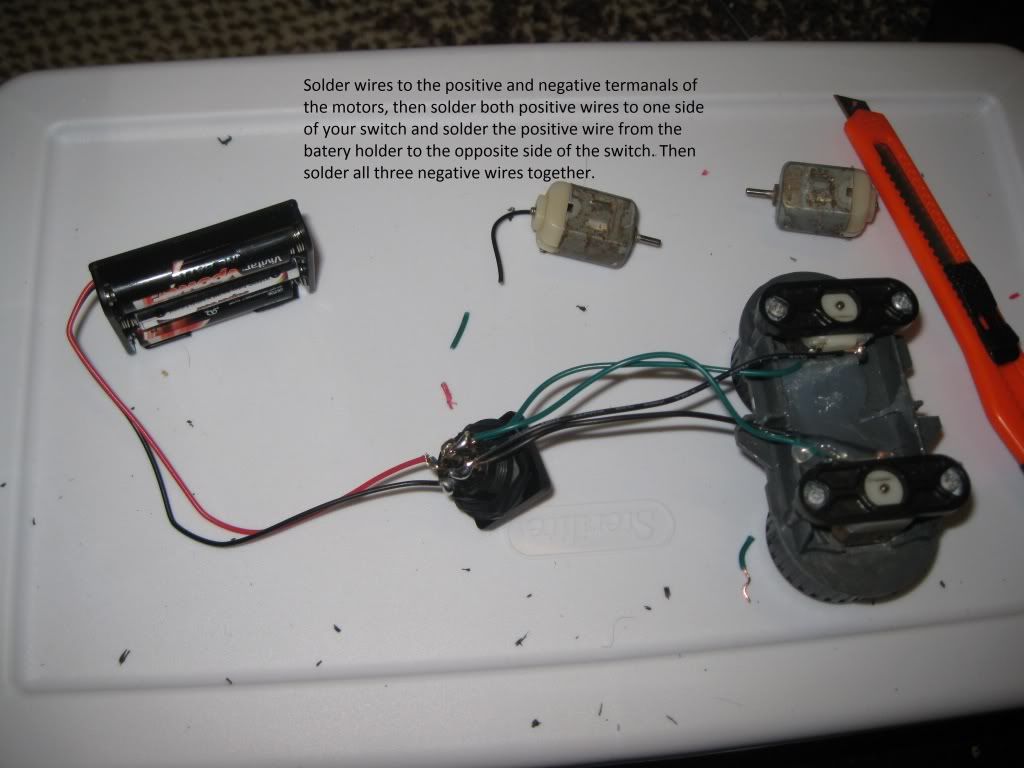 This is very simple the motors say which lead is positive so use one color of wire, i used green, to solder all of the positive motor leads to one side of the switch. Then solder the positive wire from your battery holder, this is the red wire, to the opposite side of the switch. Next solder the negative leads from the motors and the battery holder together, it couldn't be simpler. Now i used a 3 AAA battery holder which puts 4.5 volts through the two three volt motors, which makes them run a little faster than with just 3 volts but feel free to do whatever you want power wise, just don't do something stupid like pour 18 volts through these poor things you'll just end up frying them.
Step 5
Now just for proof of concept i used some rubber bracelets i had lying around to secure the contraption to my arm and confirm that it works, since it did i decided to put it into something a little more stable. This is where my instructions end because i'm pretty sure you can figure out how to attach your flywheels to whatever it is that you want to attach them to, i recommend mounting them on your arm just for the coolness factor and because if you do Humans vs. Zombies like me it could end up saving your life when your primary runs out of ammo, or you need something light and easy to run with but still has a lot of fire power. its like having a something better than a barricade strapped to your arm.
Step 6 (if your still reading)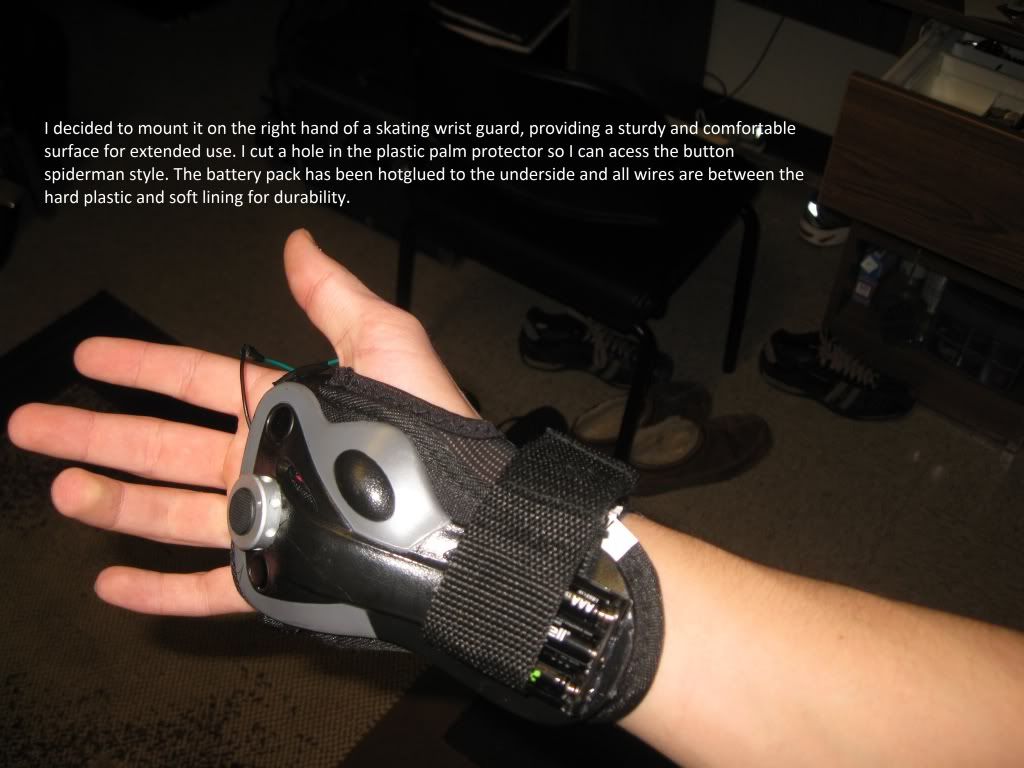 It is a thing of beauty, the contours of the wrist guard that i used perfectly fit the shapes of the flywheels and battery pack, plus the palm is big and sturdy enough for me to cut a hole in and add a button. Just make sure that everything works before you glue it into place, it is no fun to have to take it all apart and figure out which wire snapped.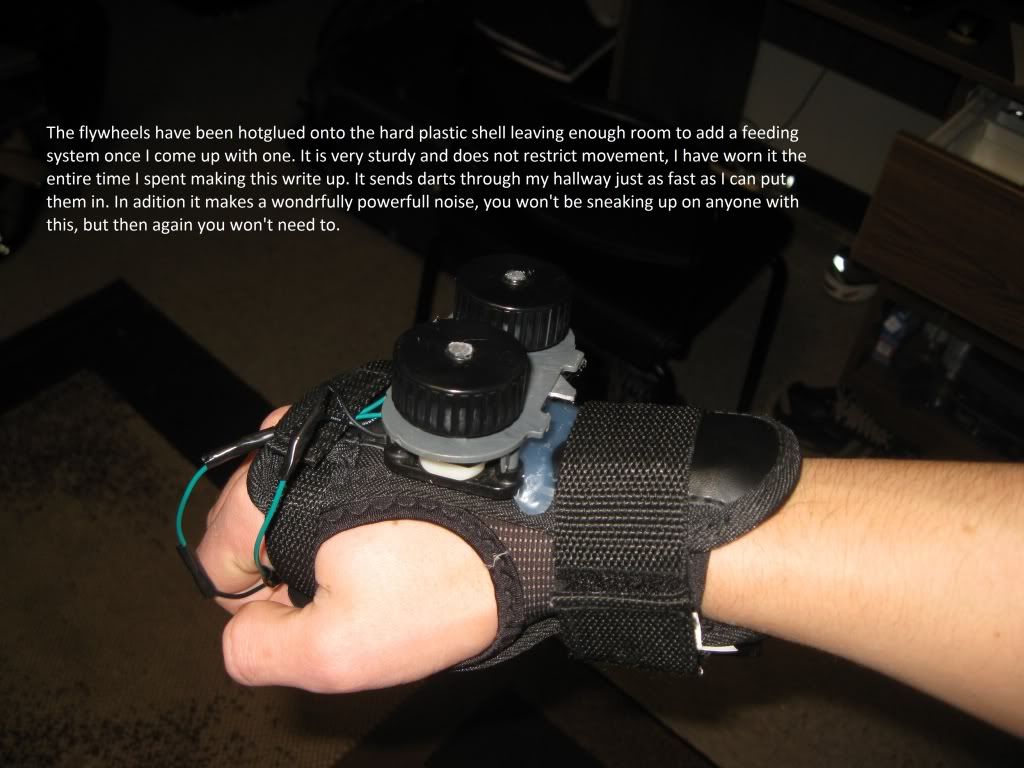 This is my setup so far, it is far from complete but it is still very effective. My next project is to create an automatic feeding system with an integrated easily re-loadable clip.
Range Test
I use whistler and tagger darts because they fly the best because of their big heads for the wheels to grab.
I shot them down my hall way which is covered in 1sf tiles.
A ten shot range test resulted in an average range of 54 feet with a standard deviation of 1.2 feet.
For a flywheel gun this is very good.
If anyone has any suggestions or questions feel free to let me know. I hope this has been informative and possibly changed some peoples opinions of flywheels. I can post a video of it working if you guys want. Also i can't come up with a good name for it.
Also my next write up will be how to turn the vulcan into a legitimate weapon not some piece of crap that is more effective to just throw at someone.