Yesterday I got home from school and decided that I wanted to make a pistol for integration on my SnapBow. It didn't happen. What did happen was a pistol that was to large for the SnapBow. I started with a design that was like a Snap but with a lot of variations. Here is the design: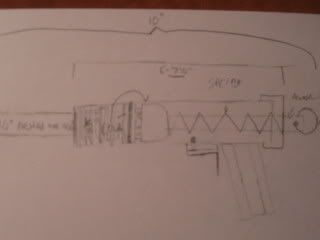 I had to change the size to get a reasonable amount of compression from it but it still close to the original design. This is the gun: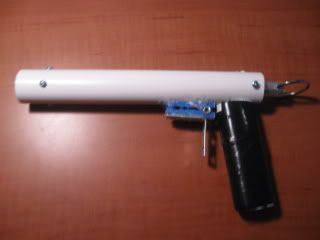 Unprimed- 10"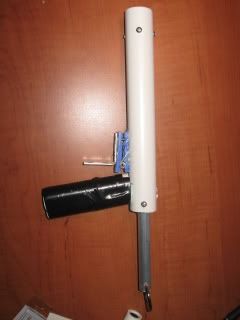 Primed- 13.5"
The barrel I have on it is 9/16" brass nested in 1/2" PVC.
It can be held comfortably with one hand. No ranges yet since it is pitch black and raining out but I'll try to get some tomorrow. The darts are moving at about the same velocity as a Disk Shot pistol. The spring in it is from home depot. It is about equal to the +Bow spring but it is 4". I have one full one and one half one inside.
I'll answer any questions and I will possibly make a write-up. Also if anyone has a name for it post them.
Edited by Foam_Shooter, 29 October 2008 - 09:09 PM.