I have been talking about this for a while and keeping it under wraps. I just started to build it today and made a design for it this morning. Here it is: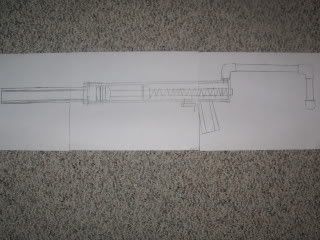 Not great quality because the lines are very light but you probably get the idea.
The back.
The middle.
The front.
Right now I'm trying to find a way to make a breech so that when I prime it it opens and closes but nothing effective has come to mind yet. If anyone has any suggestions I would greatly appreciate them. I do intend on building this within at least two weeks but the school year is really picking up right now so no promises.
Suggestions to improve the design would be greatly appreciated.
Edit: Those pictures are awful, I'll go over the picture darker and repost them.
Edit: These should be better.