My latest modification. In a nutshell, it's a NF with a RF20 Turret mounted on it.
Please forgive the terrible quality, but the only photo acquisition tool that worked was my crappy webcam. I tried my best to enhance them in photchop.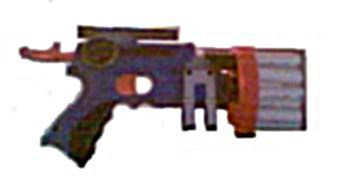 Side view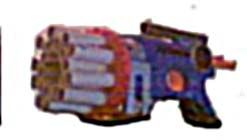 Diagonal view
I began the mod by removing the "Laser Light" thingy. I then cut four slots in the thing which used to hold the lens of the light. this was where I installed the RF20 turret.
The next thing I did was to install the Black thingy that supplied air to the turret. I achieved this by shoving a piece of 1/2" copper Repair coupling into the back of the black thingy. (which also came out of my old RF20) I then put some 1/2" CPVC into the Copper repair coupling. This I mounted to the plunger tube.
Now, came alignment. I had to completely redo the mod three times to get the alignment right. Unfortunately, you cannot learn from my mistakes, because the correct alignment of everything will vary. So, BEWARE THE TOUGH PART!!!!
Next, barrels. I found that the stock turret barrels cannot be used because you must seal the entire thing at once, something I can't do with Hot glue. So, in light of that, I chose to use 2.5" CPVC barrels, the inner barrels are relatively straight, but the outer barrels are angled every which way. And to that, I say TOO F***ing BAD!
Finally, I found the gun to be a little too front-heavy for my tastes, so I hot glued a couple of bolts into the old battery slots, and used a piece of steel tubing for a "Scope" (which has no value except that it helps ballance the gun and makes it look cool.)
It will fire nearly 50' with great velocity.
So, Whadaya think?