WHEN: Saturday August 27th, 2011
11:00am - 5:00pm
WHERE: Greenfield Park, Picnic area 3
Entrance is on the intersetion of W Lincoln Ave and Park Drive.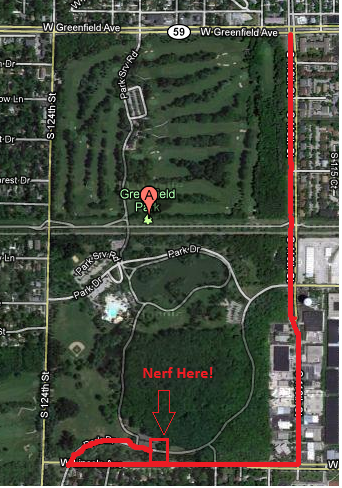 What to Bring:
+MOBSTACLESS! BRING WHAT YA GOT
+ A pistol for the pistol rounds
+ Melee weapons for zombies, I will have some on site, but more is always helpful
+ Enough Ammo, Ammo means SLUGS and STOCK AMMO ONLY. No glue domes, no tac darts, use common sense.
+ Eye protection for all ages. I don't care if you're 14 or 40, no exceptions.
+ Lunch. Non-pershibles preferred. Something that will last on a hot day.
+ WATER! Dehydration is shitty. I'll mopst likely have a case on site, but the more the better.
+ No camo, gillie suits, etc. Common sense, once again.
+ A primary and a back up in case that one breaks.
+ Money/Blasters to buy, sell, or trade.
+ FRIENDS! The more the merrier
What not to bring:
- Gluedomes, tacs = NO.
- Shitty padded melee weapons. Doubts? Don't bring it.
- Anything painted black or camouflage. Put something bright on that shit.
- Plugged titans. 3 barrels Minimum. Same goes for 4b's
- Anything that can inflict a welt for ~35 feet-ish
Good shit to know:
> West coast rule-set
> Ask Questions n shit. No question is stupid.
> People should be 13 years of age or older if you would like to attend. Anybody younger must have a parent present the entire day.
> Barrel taps: if you think you have to barrel tap with something at a stock-ammo war, you're doing it wrong
> I'm going to stray against shields in excess of 12" In diameter. The large shields I've been seeing lately make it near impossible to shoot people. No fun.
>Expect to see gametypes such as:
~Meatgrinder Style Rounds
~Zombie Rounds
~Capture the Flag
~Defend the Core
~Team Deathmatch
~Territories!
Possibly more.
Attendance:
Edible (Me) +1
Evilbob
Beckamb26
Maybes:
Hummer