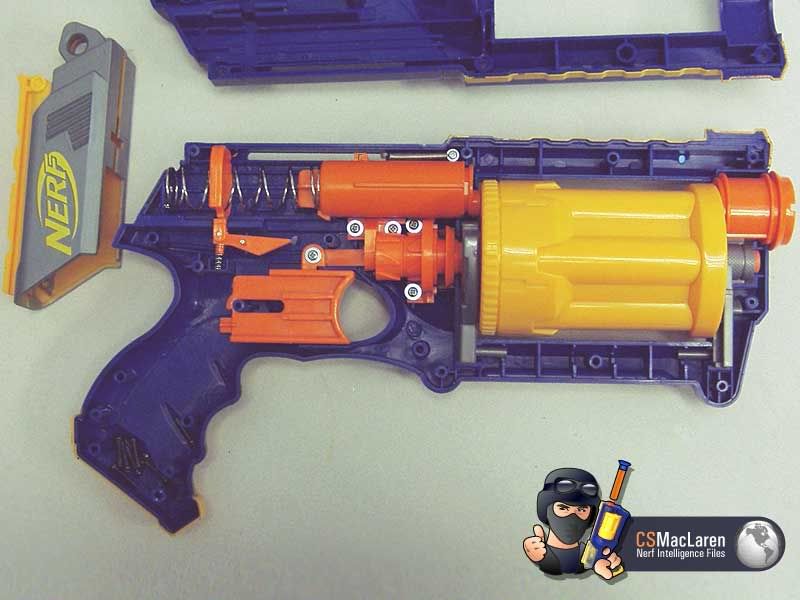 If I understand you correctly, you can pull the grey slider back but the action of doing so is too easy; you can pull it back but doing so doesn't cock the Maverick, right?
The way I fixed my problem with the Maverick not cocking is making sure the steel pin catches the hole of the orange cylinder (the one attached to the spring). You'll notice an orange protrusion with a hole. When reassembling the Maverick it's important that (1) the steel pin properly goes through that hole, and (2) when both halves of the Maverick's shell are reassembled that the pin is protruding through the narrow grooves on either side of the gun. Only when you've confirmed that should you replace the gray slider's halves, making sure that the steel pin now engages their proper fittings on the gray slider's halves.
So when you're pulling the gray slider back, you're in fact pulling the steel pin which in turn pulls the orange cylinder back, creating tension with the spring, and if pulled back far enough, it's locked into place -- and released when the trigger is pressed to disengage the lock.
If for any reason that little orange protrusion is broken, you'd have to somehow fabricate a replacement or replace the Maverick. That is why stronger springs are not always the answer because of the inherent material weakness of the plastic used. Now if the part were metal then that would be something else but finding a fabricator who works in metal could result in a part that costs more than the whole Maverick, unless you're good with welding and power tools yourself.
Hope I understood you right, and I hope this helped.