So, for a long time now I have had a gun dubbed "Super Salsa" in my arsenal, sitting around collecting dust. It was my first ever integration, form a long time ago, a 2k in the shell of a sm750, but it was only single barreled, so using it was out of the question. But, after seeing the Inline Clip on "JAWS", I started thinking. I found it annoying that Frost had to shake the gun down after every shot, so, after thinking for a bit, I made this: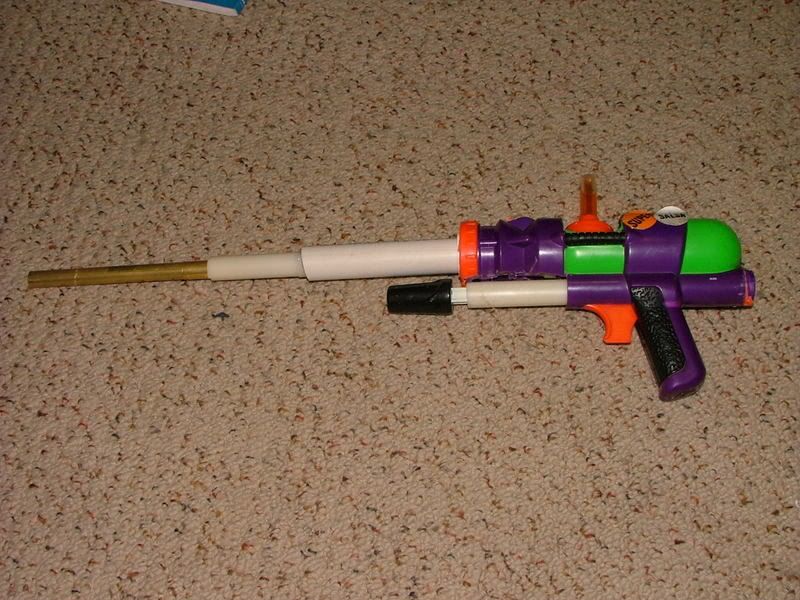 There are two pieces of brass there, one that fits the darts nicely, and one that has a very loose fit. The one with the loose fit is only at the very back of the barrel setup, so the spring can easily push a dart in.
Here is a picture of the barrel and clip taken off (Which makes reloading a cinch) The piece coming out of the gun body is the spring.
And here is a picture of the coupler and the spring.
So, it works like this.
1. Take off barrel\clip.
2. drop three(or four small) darts in the back of the clip.
3. Put the clip back on.
4. Fire three shots without reloading.
5. Repeat.
I have been having some troubles with double shots though, where the spring pushes the next shot into the barrel while the airflow is still moving, cuasing both shots to spray out. To solve this I think I would just need a weaker spring, but even McMaster doesn't have What I need.
Comments?
Edited by nerfturtle, 21 August 2007 - 10:30 PM.