I started this mod but then decided i should do a write up.
1. Open up gun(self explanatory)
2. Time to cut, Cut the middle part out, leave either side.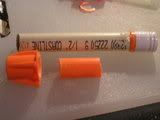 No need for this piece anymore
3. Glue a 5" piece of Cpvc onto the plunger, super glue with epoxy over it was best for me.
4. Dremel down this piece until the Cpvc fits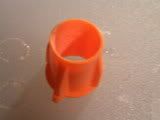 5. Here is the new plunger assembly: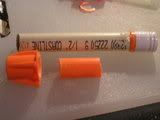 6. Now put it back together, And you are done! Internals:
I painted it also, i still need to get the barrel but i like it so far,
Ranges: about 55' flat with taggers.
I realize some of the pics are big and some are small, this is my first experience with online photo posting, I will try to fix it, does anyone know why it wont let me resize some of the pics?
Edited by zxnam, 01 May 2007 - 08:00 PM.