Preface: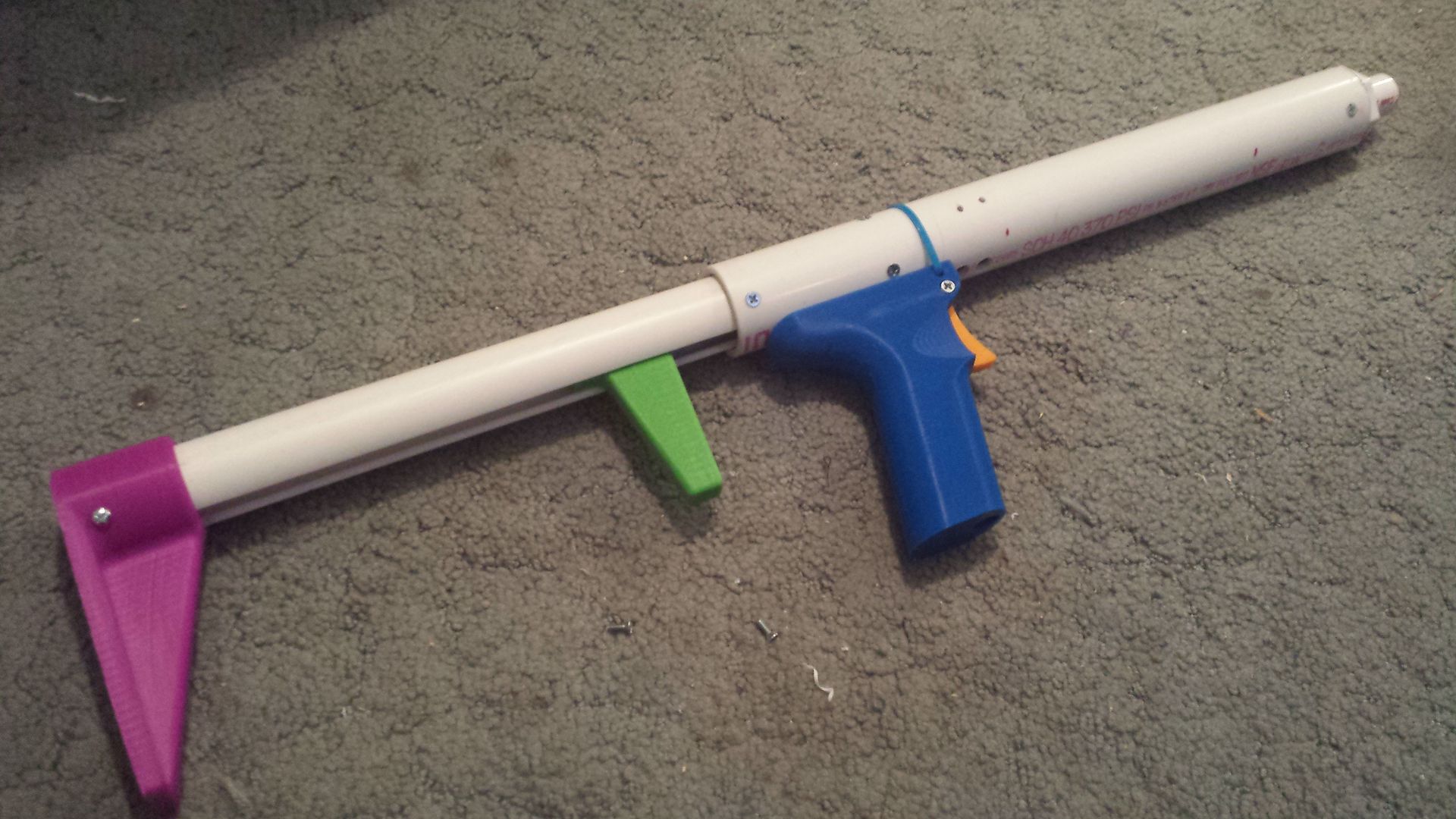 The humble pullback, lightweight and balanced. But what if you wanted to fuck with that completely? What if you wanted to add a grip to the front or an underslung blaster of some sort? Because drilling into the plunger tube isn't possible, the solution hitherto was to dump a fuckload of hot glue on there and pray the grip/ nitefinder pistol didn't shear off mid-war. Come on guys, we're better than this.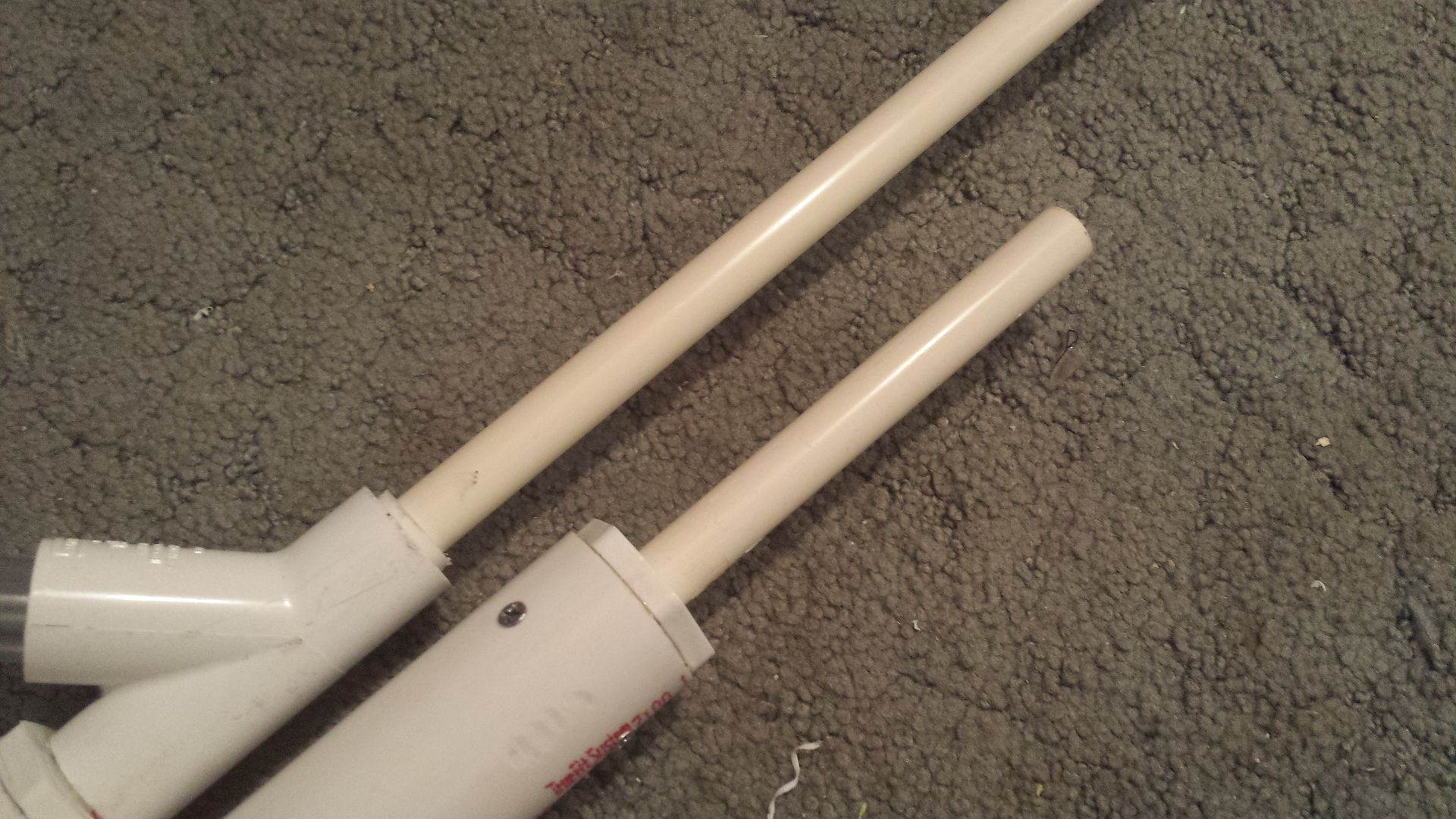 Heheh
This post hopes to provide the abstract for an easy solution to mounting foregrips and underslungs to pullback/bow style tubular blasters such as rainbows and snap-bows. This is gonna be a short one.
Materials
~12" thinwall 1-1/2" PVC -OR- 1-1/2 PVC halfpipe a la ESLT (thanks MHA and blitz)
Cutting Board
Tape
Foregrip or blaster you intend to mount
#6 flat-head screws of various sizes (depending on the building materials you have available)
Tools
Saw
Drill with various bits
Long shank countersink
Long nose screwdriver
Let's hit this like a sack of bricks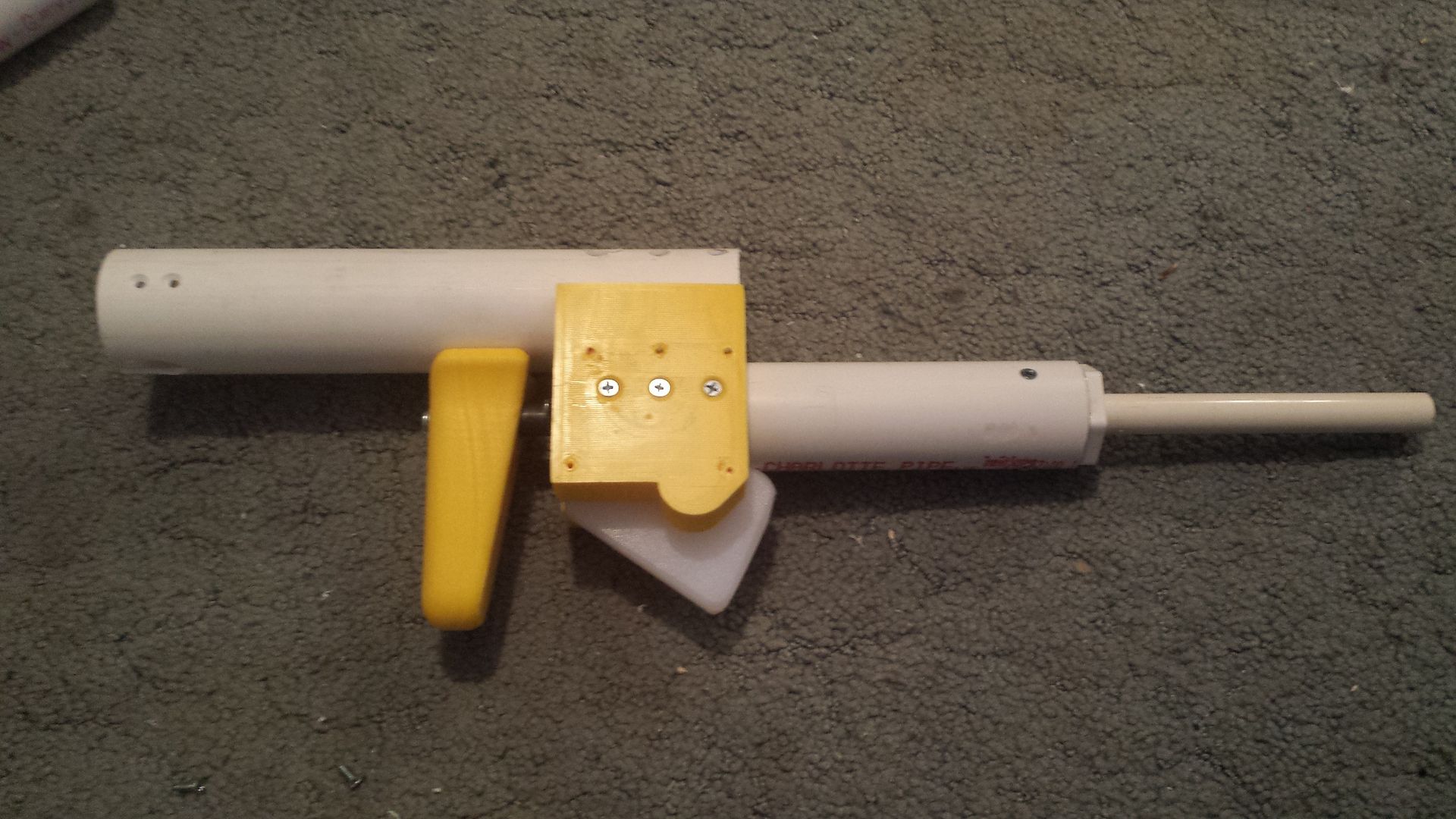 This is the parasite mounting system and pistol. It's a Rainbow pistol without a grip, and instead with two sideplates and an over-sized trigger, made of cutting board in this picture. The sideplates connect on the top to the thinwall PVC via screws sunk internally from the top into the sideplates themselves, evidenced by the three assembly holes an the top-front of the thinwall.
The thinwall will rest against whatever handle you have on the blaster, so it is fairly stable. Now we just need to attach it...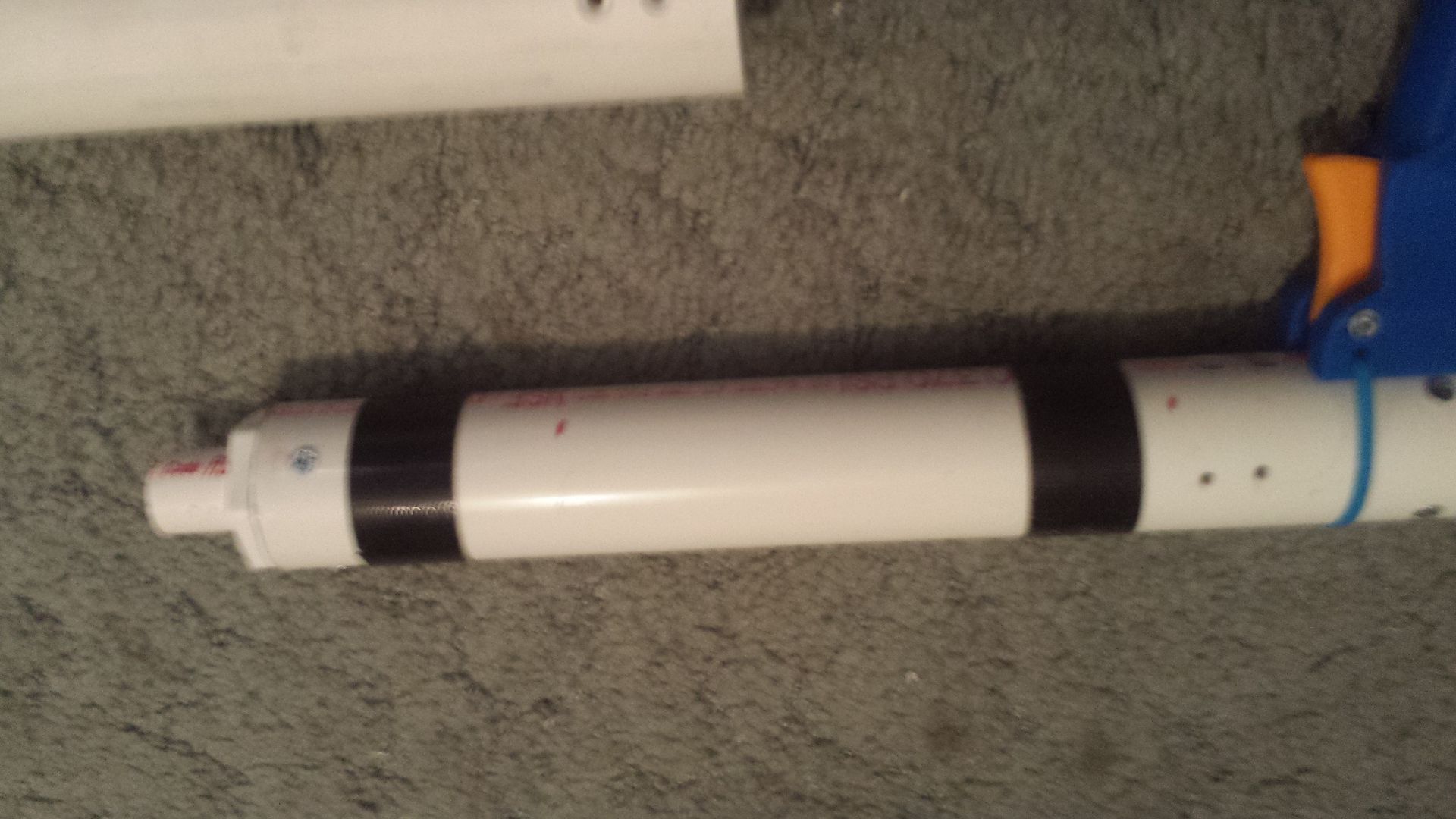 The only modification needed to the blaster is a couple of screw holes on each side, and a few wraps of E-tape to bridge the Diameter gap between the thinwall and the 1-1/4" plungertube PVC, which is pretty small to begin with. Then the whole assembly slides right on from the front!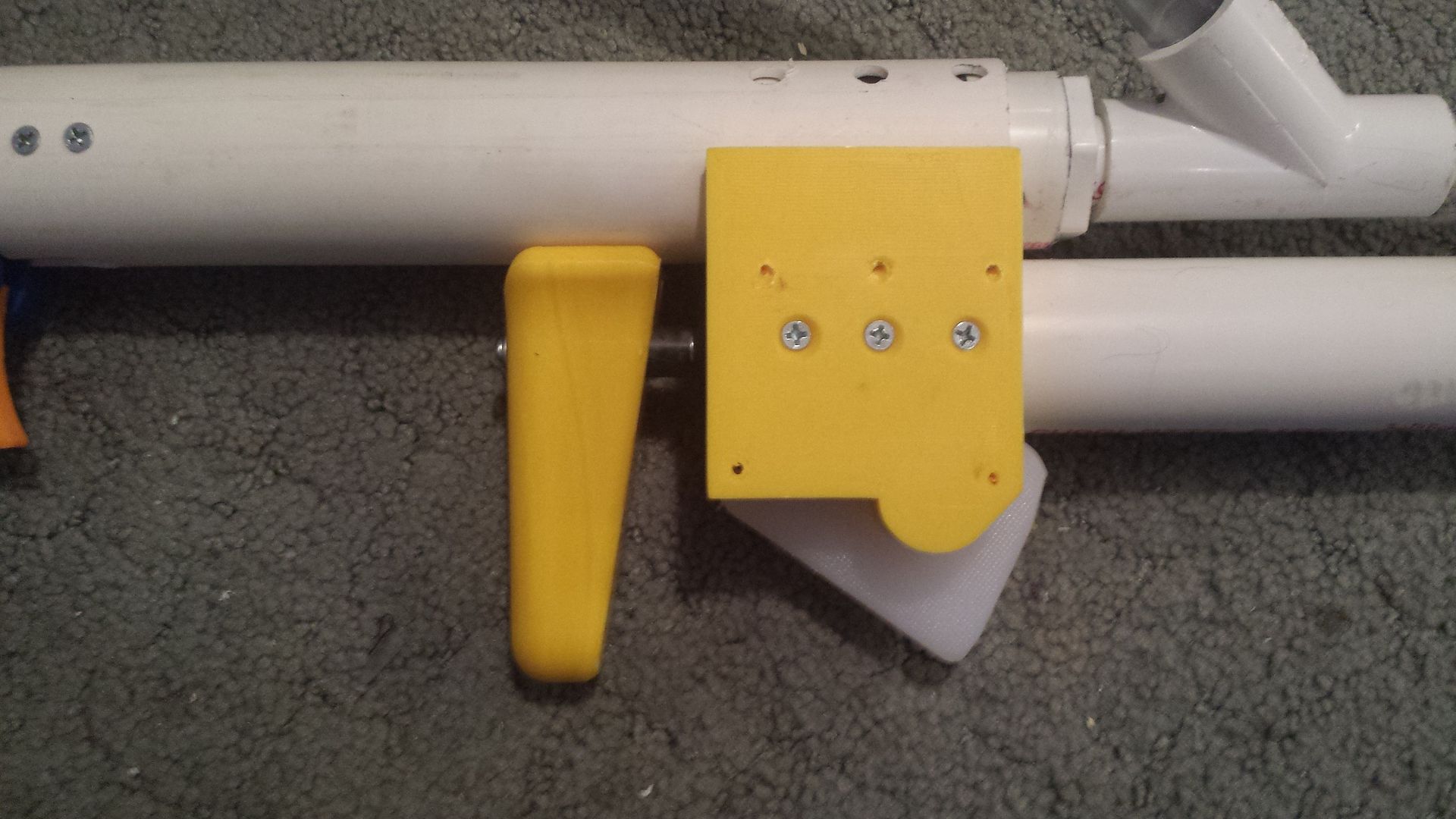 The pullback bar in resting position. It's actually rather comfortable to prime, the space is just big enough for your fingers and actually pretty intuitive when you use it.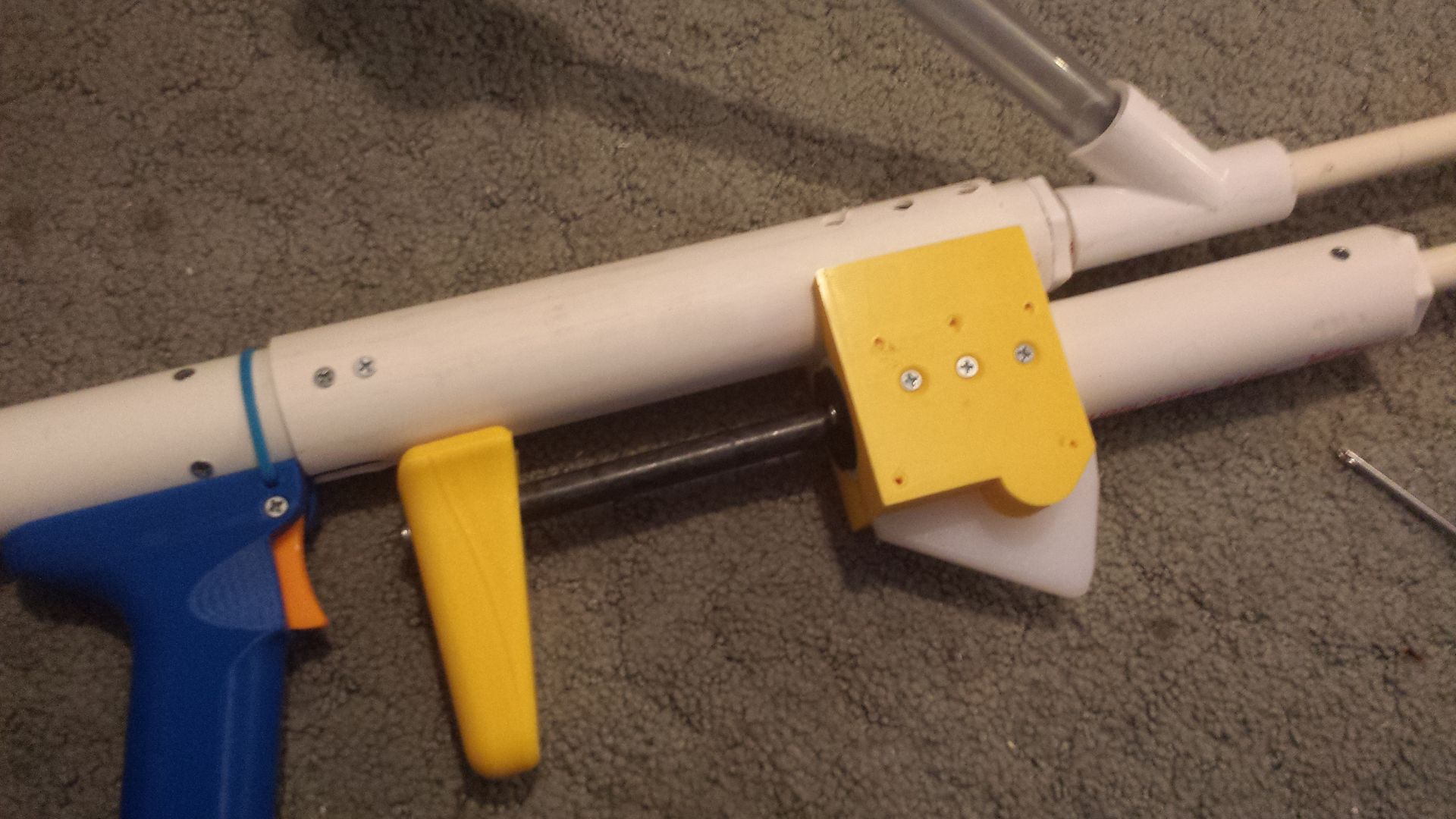 Parasite Pistol Primed. Plenty of room for fingers. You don't notice it at all. Also note the positioning of the pistol trigger, you actuate it with your palm, not your index finger. Takes some getting used to.
Very easy to cut out a small slot for your anti-vacuum holes. Also note the pullbar matches the curvature of the thinwall PVC, so this is actually a unidirectional catch! (an advantage, in my book)
Results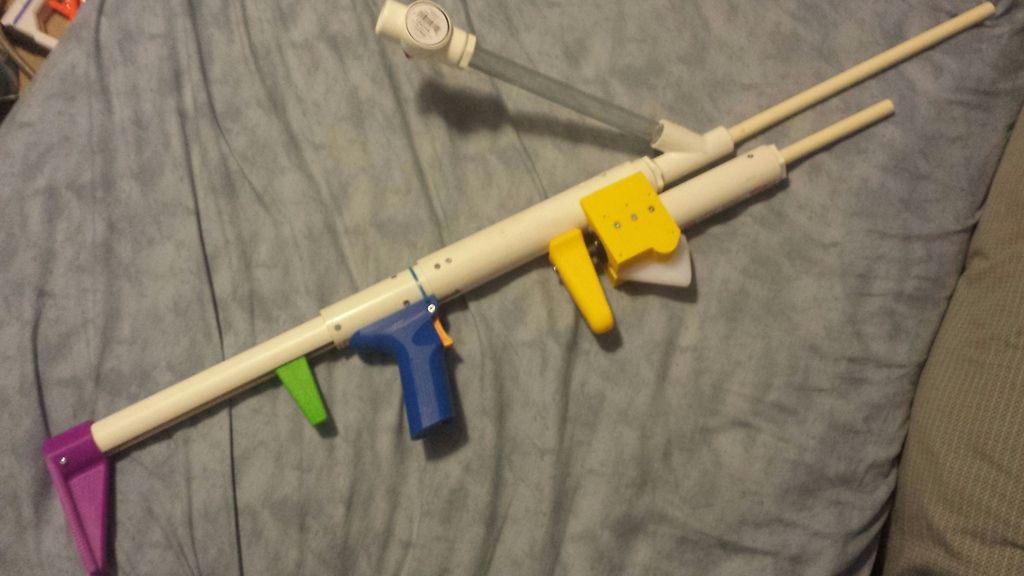 --The blaster, originally weighing in at 2 pounds with barrel and hopper, now weighs 3 pounds, 9 ounces. So this particular configuration adds ~1.5 pounds to your setup. Could shave off maybe an ounce by adding lightening holes. Also shifts the center of gravity from right at the trigger to about 6 inches AHEAD of the trigger. So it FEELS heavy because the weight's all the way out there hanging off the front. It FEELS cumbersome and strips away the advantage the pullback had, that was mobility, the ability to swing it around because of it's featherweight. Most of the mass comes from the pistol, so if you were just adding a foregrip, this may be a reasonable "mod" for your bow style blaster, and may only add like half a pound. As it stands, it's super solid.
--That's a lot of weight for one shot, so I run this as a SHOTGUN, BABY. Throw like five darts into the pistol and we be gucci, french toast. With half a [k26] in the there, it gets great range even shotgunned. My room is maybe 12 yards long, but it hits the wall with a nice spread and a good amount of force. Could also add a shorty barrel and hopper if you are insane and want to add even more weight to the front.
--Forward trigger is a little awkward, I need to re-shape it, but it's 2am and I want to get this up. Actually decently comfortable just to hold, the 1-1/4 inch plunger tube of the pistol is just the right DIA.
--Super easy to remove if you don't like it or want to change it out for a different attachment. Though keep in mind you need a lot of thinwall if you intend to swap out multiple types of underbarrel attachements
--Need to fine-tune the sideplates shape in my 3D files before I get this out to the community. They're currently really blocky but it's a prototype and it actually works fairly well. Can easily increase comfort and maybe shave off a couple ounces. If you make this yourself, cutting board would work just fine for pistol-mounting.
Use this instead of hotglue, it looks horrible. You spent all that time and money making the thing look professional and then you're going to blast that shit all over it? Just... no. Use this. If you don't have the long-shank countersink tool to use on the thinwall, you can VERY CARFEULLY use a drill bit but I DO NOT RECC'D it. Expect to mess up several times. The take-away here is that you can use this thinwall PVC mounting method (which I dub "parasite") to mount your foregrip/ tac rail/ sack of potatoes to the front of pullback style blasters and not look like shit and actually stay on.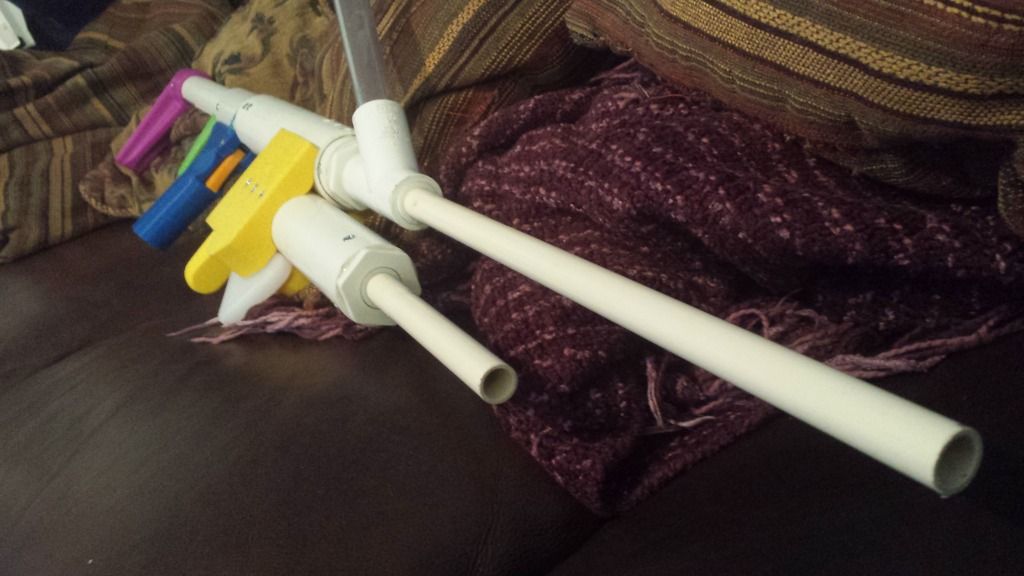 Money shot. Now with extra flailing appendages.
-Aeromech
Edited by Aeromech, 28 January 2016 - 01:14 AM.