This thread will serve as the core place to ask any questions or put information about the new apollo blaster, please feel free to ask for any information or pictures that i have not provided and i will do my best to help. now on with the show
id like to start off by saying that this thing is an absolute BLAST to play with. i am a 6 foot tall, fairly large person and it fits me very well. the balls work way better than i expected and they really slam out of this thing, plus they bounce a ton. also like this thing looks rad as hell? im way into it.
as said above, this was made for larger hands. its the best any nerf brand blaster has felt in the hand for me. i do wish it was a little bit longer so i could shoulder it, but i imagine the larger battery powered version might be better for that.
Sceptor Ball Compatibility
i was personally really interested to see if sceptor balls would feed into these blasters, but that is not the case. they're slightly larger and as a result do not feed out of the magazine correctly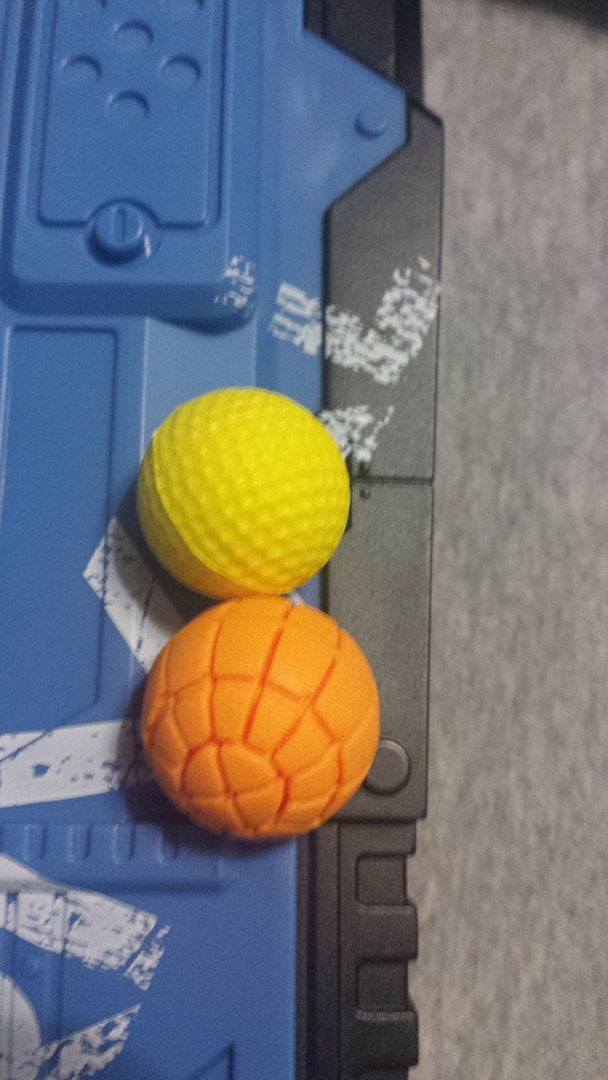 Magazine Mechanics
the magazine, much like the rest of this blaster, is very well designed and made. the clear plastic feels very strong, but i wouldnt want to stress it too hard. however what im really impressed by is the ball retention.
as you can see the balls just pop in easily and are held in by the spring loaded tab on the left. the good part of this tab being so easily accessible is that you can easily move it aside to empty the magazine to prevent your balls from being deformed by spring pressure during storage. very handy for the end user.
Internals
opening this up was quite a surprise, there's a whole lot going on here that i am into and not so much into. note: dont worry about taking the screws out of the handle, you dont need to if you just wanna get at the basic bits. the blaster now separates into two parts: the barrel and handle/magazine well and the plunger tube and gearbox. yes, gearbox. lets start with the barrel and handle
here you see the barrel, handle/magazine well, and priming handle at "resting" state. the barrel is stepped much like other nerf barrels, where there is a tight usable section and then a lose section at the end. when the priming handle is pulled backwards the orange barrel moves forward, letting a ball come up behind the barrel from the magazine. this is shown in the next couple pictures
barrel forward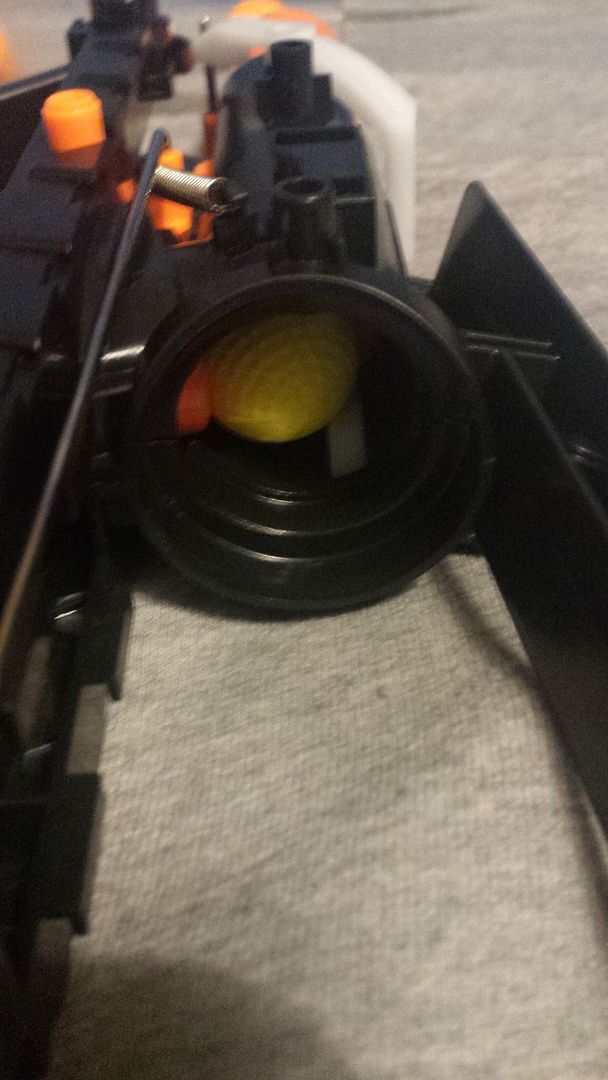 ball in place behind barrel
when the priming handle is pushed forward the barrel is pushed over the ball, sealing it against the plunger tube and then ready to fire.
now for the back half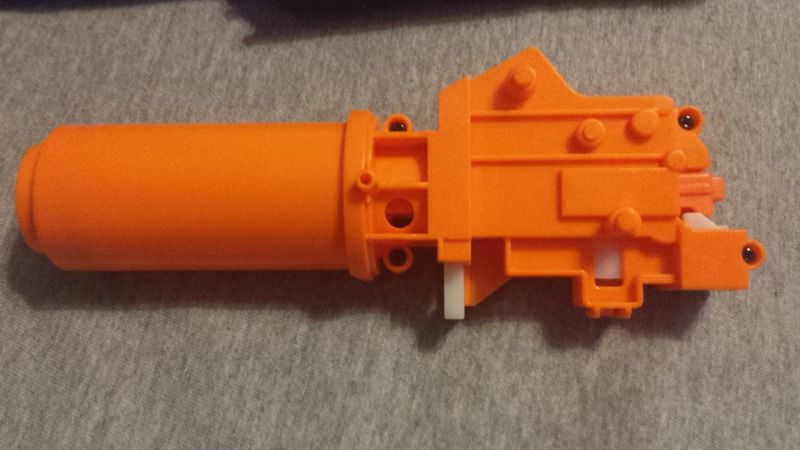 here is the plunger tube and gearbox. the plunger tube is held in place by those two screws near the base of it, otherwise it spins freely. sort of weird? take out those two screws and you should be able to pop the plunger tube off with no issues
inside you'll find a fairly robust spring and a o-ring, standard stuff here. i left it alone.
the plunger tube however, is a bit surprising. if you dry fired the blaster when you opened it up you probably noticed that this thing slams like a drilled out nitefinder, and thats quite a change from other modern blasters ive handled that slowly made their way through the stroke and now we can see why. the air restrictor is pretty much just a suggestion, there are holes all over it and is more free breathing than some modded blasters. since this is so free breathing i also left it alone, but if you wanted to pull it out i would just snip the little nub off and slide out the disc. do NOT make it an open hole or you're just going to push a ball into the plunger tube and be sad. to put it back together just pop it in then put in the screws, easy.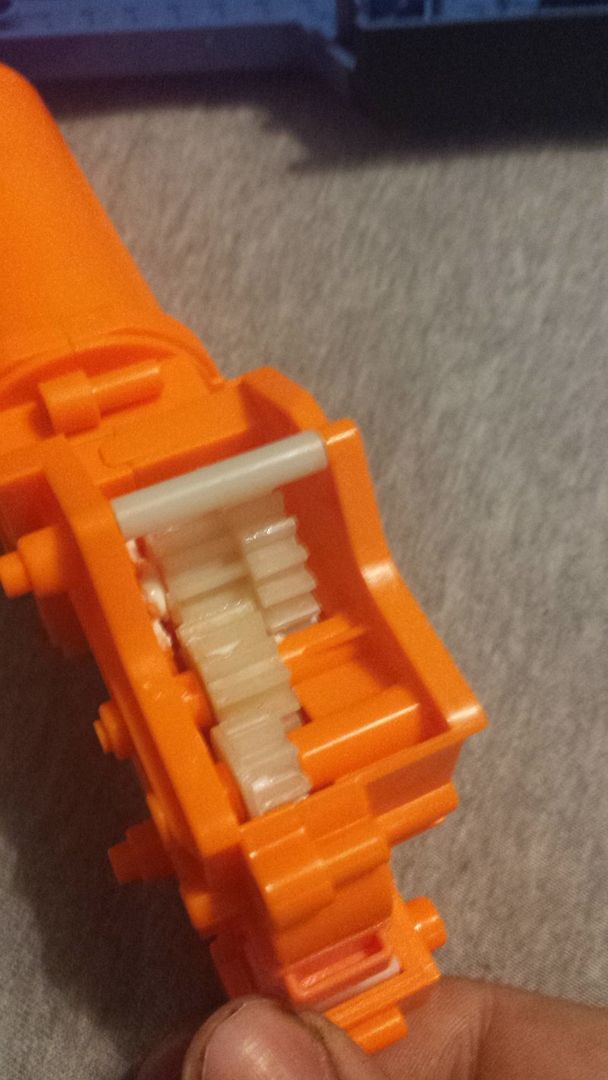 the gearbox seems to be of similar materials as other nerf blasters. i didnt open it since i have no interest in replacing springs or anything, due to the gearbox and the risk of snapping gears.
and thats it, its all pretty straightforward if not a little fiddly in places. i may design a stock for it so its a little more comfortable to put against my shoulder, and im definitely going to buy more ammo. this thing is a blast.