Hello, I have developed a way to make my own foam and was wondering if anyone would like some review samples?
You have to pay shipping, but the foam is free and you will get 6 pieces.
Right now I have green and red, its a great fit in cpvc.
I can make virtually any color, but I plan on making the majority yellow or blue.
It is not made in rolls due to the manufacturing process it is in 2.5 to 3.5 inch lengths and 1 to 2 inch lengths.
I plan to make the majority 2.5 to 3 inches, but any custom length up to 1 foot can be made.
If the community response is good I will sell mass amounts of it.
I really need community feedback so I can tweak the manufacturing proses.
Thanks, and if you have any color ideas just let me know.
EDIT 9/13/2014: People on the list for samples so far Drev, Bro Juice, tarnav001, Spiderbite, and possibly sublimedom777

EDIT 9/14/2014: People are asking questions about how I make the foam and this is my answer, which can also be found in a reply down below:
Quote from tim3716, "Does the foam come straight like in the picture? And can you answer snickers' version of evilbunnyo's question?
My response "Yes it comes straight like that, the only details I'm sharing at the moment are yes I extrude the foam and the reason it looks like pool noodle is because its the same material used for pool noodles. My extruder was for 3 inch pool noodles and has been modified for 1/2 inch, and that is also why the sides are not coated like in normal foam."
EDIT 9/15/2014:
Quote from Ryan201821 "If thats the same foam as a pool noodle, it's not going to work. Open cell foam doesn't work for darts, yo."
My response "All of my tests so far it has been fine. I have made silicone dome, slugs, ran it through a hopper, fired it out of stock, brass, and couplered guns."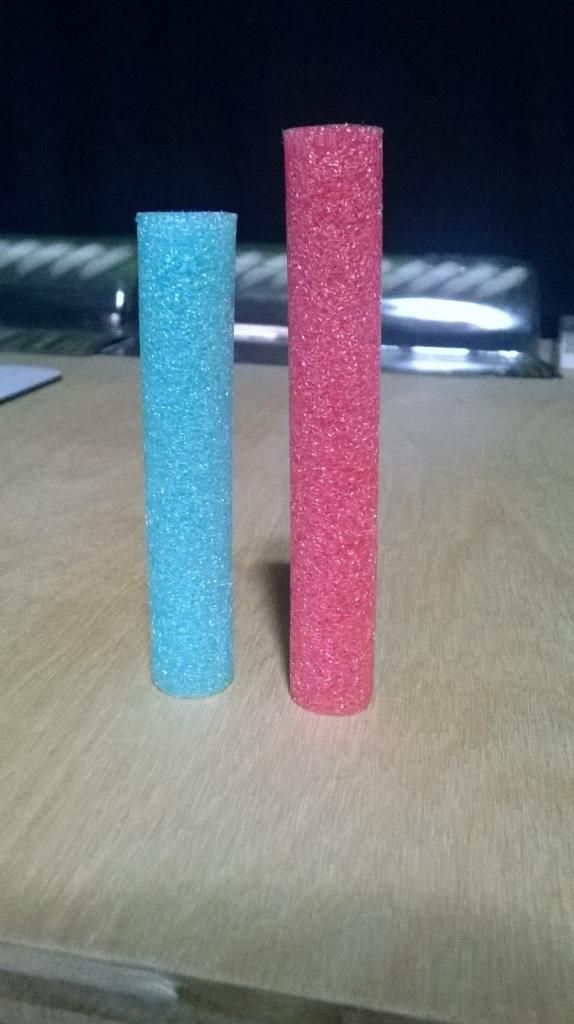 Edited by Droid31, 15 September 2014 - 07:47 AM.