Foam has been ordered. Pre-orders are no longer accepted. Please wait for the sales thread.
It is time for everyone to send their payments. Just to be clear, it is $1 per meter and those ordering 30m or greater will get the bonus. Please send the payments through Paypal to dpittenger3@comcast.net. As soon as I get all of the payments, I will order the foam and it should get to my house in about 20 days (shipping from china takes a long time). After that, I will take all of your shipping information and calculate shipping. After that, you will send me the shipping costs through Paypal and I will ship you the foam. Thanks to everyone who has pre-ordered and made this foam ordering happen. I am making a list on the bottom of this post to keep track of everyone who has paid.
Update 7/10/14:
Good news, everyone. The company just informed me that I can buy all 3000 meters, but I don't have to ship it all at once. I'm thinking of shipping 1000 meters here, which means shipping will be one third of the price and everyone will get their pre-orders and bonuses. There will also be some foam left over for me to sell normally. I'm switching the total back to 600 meters. The total is currently 571, so one 30m order could let me order the foam. Please spread the word, because if everyone follows through with their payments, this foam can be ordered very soon. I just need one more commitment of 30 meters and I can order it.
Update 7/8/14:
I want to start off by thanking everyone who has committed so far. The total is now 556. That total would be really good if It had to be 600 meters, but the company got back to me with the shipping costs and they were much higher than I calculated based on my previous order. Due to these shipping costs, the total has to get up to 863 meters. I know it is a lot and it is a weird number, but that is the total. If you want this foam, that is how high the total has to get. If everyone wants this foam, please spread the word to people you know that might want foam. If the total got to 600 meters in just a few days, I believe that it can get to 863 within a week. I know that we will be able to get this foam, but for now please spread the word. Also, I am putting a foam counter at the top of the page and I will constantly update it. If you want to pre-order/commit, reply to this thread, pm me, or email me at Drev453@gmail.com.
Update 7/6/14:
The total is currently 455 meters and maybe 505 soon. It is getting close. Thanks to everyone so far. Just so everyone knows, if you pre-order 30+ meters you will be a getting 1/3 of your foam bonus. For example, if you ordered 30m, you would get 40 meters total.
Update 7/5/14:
The foam will definitely be blue and it will be in 1 meter long segments. This helps with shipping and people buying odd numbers of foam. So far, the total number of meters ordered is 305. That is half way there. Remember, the more you order, the bigger the bonus of foam. For those of you pre-ordering under 30 meters, I would encourage you to go up to 30 meters just to help move this along. I don't wan't to pressure you to do this, but it would be a big help. I am thinking that since I am ordering so much foam, for everyone that pre-orders 30 meters they will receive 10 meters bonus. That is a very good bonus. Anyways, I am confident that this is going to happen and I want to say thank you to everyone that has said they will commit so far. Here is the video testing the barrel fit of my current foam:
Barrel Fit Test
Here is a vise test on my foam to show durability:
Vise Test
. Lastly, here is a video of the vise test on beige foam. This was just something that I filmed after the fact because it surprised me:
Beige Vise Test
I'll also post these links below.
Update 7/4/14:
The company has informed me that I would need to buy a completely new batch in order to get blue foam. That is, unless any of you want white foam of the same quality. This minimum order is 3000 meters! That is a lot of foam. That means I need people to commit to about 600 meters before I order. That is a lot of meters. For this to happen, I will need a lot of people to commit. It is also a fantastic time to buy all the foam you will ever need. You can adjust all of your barrels to work for this foam if you buy enough. This foam will definitely be blue though and I will have 2400 meters extra after that to supply to the community for a very long time. Just for an example, if 20 people bought 30 meters each, it would add up to $600 and the foam could be purchased. If more people bought more foam, we would need fewer people. I think this is possible considering 8 people are already interested in the first day. A bonus to buying this much is that we can decide how long the segments of foam are. They are giving a choice. I'm guessing people will want 1 meter or 2 meter segments. Which one? TL;DR The minimum order quantity for blue foam is 3000 meters so I need people to commit to 600 meters instead of 200. This is a great opportunity to buy a large amount of foam and it will supply blue foam to the community for a very long time.
Hi everyone, as some of you may know, I sold foam a few months ago. The information can be found on
this
thread. I ran out of that foam to sell and now I am thinking of ordering more foam. Last time, my foam had very positive feedback from the people that I sold it to, and I also think the foam is very nice. It is good quality foam and the bright colors make your darts look cool and be easy to recover.
I did a few tests for the foam on the previous thread to show its durability and it held up very well. I have had no problems with this foam that I haven't had with any other foam. It is overall just a really great foam. My old post about this foam said that it doesn't work well with high temp hot glue guns. It turns out that the glue gun I was using was extremely high temp. I got a new high temp one that isn't as hot and it works just fine.
Barrel Fit
Vise Test
Beige Foam Vise Test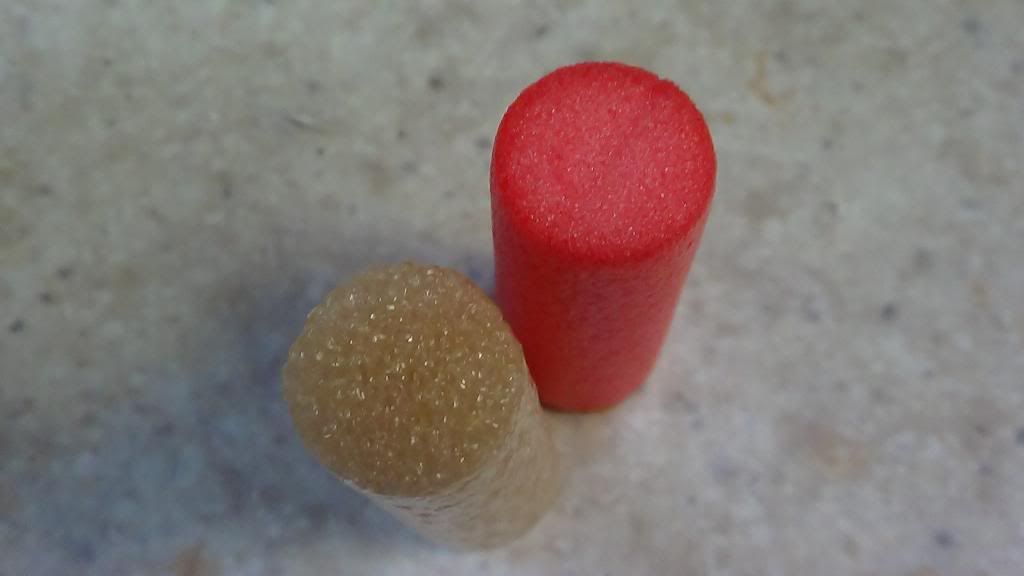 I will be ordering 400 meters of this foam. That is equivalent to 1312 feet. I know it is a weird measurement in feet, but the company does their measurements in meters.
The foam comes in 2 meter segments, so each order has to be an even number because cutting the foam is pointless. The pricing for the foam will be $1 per meter or $2 per 2 meter segment. This is cheaper than what I sold the foam for last time. The coolest part about this foam is that the color hasn't been chosen yet. The colors I am offering are red/pink (what it was before), blue, and purple. I am leaning towards purple since no one has purple foam and it would differentiate from the other foams out there. It isn't definite that it can be one of these colors, but the odds are good. If it isn't blue or purple it will probably be red/pink. Please tell me what color you would be interested in. All colors are easy to spot and they all make your darts look cool.
It looks like people are leaning towards blue right now.
If I were to order this foam, I would need enough people to commit to it to add up to 200 meters. This is because the import costs are very high and instead of losing money I would like to break even.
This means that the people would have to pay for the foam in advance (not shipping yet) and I would then order the foam. Once it gets to my house I would ask for shipping information, have you pay for shipping, and then ship it to you. If the foam doesn't work out and it never arrives or something, you will get your money back. This situation is doubtful though since I have worked with the company before. Once you order this foam in advance, there is no backing out. If you ordered the foam, you are getting it*. Since the people ordering the foam in advance are helping me with this, they will each be getting a free amount of foam depending on their order size and maybe even cheaper shipping (I will pay for some shipping).
In summary, this is a great foam that looks awesome and performs well. In order for me to order it, I need people to buy at least 600 meters before I order it so that I have enough money to ship and import it into the U.S. The people that order the foam in advance will get bonus free foam and possibly cheaper shipping to their house.
If you have any questions about this foam or this post in general, please ask me. Also, if you want me to do any more tests on the foam, let me know.
*Unless the foam arrives defected in some way.
People who pre-ordered (strikethrough=paid)
Nerfgirl36
iModify
Sam-Underscore
kbk652
naturalman7
evilbunnyo
toxic
droid31
Draconis
Azrael
AnonymousThorn
Conith
Crazy Modder
therealnerfjunkies
Nerf Gra
Ospak
Ivan S
Edited by Drev, 11 August 2014 - 10:03 AM.