Hello everyone, I just finished making mobstacles for my upcoming Nerf war, and decided that I would share my process of making them. I designed them to be smaller and harder to hide behind in order to promote active gameplay, but you can always modify the design if you want. Anyway, shall we continue on to the writeup?
Materials:
1/2" PVC
1/2" PVC Couplers
Tarp
Rope (1/4" Nylon works well for little cost)
Hot glue
Duct Tape
Scissors
Hack Saw
Zip Ties
Hole Punch or similar device
Measuring Tape
First, you are going to want to cut your PVC to your desired length. You need three pieces of PVC for each mobstacle. I went with four-foot lengths, again, to promote running rather than camping behind these.
I think you can figure this out without pictures.
Now that you have your PVC cut, you can start with the assembly.
Tie a knot like so in one end of your rope:
Now roughly measure how much rope you will need to send it through an entire piece of PVC and loop it at the end:
Use some hot glue to secure the looped end in place.
Now, measure how much rope you will need to pass through two pieces of PVC, as well as to tie a knot at either end.
Tie a knot at one end of the rope, thread the other end through one empty piece of PVC, through the loop that you glued in place earlier, and back through the second empty piece of PVC.
Tie another knot at the other end of the rope, or glue another loop if you didn't quite measure enough.
Now that you have all of the "legs" tied together, we need to make sure that they form an equilateral tetrahedron. Use your measuring tape to mark out a triangle on your floor with the same dimensions as your sides. Stand up your pipes on those marks:
Now run rope through all three loops at the ends of the pipes, tying a knot after it meets itself where you started:
You should now have a solid frame for a mobstacle:
Now, if you want these to actually be obstacles rather than just random PVC pyramids standing in your field, you need to fill the gaps with some sort of material. Blue camping tarp is a cheap, strong and effective material for this task.
First, measure out triangles of the same size as the triangles in your mobstacles in your tarp. Use duct tape to mark where you want to cut. You may have to cut two half-triangles and tape them together, for this allows you to use your tarp more efficiently.
Sorry that I don't have any pictures of this part, but you should end up with triangles of tarp like this:
Now that you have your tarp cut out, punch a hole in each corner of three triangles. The next step will be easier if you put your holes closer to the edges.
Now, use your zip ties to attach the triangles to the frame. Put your zip ties through all of the holes present at each corner, including the rope loops.
Top intersection:
Bottom intersections:
Just to ensure that your tarps don't flap around in the wind, punch a hole through two tarps near the center of each side and send a zip tie through both tarps and around the PVC.
Do basically the same thing for the bottom, zip tie the tarp to the rope:
Finally, clip the ends from your zip ties and you are done!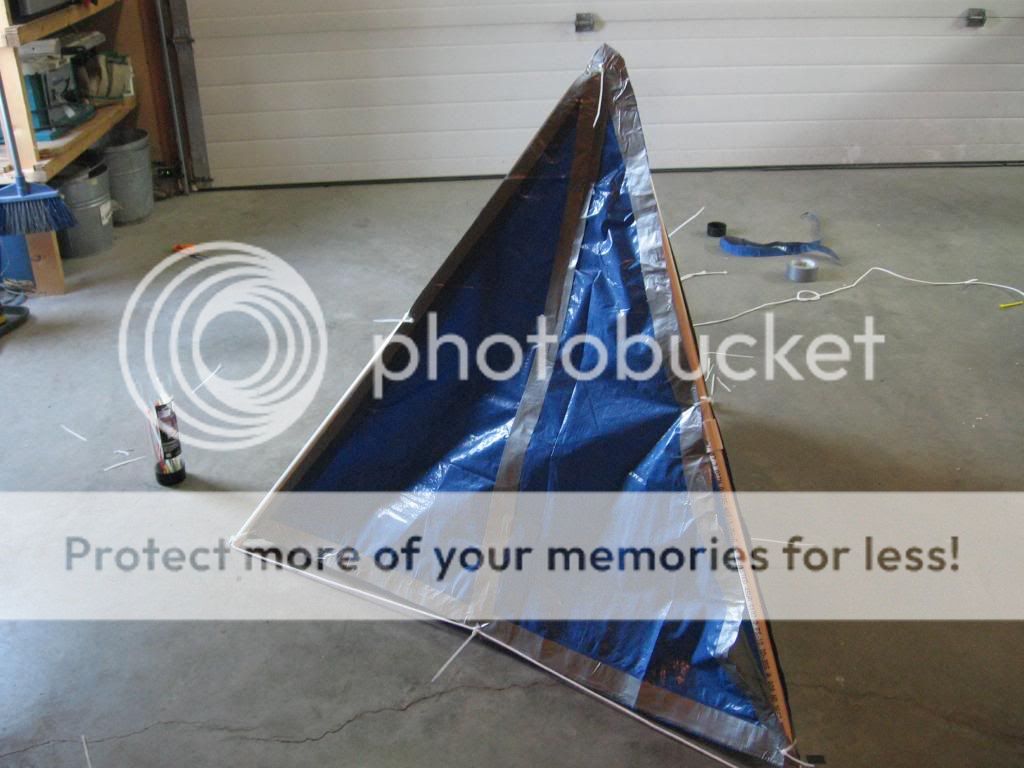 I easily made four of these in one day, and they each cost about $15-$20.
Also, they collapse really well for easy storage:
Any questions? Comments? Flames?