(WARNING PICTURE WRITE UP)
In preparation for Bay Area Foam Modding - War #3, I decided to go with a the sonic series Recon Pump grip and Recon pistol (sidearm).
I would have put up a write up for it, but I made SOOOOO many mistakes that it would have been a waste of your time and mine.
But here is how it turned out:
Then came the ELITE series blasters (drool) they were too good to pass up. I bought two: 1) turn into a pump grip carbine 2) pistol (sidearm).
My second pump grip mod turned out very nice. It is much lighter, sleeker, and looks awesome.
I made sure to takes note, so I could share the design with you.
Materials:
Nerf base-
(1) Front barrel from Nerf Longstrike
(1) Multi-Position Stock from Nerf Raider (optional)
(1) *Top Scope from Super Soaker Shotblast (optional - you may use whatever sight you want)
(1) *Vertical Front Grip from Nerf Elite series Retaliator (optional - you may use whatever rail accessory
you want to be your priming proxy)
Mod base-
(8) 3/8 x .171 x 1/4" Nylon Spacer - OSH ~ $0.69 each
(5) #8-32 x 2-1/2" Machine Screw Round Head Combo - OSH/Home Depot ~ $1.09-$1.19 per bag of 4 (comes with nuts)
(1) #8-32 Wing Nut - OSH ~ $1.09 per bag of 4 (optional - you can use the standard nut that comes in the bag)
(1) 12" x 24" x .093 Lexan Polycarbonate Sheet - Home Depot ~ $12.98
Tools:
Dremel with attached cutting wheel
Jigsaw with attached cutting blade
Drill with 3/16 drill bit
#8-32 sized screw driver
Sharpie marker
Ruler(s)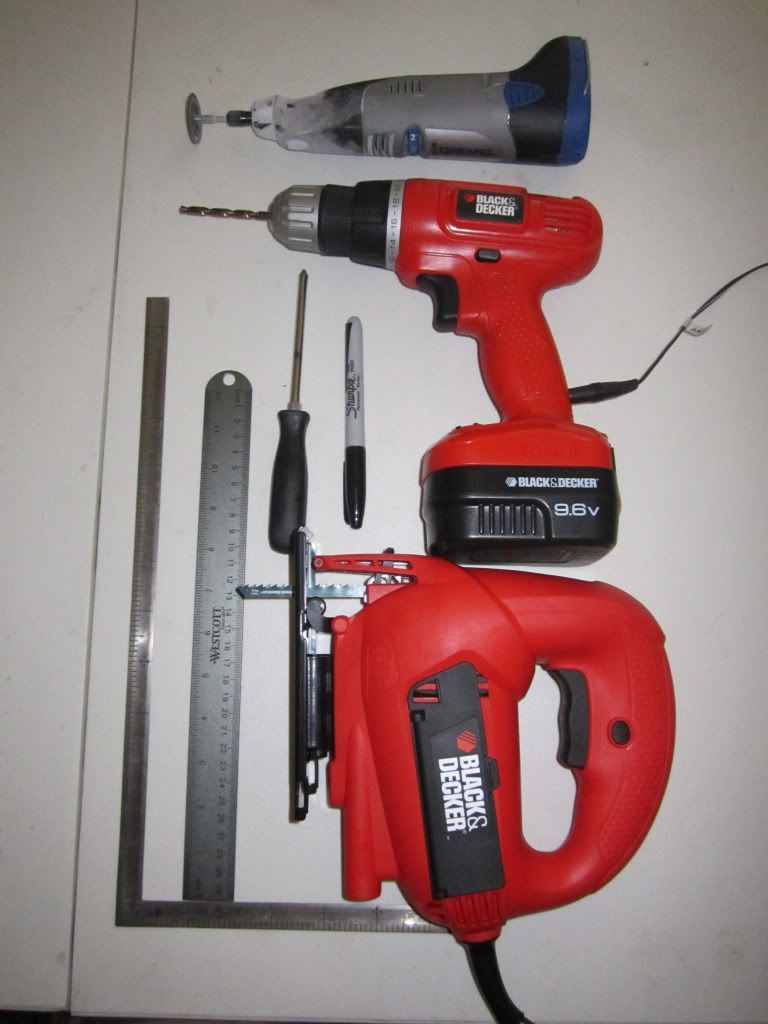 Optional tools include Super Glue/Loctite or glue of choice to seal nuts into place on screw.
Safety:
Eye goggles for dremel and jigsaw
Face mask for dremel
STEP 1) You need to take the front barrel of the Nerf Longstrike and get rid of the blocks that prevent rail
accessories from sliding all the way back to the base of the barrel. You can do this using the dremel with
attached cutting wheel.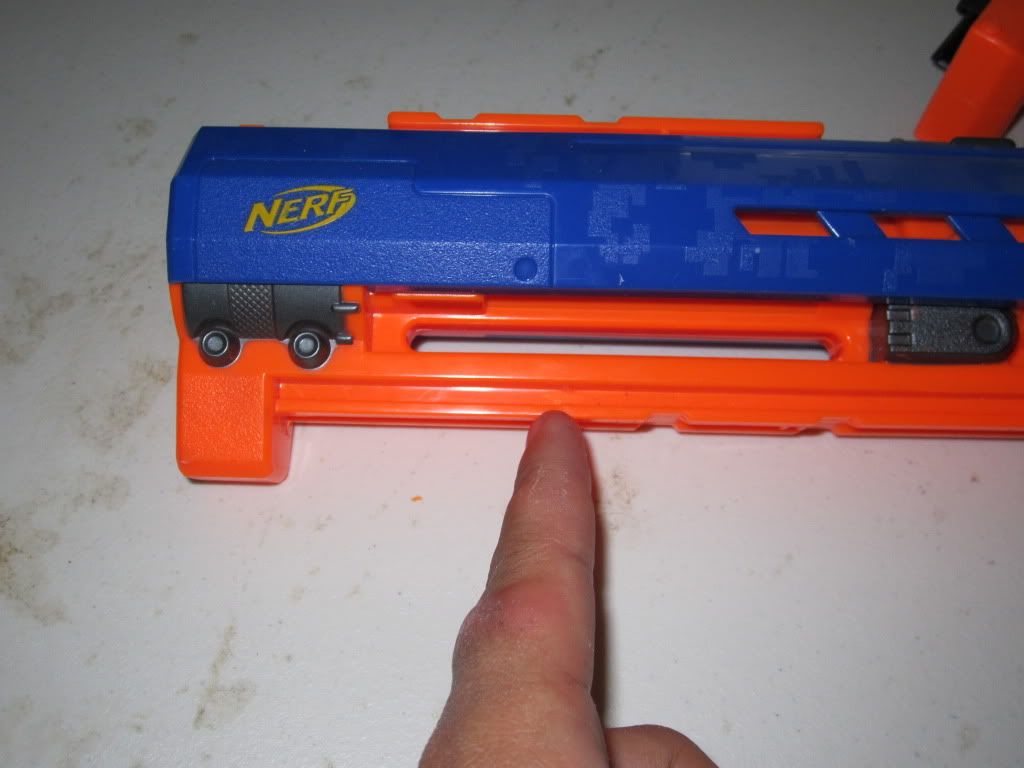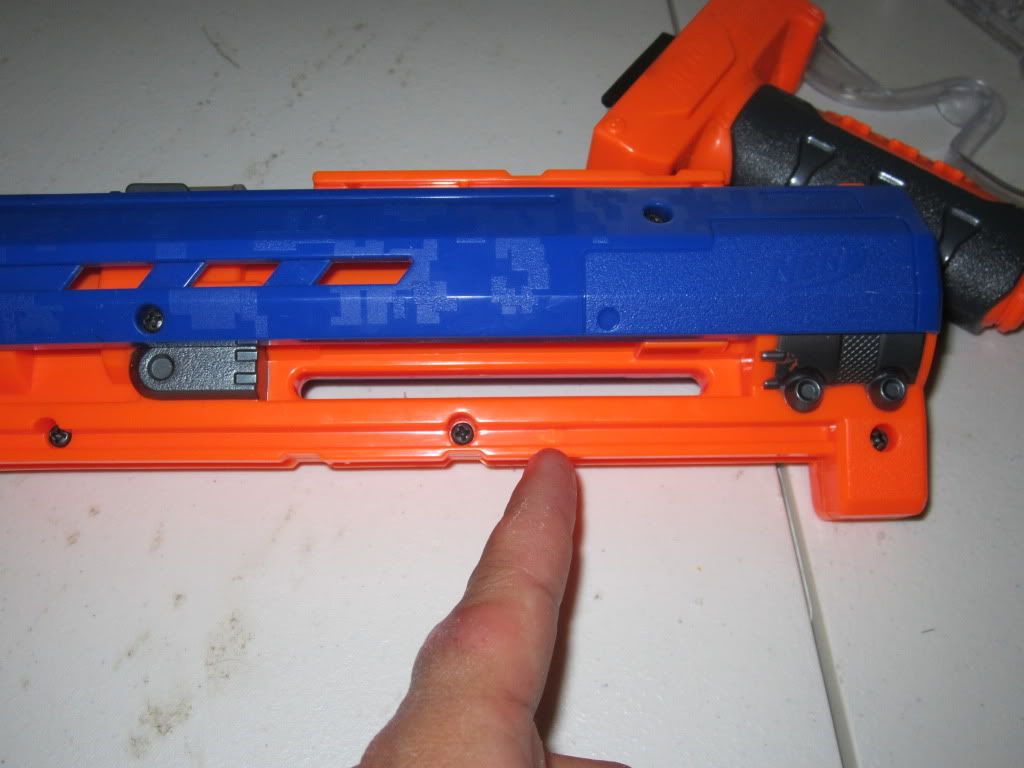 Once the blocks have been removed the vertical grip from the Nerf Retaliator should be able to slide all the
way back like so:
Attach the barrel and vertical grip and we shall move on,
STEP 2) This is the hardest part. You need to cut the arms to connect the vertical grip to the priming handle.
Lucky for you I already did some measurements and made a nicely labeled picture for you. The overall measurement
per piece is 12.5" x 4".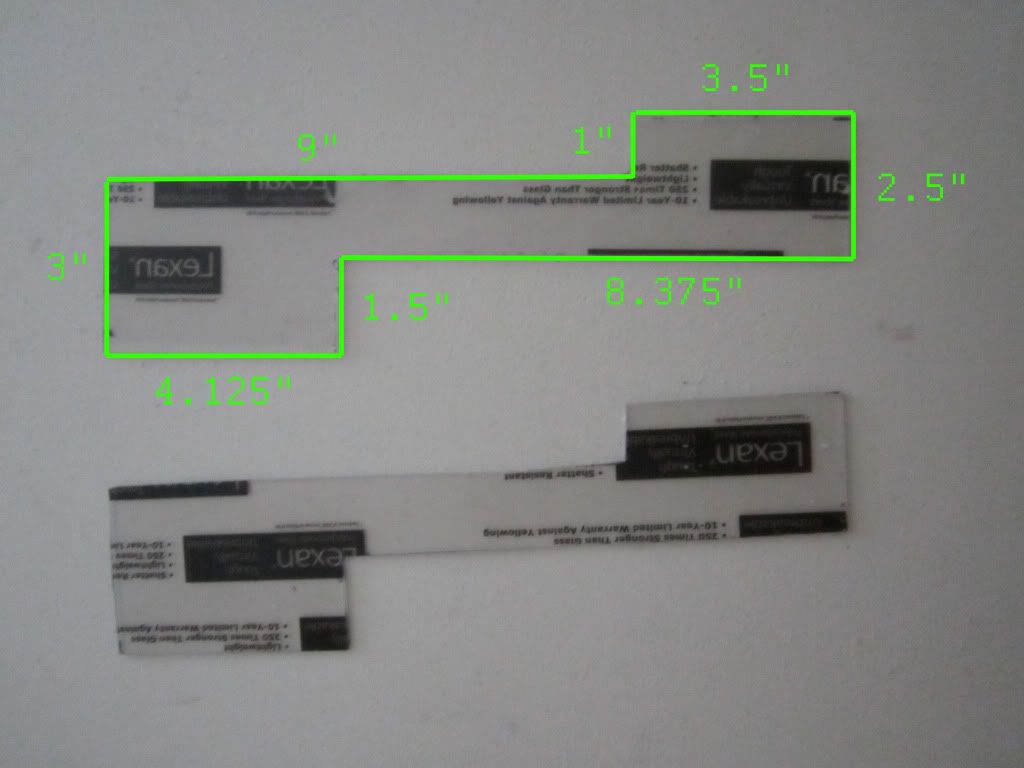 Once you have two of these the hard part is over.
STEP 3) This is basically drilling holes to match your priming arms from the vertical grip to your blaster's
priming handle. You will simply remove the screws from out of the vertical grip and Nerf Longshot top sight
and drill holes straight through using the 3/16 drill bit and drill.
Match up the Polycarbonate sheet up with the drilled holes and then drill holes in the polycarbonate. I would
suggest marking the polycarbonate, first using a sharpie marker.
Then drill a hole through the center point of the rail, just in front of the Nerf Longshot top sight and again
create matching holes in the polycarbonate.
Once the holes are drilled, put a machine screw through and sandwich the blaster parts with 1/4" nylon spacers.
Use the nuts provided in the bag to enclose and tighten the frame. Should look like this:
All the pieces in place: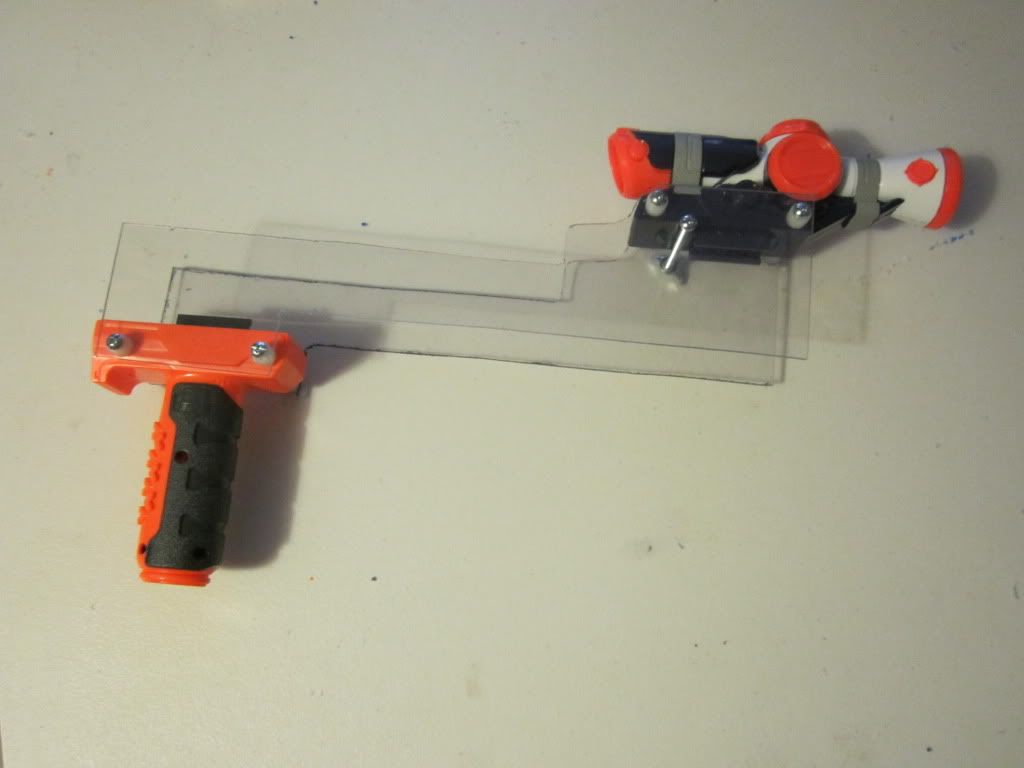 And with the blaster it should look like this: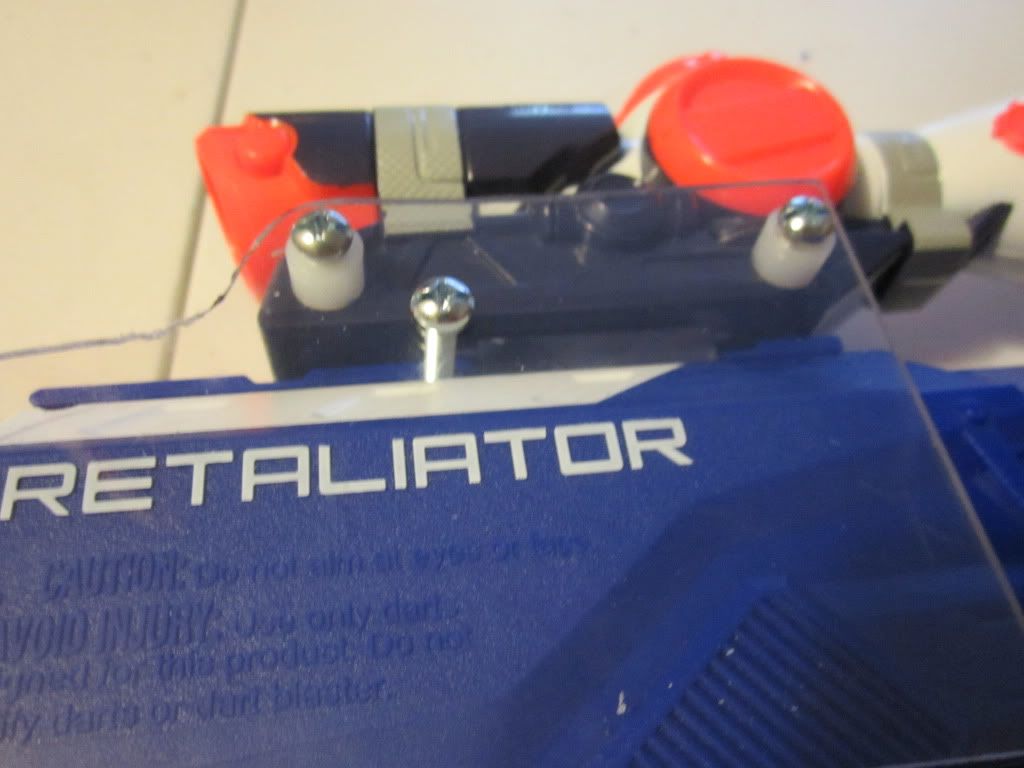 I used a wing nut to close off the priming handle, just in case I need to disassemble it quickly.
Also, if you look closely I used the dremel to round out some parts of the priming arms.
------------------------------
And that's pretty much all there is to it. Its a pretty simple mod that goes a long way. When it is
finished it looks something like this: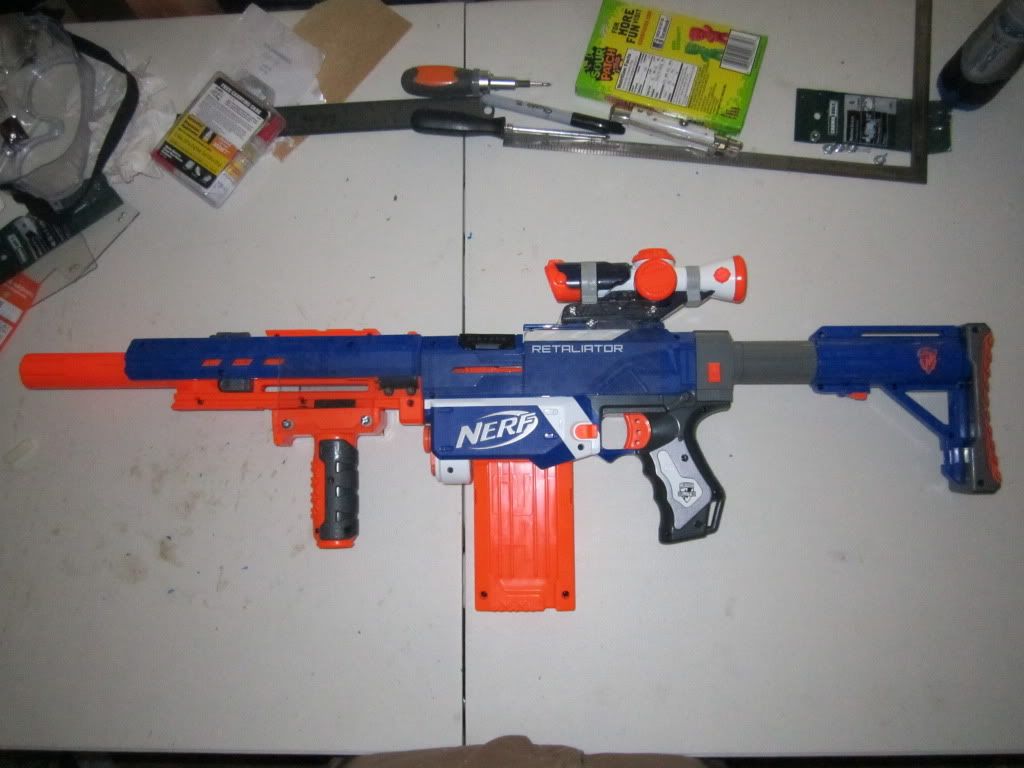 Retaliator pump grip open
Retaliator pump grip closed
I know its hard to see from the picture, but look hard and you can see the polycarbonate arms. I guess the
point of the mod is that you want to keep it as low profile as possible. So in a way, its good that the mod is
difficult to see.
Edited by Blood Angel, 09 August 2012 - 01:24 PM.