I apologize for no pictures during the process, but I will give an in-depth guide on how to do this. Quite simple to do.
Materials needed:
Hacksaw (with a blade to cut plastics)
Epoxy Putty (I used the Quick Steel Epoxy)
Sandpaper (I forget which grit I used)
The Steps
1. Cut the Reflex handle just below the trigger with the hacksaw, but leave a little handle there to secure the blaster to the barrel attachment.
2. Sand the bottom of the Reflex for a smooth and even surface.
3. Take the Epoxy putty (a pretty small amount is needed) and smear on the bottom of the Reflex. Then, apply to the bottom (or top) of the Recon Barrel Attachment (or any barrel will work). Please take note, place the end of the handle just in front of the tactical rail stop tab (correct term?) or else there will not be enough room for the Reflex plunger tube to prime and it will not work. Let the Epoxy sit for around an hour before handling. I recommend the Quick Steel Epoxy Putty (found at the Wal-Mart automotive's section for 4 U.S. dollars) as when the putty hardens, not only is the putty very hard, it sticks very well.
Here is a picture of the final product (again, sorry for no pictures during the making. My camera's batteries were dead and did not have replacements at the time):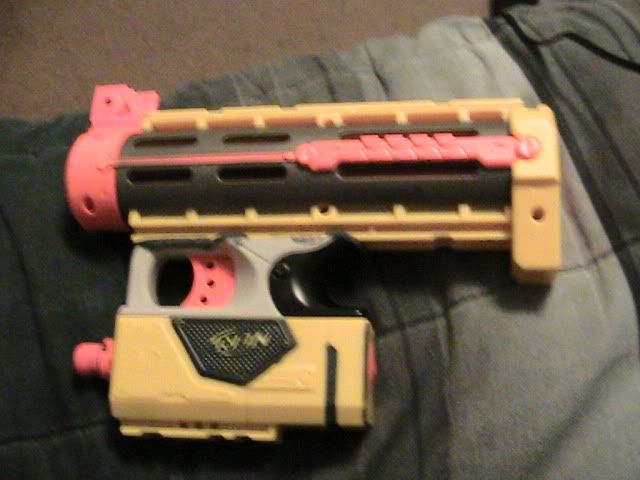 The Epoxy will probably get sanded down a little more. It looks like there is not a lot of Epoxy, but I was able to keep quite a bit of handle under the trigger, enough to were I put a complete slab of putty underneath for a solid integration to the barrel.