When I first saw the Vortex disc, I thought they would be pretty simple to make - just get a foam disc and punch a hole in it, right?
The foam disc broke. Consequent attempts also failed.
To make it work in the stock blaster, the disc must satisfy three main requirements:
1. Correct height/thickness. There's two buttons that must be pressed, on the top and bottom of the "barrel," in order for the trigger to be pulled.
2. The hole in the middle of the disc must have sturdy walls and be about the right size. This allows the disc to actually fire well.
3. Low friction. Self-explanatory.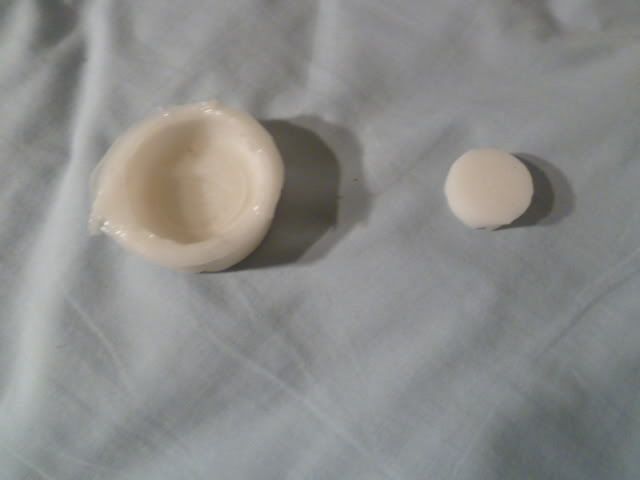 Silicone mold. Used for molding any disc-shaped things. I used Oogoo, AKA silicone + cornstarch as a catalyst. Basically the same as the
gumdrop darts
material, chemical-resistant so most materials don't stick well. Hot glue just falls off.
Actually didn't need to use this in my current version of disc-making, but just throwing this out there as a possible mold material.
Failed designs.
Blue is pure foam, I was stupid and didn't think about how the disc was going to fire before I tried it. This actually worked for 2-3 shots, but then the foam broke. This is pretty good-quality closed cell foam too.
Yellow is silicone, the actual yellow part is felt that I stuck in there for structural stability. Waaayyy too much grippiness on this, it also folded up and got stuck in the barrel repeatedly.
Green is bottle cap with craft foam, it shoots but is unstable and bottlecaps might be hard to get. I had to cut it to the right height, which is another step I'd like to remove.
White is hot glue. The silicone does not stick to hot glue at all, so it was incredibly easy to get the whole thing. Problem is, it's too heavy.
Brown is my "bottlecap+Model Magic" disc, which failed horribly on two levels. Model Magic is that Crayola air-dry clay stuff, dries foamy. This disc failed to fire, and Model Magic actually stuck to the silicone mold even when dry so it was annoying to remove.
Red one's pretty successful, but the hot glue just doesn't cut it for durability. After 10 or so shots, the hot glue started cracking.
So you need solid durable material for the inner edge, and it needs to be fairly light so it goes somewhere.
=WRITEUP=
What you need to have:
3/4" THINWALL PVC
Craft Foam
Hot Glue + Glue gun, or similar glue.
Thin plastic sheet or duct tape
Thanks to Kyrativ for suggesting wrapping the PVC before cutting. It is pretty fast, just glue, cut, and glue.
Glue craft foam around the PVC until you reach a diameter similar to that of a Vortex disc, 4 cm or a hair more than 1.5 inches.
Already cut once, but you get the idea. Number of layers depends on foam thickness, but it'll probably be three or four layers thick.
And then make foam slices.
If your slices end up being a bit too thick, make thinner slices. This is about the maximum. Anything more and you need to trim down the disc.
You should cap it with duct tape or some kind of thin, resilient material, craft foam or duct tape.
And there you go. Do some fire testing.
Adjustments: You should be cutting each slice to a similar thickness, so there is little change in weight. My discs fly best with no extra hot glue, but if yours curve to the left consistently it might be a bit too light. Add some hot glue to the bottom side of the foam cap.
I've found that heavy discs curve to the right, so logically light discs would curve to the left...? Haven't made one that's light enough to do that though, so this is all theoretical.
Edited by Darksircam, 15 September 2011 - 11:21 PM.