So, I recently found some more people at work (many more than before, apparently...) that are/may be into Nerf. I've been scheming on the Deploy and Raider for a while, so I finally picked up the Deploy. I have to say, this blaster's production budget must have been sizable: not only is it reasonably well-designed yet-complex, it appears and functions cool/well, seems reliable, is pretty solid (given it's nature particularly) and seems to have an absolute ton of potential.
The red LED light is reasonably bright (indeed, in a night war, particularly in a house, it could be pretty handy, especially if switched out for a brighter/lighter bulb), and the actual "deploy" action is pretty sweet too. It's rather cool to watch the thing snap out in three different ways simultaneously, ready to go. As others have commented, it's just "fun," unabatedly, just something you can get a repeated kick out of.
Darts are magazine-fed via pump-action that feels a lot like a shotgun would; this alone was worth the price of admission to me. The rhythmic "click-CLACK" noise of the action just sounds badass, not unlike what many speak of when pumping an actual shotgun, and the ensuing panic it must impart to those whom it was meant for. "click-CLACK"...please excuse for just a moment...
So anyway, the action is very nice. I put a few mags through it and it didn't jam or anything; it just *feels* clean. ROF is very good, which after reading some mod write-ups (NerfRogue83: you're the best) and seeing that while tedious, mods were definitely possible and seemingly worthwhile. So, I decided to buy this blaster, my first in four years at least. I got it because the ROF (as stated elsewhere), "is pure win," and coupled with it's potential, modded range (which based on what I've read, previous experience, knowledge, and plans I myself have), seemed like an excellent alternative to my normal primary, a PC: better range for slower-but-still-good ROF, not unlike a trade-off between I guess a Tommy and an M1 carbine if I had to compare to real-world (but I think the theory comes across). Average distance is about 35-40 ft. out of box, but this various with the individual dart it seems. I assume wear-and-tear would likely take it's toll after a period of time though, particularly after I opened it up.
The internals are quite complicated, with a gaggle of springs, screws (~50; there was a small pile after I had finished), bits and parts...well you'll see from the pictures below that the shell's rather packed. However, there's a ton of space in there also, and choosing to keep the blaster "locked" (as I intend to do; thing just looks too badass "deployed" to me not to, too much potential there), would free up even more after the removal of the light.
So I've got quite a few plans for this baby, and the greatest part is that one needn't have a ton of custom parts and pieces and tools, etc. to do the work based on what I've seen from the Mod write-ups: it's like Nerf did all the work that modders have been doing for ages, just for you...only, they had to mitigate the potential apogee of awesome and used the reverse plunger...:sigh: "It is what it is."
Regarding disassembly: follow NerfRogue83's directions in
his write-up
to the T, and you won't have any problems. I of course went somewhat farther than what he presented, but obviously I don't mean to attempt to supplant his great work. Rather, I wanted to take the thing apart down to the final screw, and that's what I did; indeed, given my goals for this thing, it would have had to happen sooner or later. The only real things to note is what NerfRogue83 alluded to previously: it has a ton of screws, many hidden behind other parts, and only by going back and forth between different connected/related areas can you finally get the thing apart totally. The worst kink in taking it apart, which I pointed out in the last picture, is that the "back" half of the shell has a part glued in; this part is what secures the "railing" I guess for the movable stock. Otherwise, careful observation will usually yield what to do next if you choose to go the route I did, though do keep note of which screws go where: there are at least 5 different kinds of various lengths and types.
Thanks again to
NerfRogue83
for his excellent write-up!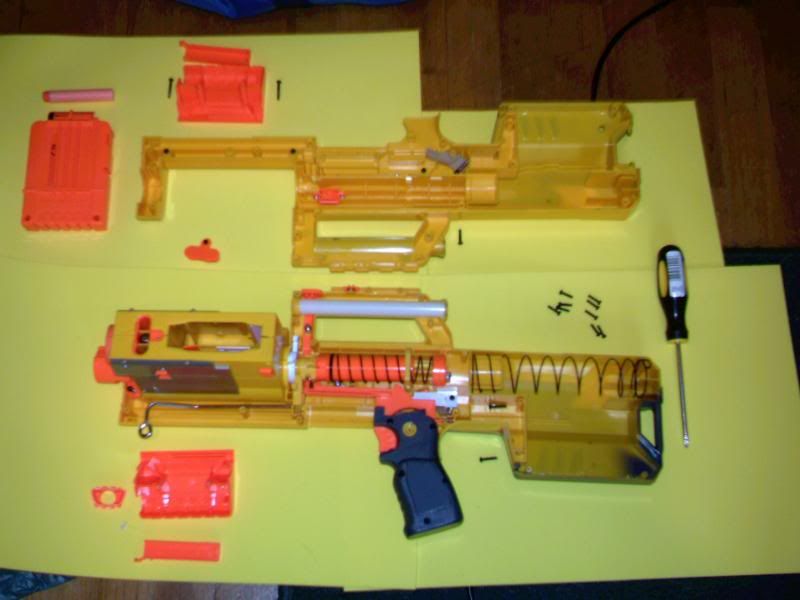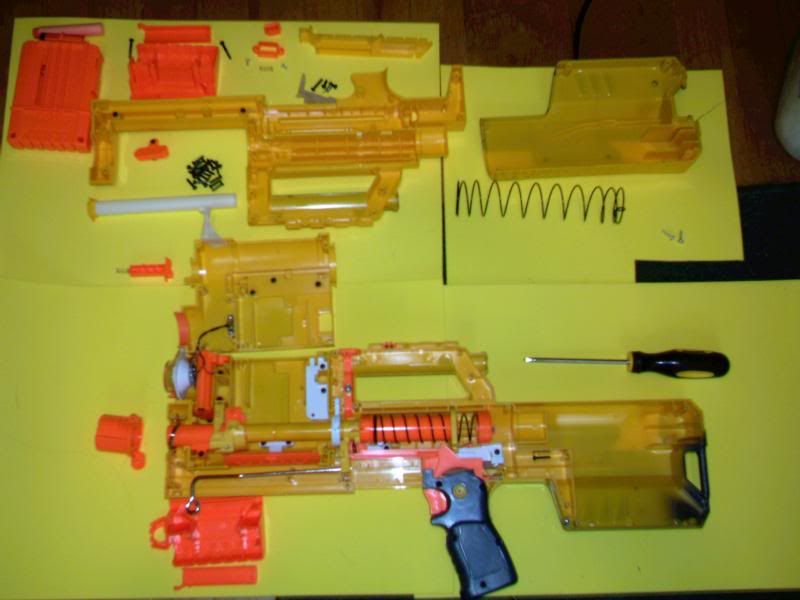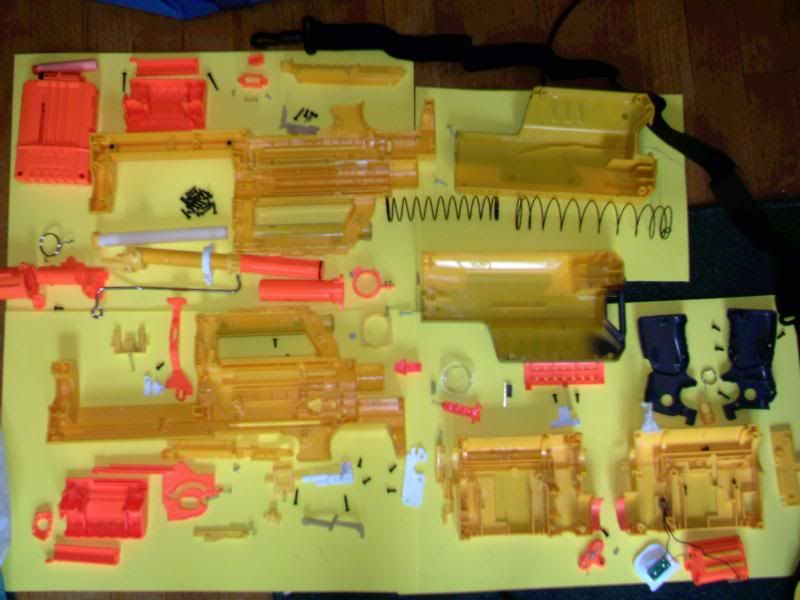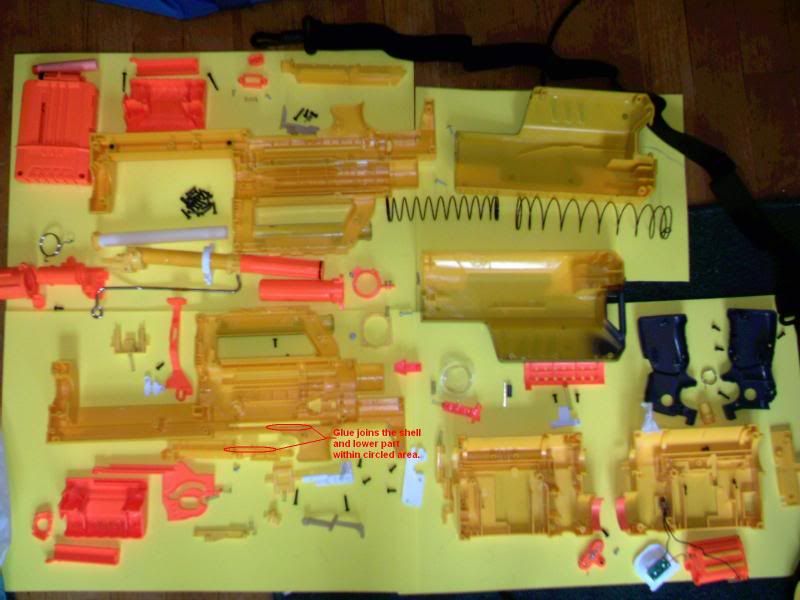 Edited by TimberwolfCY, 26 July 2010 - 11:13 PM.