Today we will be making this:
Its a recon powered by a BS tank, that utilizes the stock breech setup and clips. This entire writeup is written after the fact, so if anything is unclear feel free to ask and I'll be glad to help.
You will need:
A recon
A pump
A BS tank
A
hornet
blast button (they are smaller than any others)
and some replacement tubing
First things first, rip out all the useless stuff, including the spring and catch. Then take a screwdriver to the back of the plunger tube and pop that cap off. Then dremel/drill out the crap thats in there , but be sure to leave a bit of a lip at the bottom so the plunger head doesn't go too far. Pretty much, make it look like this: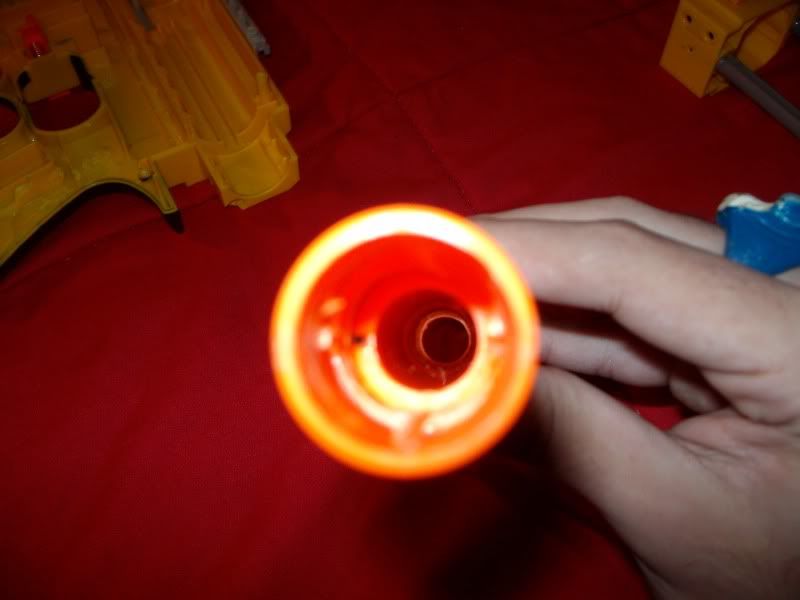 After that, get your BS tank and cut off the barrel while leaving about a half inch stub. The stub should fit quite well in the back of the gutted plunger tube. Then go about setting up your trigger and pump, mine looked like this:
Make sure to leave enough tubing for the BS tank to slide backwards with the plunger tube its going to be mounted in.
Now, for the inside. First take out the air restrictor and all that. Then make sure your plunger tube and breech are all closed, and glue the plunger tube to the other part of the plunger, like this:
After this, you're going to need to make some modifications to the inside of the shell and trigger. Sand both sides of the shell until they look like this:
And sand down your trigger till it looks like this. Also, cut down the little spring nub too, because thats whats going to be pushing the trigger.
In the end, all of your internals should fit together like this:
Now close it up, and give it a test! I would recommend putting the stock on and then gluing the BS tank in, just to help protect the tank a bit. Feel free to modify the breech in any way you'd like. I did something a bit like Mehku's telescoping barrel thread, but I took the dart tooth all the way out so it sealed right into the PETG. I have the barrel extension on to cover the bare PETG.
One more thing: Yes, I know this was done before with a 4B or a blast bazooka or something, but I wanted something that was a little more compact, had an internal trigger, and looked better.