It's been one year since we had our first major war here in Chicago. Let's put Chicago on the map for good this time! Everyone from around the nation and Canada is cordially invited! This is all about getting back to our roots and having FUN!
When:
April 10, 2010
Where:
Centennial Park
9400 S Oak Park Ave
Oak Lawn, IL 60453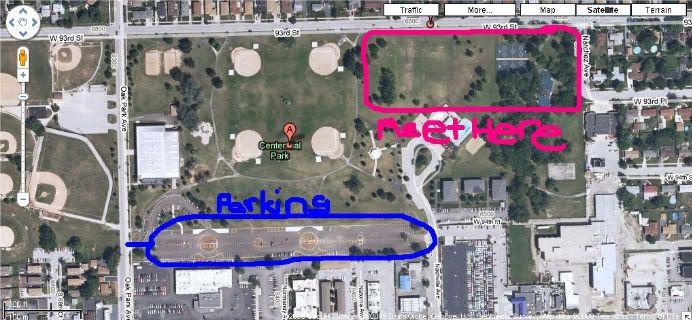 (It's the same old pic, blah blah blah)
Rules:
- Since the theme is Back to Basics, only stock darts will be allowed, with the exception that streamlines can only be used with N-Strike Clip System Blasters. If you have old stock megas and whatnot, now is the time to put them to good use!
- Don't be a douche
- Please no darkly painted/realistic looking Nerf Guns
- Manta Rays and Crossfire Shields are the only shields allowed.
- Hopper clips are banned
- ALL HOMEMADES ARE SUBJECT TO MY APPROVAL
Here's what to bring:
- Nerf Blasters and backups in case of breakage
- Eye Protection, or else you won't be able to play
- Ammo, I highly suggest writing your name on the stock darts or doing something to distinguish your own from everyone elses
- Lunch and Drinks, We'll have 30 minutes for lunch and back to Nerf. If you're late, we're starting without you.
Banned Guns:
- Singled and plugged 4B's
- Singled Titans
- Pump Replaced Air guns
- Barrel Replacements over 9"
- Anything that is dangerous/unfair/hampers fun of others
Who's Attending:
Snake51886 + 10
Merzlin
LiterSize
Waffle
Bunstock
Kane and the Napervillians
bobbo + 2
Maybes:
HockeyFights
Carbon
Scogglestein + "siblings"
Demon Lord + Shorts?
Highly Unlikely:
BJ Williams
Questions, comments, sand in the mangina? Post it here or pm if its of a personal nature.
Edited by Snake51886, 11 April 2010 - 06:03 PM.