Hey everyone, I have been reading NerfHaven for years and finally got approved
with an actual account so here is my most recent mod that I did, and I did a write
up. I wanted to make sure that I included as much as I could, as well as some high
quality images of the internals as I had not seen any anywhere. I hope you all enjoy
and I appreciate all of the awesome fun I have gotten from reading this forum over
the years!
Steps:
1) Take your Double Shot out of the packaging and make sure it fires properly.
If it does not get at least 15-20ft of range (approximate stock) then you
should promptly return it to the store and get a replacement. (image 1)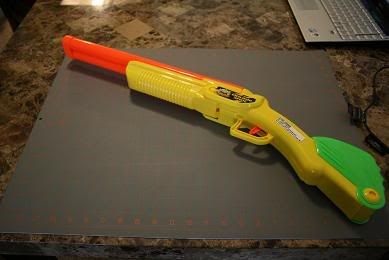 2) Assuming that it fires properly, then remove the 2 stickers on the left side
of the Double Shot. (image 2)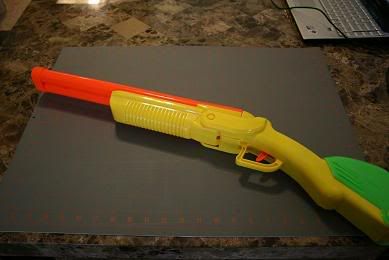 3) Then turn the Double Shot over and get a peice of paper. I have drawn the
outline of the Double Shot, as well as numbered almost all of the screw holes.
(Note- while performing this mod, I decided that screws 9, 11, and 13 [which
is just to the left of 6] are not touched in this mod, therefore they are
not taped to the sheet.) Once you have drawn the outline, proceed to remove
the screws and lay them out at their proper places on the sheet. Several of
these screws are different sizes so this is very useful. Tape the screws
onto the sheet. If this is your first mod, you will thank me later. Remove
the yellow screw housing that holds the green ammo cover. Remove the green
ammo cover as well. (images 3 and 4)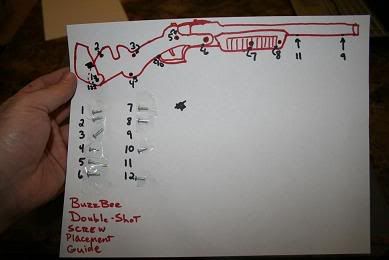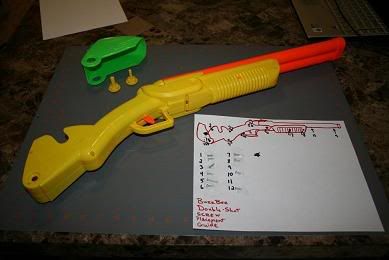 4) Use a small, thin flat head screw driver and GENTLY pry the body loose just to the
left of screw hole 4, and then on the top of the body between screw holes 3 and 5.
Carefully pry the body of the Double Shot apart. (images 5, 6, 7, 8, and 9)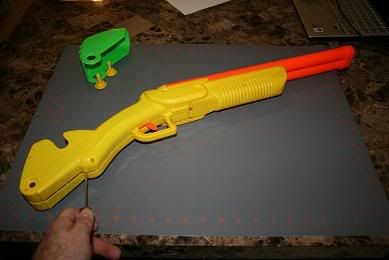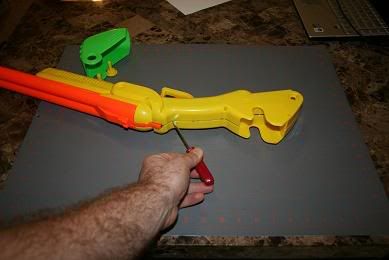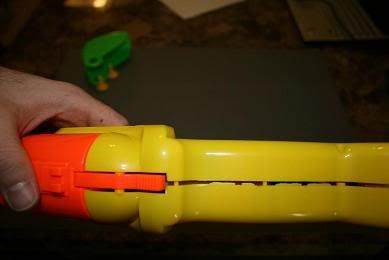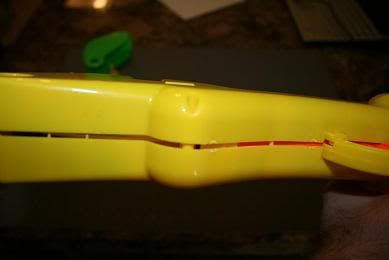 5) You will notice that the plugers, as well as the springs on their retaining clips
might pop out of place. This is OK! DO NOT PANIC! I have included detailed photos
of how things should go together. Surprisingly enough, the internals on this gun
are way easier to re-situate than even the internals on a Maverick pistol!
(images 10, 11, 12, 13, and 14)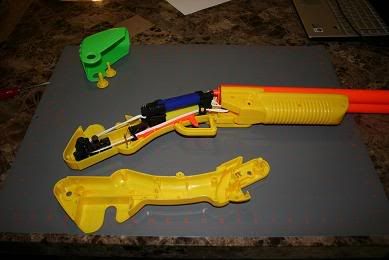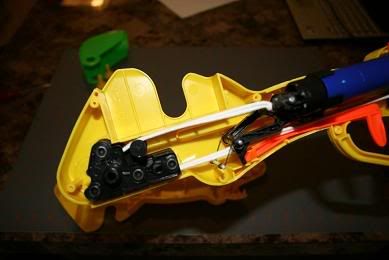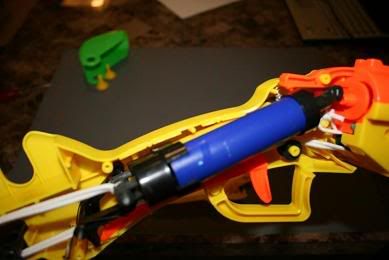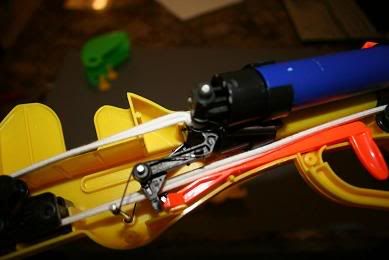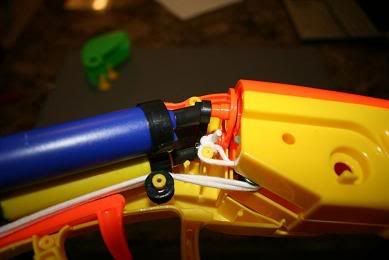 Edited by shinma22, 04 November 2009 - 09:46 PM.