There is an ongoing debate on whether spinning darts as they leave the barrel will improve stability. I have devised and constructed (still being greatly improved) a rig which allows darts to be fired from a brass barrel rotating at various RPM's (from 180 up to about 600RPM). I intend to show the ACTUAL effects of rotating a variety of types of stock darts as well as Stefans of different weight distributions.
First, here is the basic setup: 17/32" brass barrel, 10" long. Powered by 60psi run through an air nozzle. An old sewing machine motor is belted to the barrel, which is nested in the next size up brass tube, which acts as a cheap bearing.
Results so far: (Keep in mind this is the beta tester, and real data will be obtained after all the bugs are worked out)
At low RPMs (600 or so), there didn't seem to be much effect on stock darts or stefans. At about triple that most stock darts catostrophically fail, the plastic tip bends over and flops around and occasionally rips off. Streamlines cartwheel right out of the barrel.
At max rpm, crappily made stefans appear to have MUCH better accuracy than their non-rotating counterparts. I will make up a batch of identical weight perfectly made stefans to test soon.
Eye Candy: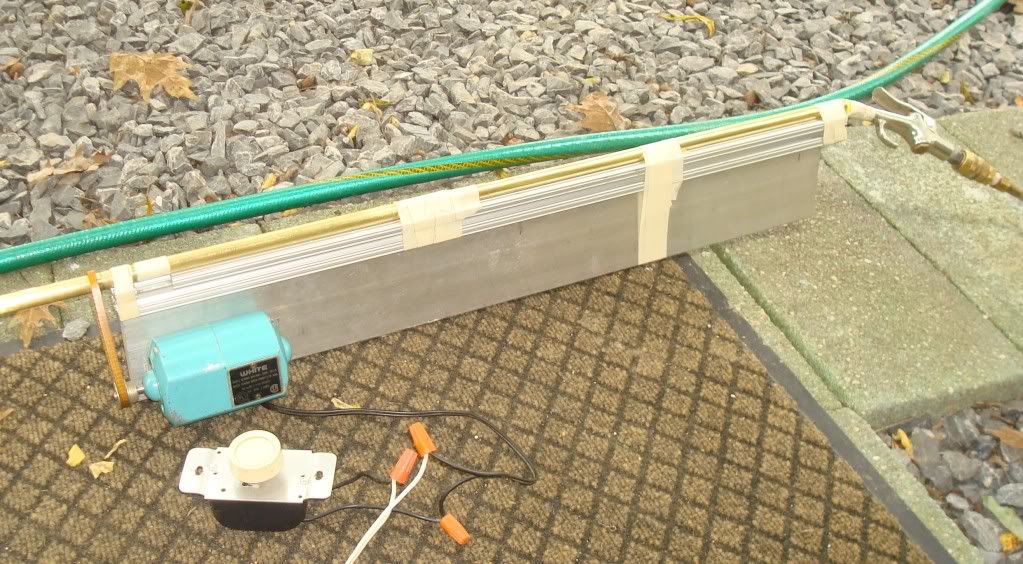 If you have any thoughts/suggestions let me know. Just remember, i will have actual numbers soon and more info about the actual firing rpm, muzzle velocity, weight distribution of the darts etc.