First off, I claim no real creativity or originality with this simple modification. I am posting this only because I noticed that there was very little information regarding this blaster on the forums.
So, without any further introduction, here is my writeup for the Kung Fu Panda Commander Crossbow, an underrated, mid size, totally goofy looking blaster.
Here it is in the box, which claims that it will shoot the sweet looking mega-darts 20ft.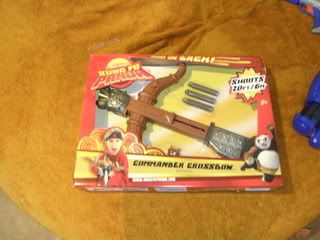 I only fired it stock one time, but it barely reached my garage door from about ten feet away. Not a great sign.
And here is a close up of those groovy darts: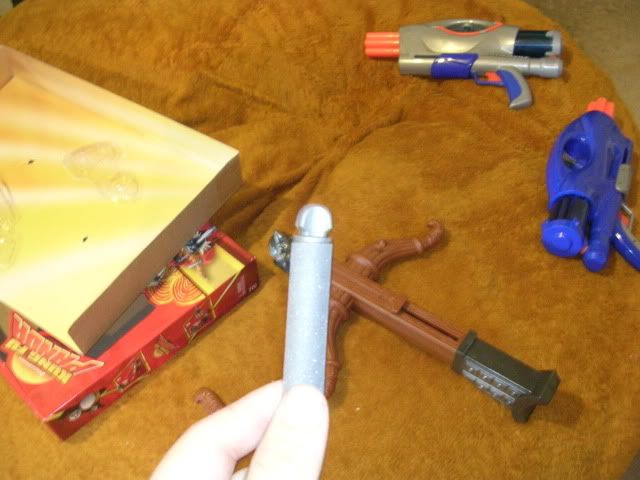 Cool huh?
But let's move on.
Unscrew the gun. You do actually have to take out every single one of the screws in the gun as the bow arms don't snap pop or anything. It's kind of a bitch, but it makes for a very sturdy blaster. Also the plastic is comparable to Hasbro plastic as opposed to Buzz Bee or Lanard Plastic.
Here is a picture of the plunger tube in the shell beside a nitefinder: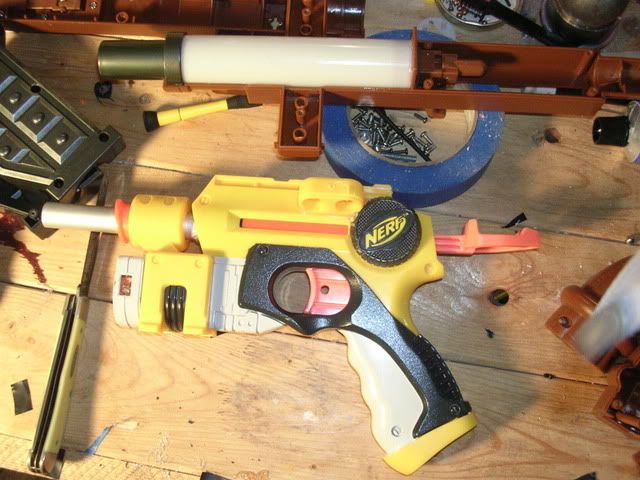 It is slightly longer than the nitefinder plunger tube and might be a little wider though I did not take any measurements.
To remove the plunger assembly you must unscrew the screw that goes through the little finger handle used to prime the gun. Now take out your plunger and examine it: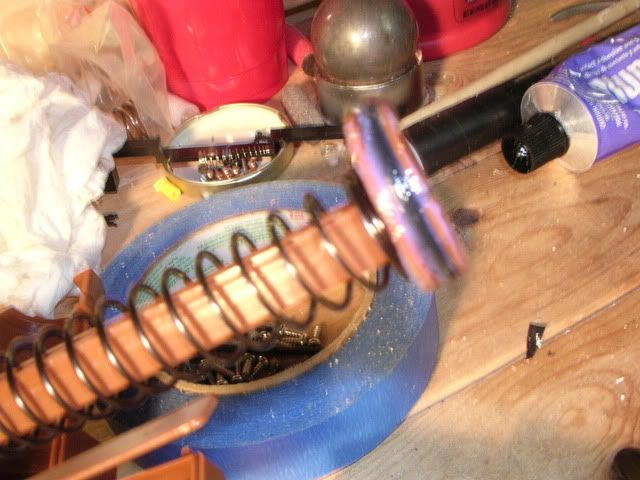 Here you can see the stock spring which I would compare to a whiptail scorpion spring (so not that bad really) and the well lubed plunger head which has a pretty good seal in the plunger tube. I didn't mess with it at all, but you could probably stick a layer of e-tape under the O-ring if you aren't satisfied with the stock seal. I may go back and do this depending on how well the lube holds up.
Here I ran into a problem. I can find no way to add to or replace the spring (something that I almost always do) as the whole assembly is fitted together without any screws of any kind: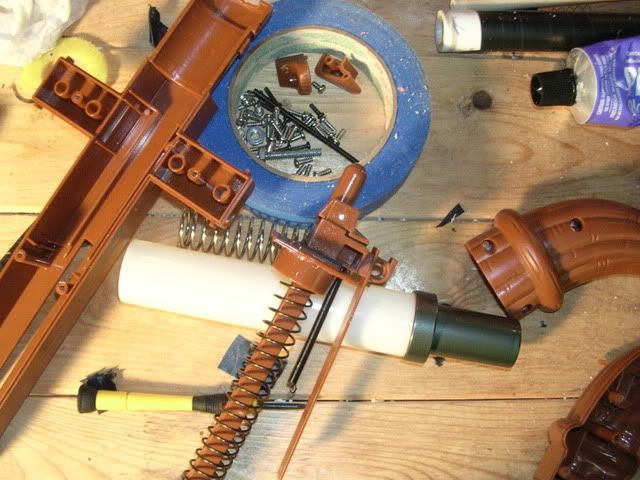 If anyone else has one of these and has successfully replaced the spring without destroying the gun please let me know. Internal banding might be a possibility, however the catch is rather weak and sometimes requires that the trigger be pushed forward in order for it to catch. I didn't snap a picture of said catch (you can kinda see it in the upper left hand corner of the third picture) although it is relatively simple and could probably be reinforced with a tactical rail spring. Open the gun up; you'll see what I mean.
But anyway, on to the barrel replacement:
What you will need:
- a 4 to 5 inch piece of thick wall PETG (length depends on dart fit, just use about the same length that you would use to re-barrel a nitefinder)
- e-tape
- a dremmel (could be done without one, but it would be much more difficult)
- needle nose pliers
- Plumber's Goop (or your preferred adhesive for barrel replacements
I chose not to coupler this gun as a PVC coupler would not fit and my darts just don't like CPVC, but I'm sure a CPVC coupler could be made to fit in the stock barrel with some sanding
Now, when you look down the stock barrel you will see a massive peg that restricts air quite effectively: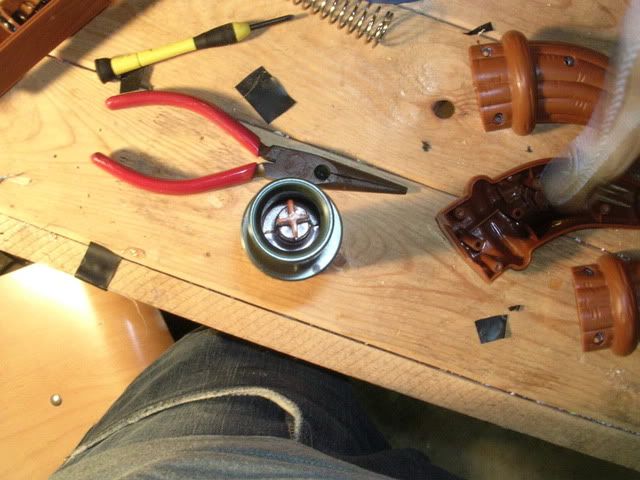 Remove that through whatever means you are comfortable with. I used the cutting bit on my dremmel and a pair of needle nose pliers with some force behind them. Just do whatever you have to to make it look like this: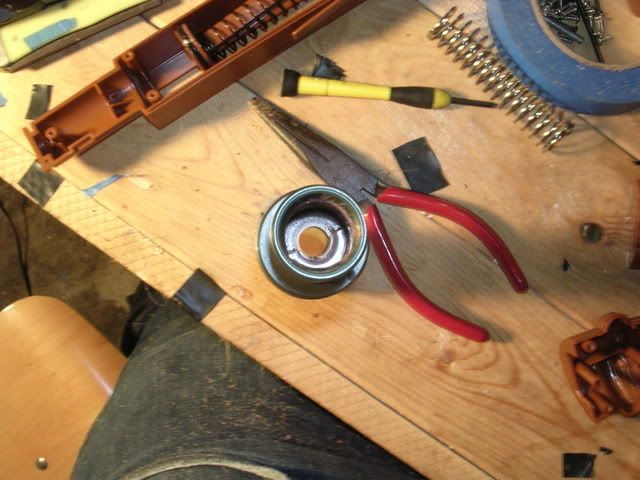 Make sure to clean all the little pieces of plastic debris out of your plunger tube. I used a paper towel taped to a dowel rod.
Next, sand down the ring at the tip of the barrel until it is flush with the back of the barrel. This will make it easier to use e-tape to center the barrel while the goop dries.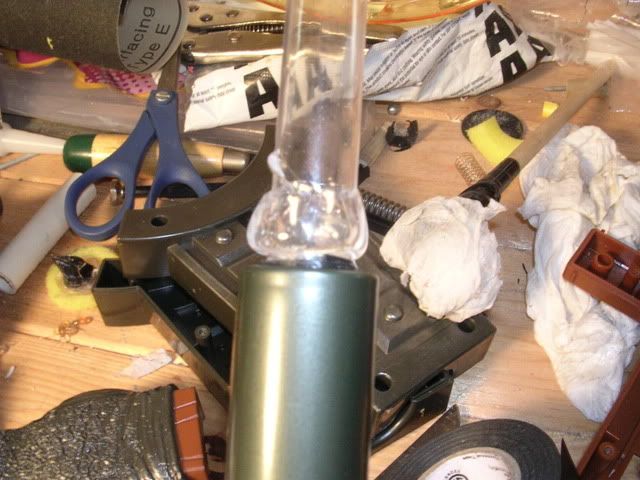 E-tape and goop the barrel as shown then shove it it and let the goop dry for twenty four hours.
The finished product:
I have not tested ranges yet, but I can say that they are far better than stock. This is not a blaster that I would use in a war (without a spring replacement that is), but I like the way it looks and amazingly, the tiny handle isn't that uncomfortable.
I'm sorry if any of the pictures are unforgivably blurry, I'm a little new to doing write-ups.
Thanks for reading; let me know what you think.
Edited by flamincows, 03 August 2009 - 04:02 PM.