Good evening NH, I have for you my first write-up. Please excuse the picture quality where acceptable. I, like Dizzy, am fond of my E-a-B, but even more so now.
Sublimedom777's Expand-a-Blast: Brassed, Breeched, and Clipped.
Note: I recommend using
DizzyDuck's writeup
for internal reinforcements and plunger improvement if needed.
Materials:
1x E-a-B.
Dremel with plenty of cutting wheels.
Sanding attachments OR sandpaper
Enough barrel material of choice to make a breech.
Hot glue/ gun.
Other adhesives/filler.
Optional:
Materials to perform Dizzy's mod.
Firstly, open your E-a-B. No major surprises here, (screws that I might use to build a deck with), but very sturdy. Make sure not to forget the two screws under the expandable stock, and the one under the fore grip lever. Be careful when opening it (seeing as any E-a-B is getting on in age). I had my catch platform snap off. No worries, but do be careful, lest something more important break.
Internals
Optionally, everything but the plunger assembly/trigger can go away. I personally enjoy the useless expandable stock, but that's just me. Keep the springs from the expansion catches, they seem useful as, duh, catch springs.
Grab the massive plunger tube and mark approximately where you want the unnecessary barrel to stop. In retrospect, cut it as close to the plunger tube as possible while still being able to mount the barrel.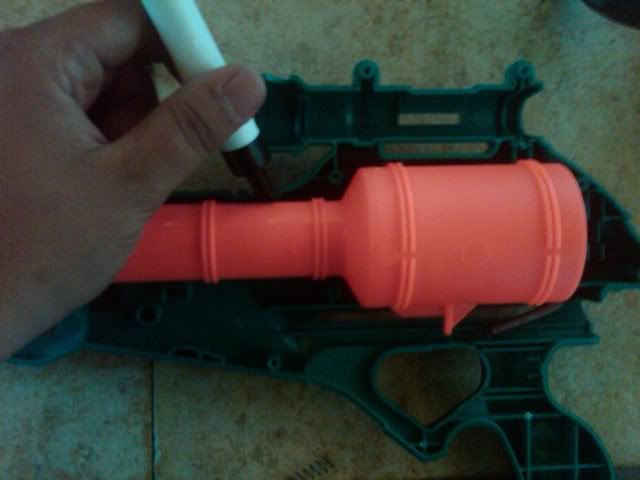 Now cut the front part of the barrel off and set it aside for possible future use (you never know). Also at this time, you should knock out the pegs and plate inside the barrel, it'll only be in the way.
Start constructing your breech. Mine is big enough to accept stock darts, but I suggest using whatever size/style serves you best. (Seeing as this is my first breech I'm having a few troubles with it but hope to have them worked out soon enough). *MAKE SURE TO LEAVE A BIG ENOUGH STUB ON THE BACK TO REACH ALL THE WAY TO THE PLUNGER TUBE!*
Next, do whatever you can to enlarge the barrel to minimize the use of filler. I put e-tape on a stub of PVC, over a stub of my larger sized brass. Now decide which side you prefer the breech opening to be on, this determines where your clip will feed from. (This guide assumes the clip goes in the left side of the gun. Lefties, mirror the cuts later for it to feed from the right. If any of you goobers want it to feed from the top or bottom, well, figure it out yourself.) Fill in the area with whatever combination of sealants and filler you wish. I used mainly high temp hot glue. (Drat, picture is lost).
A good way to keep the barrel aligned properly is to do what I did. Cut the expandable barrel in front of where the peg is, insert your larger diameter barrel material, and slide it over your inner barrel and hold/clamp the gun closed until your seal sets.
Now the dimmer of you folks might be scratching your head as how to access the breech. Do not fret young'uns.
Now we take the breech/tube assembly and lay it in whichever side of the gun the clip port will be on. Make sure that the little peg on the plunger tube is pointing down and make doubly sure that the little rings fit into their designated grooves. Figure out where the opening has to be for your breech to accept a clip. For me, this spot lined up with the small groove in front of the scope as the back, and the bottom as ¼ of the way into the little buttons below the window.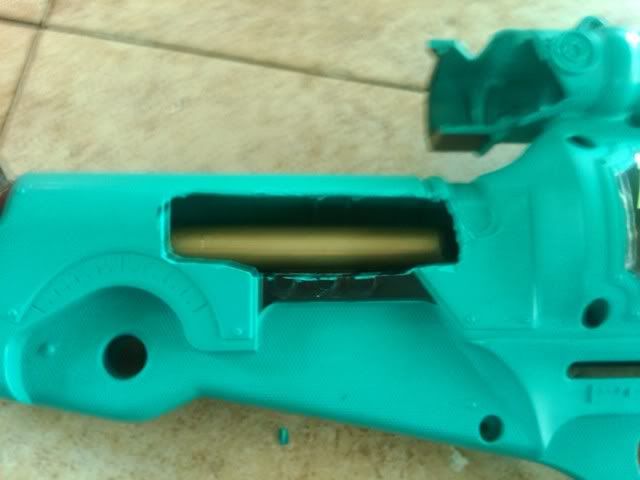 Remember kiddies; Measure twice, cut once. Make sure the cuts are straight and make sure the area you cut out is just big enough to accept a clip. It's always better to have to remove more than to remove too much.
Finished-ish project: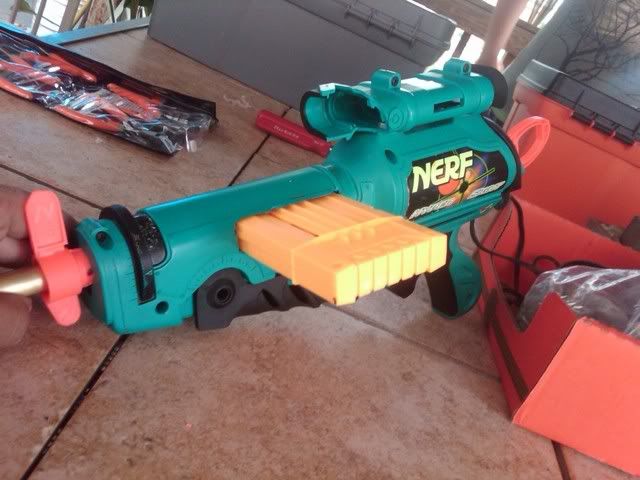 I feel a good suggestion is to affix the barrel stub to the front of your larger size barrel, if appropriate with your breech. This will A) Keep the barrels straight and steady,
Provide something to grip to actuate your breech, and C) For the standard safety reasons Nerfers like I employ, such as keeping some stock orange plastic on most blasters.
I have reinforced the plunger rod/head, as well as the spring rest with epoxy putty, because I replaced the stock spring with an ACE #49.
[edit] The lever has been mostly gutted to make room for dart storage [/edit]
Ranges: Stupid. When I feel like getting around to doing the math I might calculate the muzzle velocity (better than ranges, but that argument is for another time/place).
Now all that is left is to give it a sick paint job since I love this blaster:
Yes, that is a golden raptor. This blaster is a tribute to XKCD. Currently it is named VelociRapture, but suggestions are still being taken.
Reads: In Memorandum June 11, 1993 (day Jurassic Park opened, yeah, it's been 16 years!)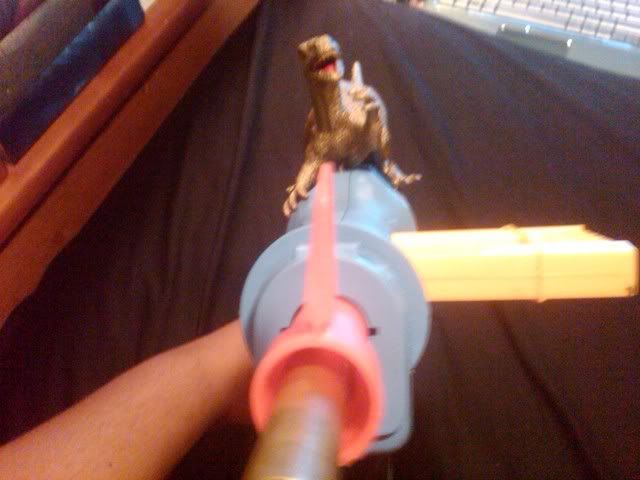 Look for an update some time in the next week, I'll be making an amendment to the finished state of this blaster, unless I fall back to plan B, which will still probably be worth looking for
(Edit: Linked to Dizzy's Mod, Fixed title for better searches)
Questions? Comments? Flames? Your Mom?
Edited by sublimedom777, 20 July 2009 - 07:12 PM.