This mod is to make available an alternative massive air tank to the Titan.
The problem is that stock it has a c-blocking safety marble in it that only allows you to fire vertically, making integration impossible.
Materials/tools for Blaster Mod
• Marine Epoxy
• 3/8" spade bit
• Drill
• Dremel and your choice of cutting bit
Materials for Tube mod
• 1/8" nylon tube coupler
• Crazy glue
• goop
First, read this thread
http://nerfhaven.com...5218&hl=ironman
Now get one of these
http://www.amazon.co...3926396&sr=1-10
I got one for $17 and two for $10, so they very.
First what NOT to do.
Removing the bottom screws does nothing.
Cutting the whole bottom off does nothing.
Here you can see the hole that the c-blocking assclown marble sits on to act as a safety so this beast can only fire vertically.
More internals.
Now on to the actual mod.
First, remove the plunger and the tank from there respective stands by removing screws (you don't need a pic) and dremmeling on these two places.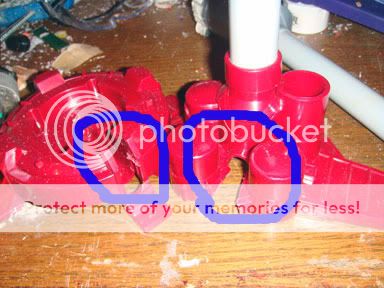 Next drill directly above the hose on the take with a 3/8" spade bit. There is the rat bastard c-blocking marble: MOCKING US!!!
The hole is the perfect size for the you-know-what to come right out.
Cover this hole with hot-glue (only time I will ever advocate hot-glue) or epoxy. DO NOT use goop because it will sink into the hole and block the entire passage.
Apply marine epoxy to your hole…yeah. Here you can see the "easy" way and the "hard" way.
While you wait a day for the epoxy to dry, you can cut down the base of the plunger tube to as little as this.
Another for kicks.
Plugging the pump: all you do is tighten this screw.
The tube is absurdly long, but it is easy to shorten. Just cut out the excess to your desired length, put crazy glue on a 1/8" nylon tube coupler, put the two ends together, and coat in goop for good measure.
Screw this back onto this…
BAM! You now have the most powerful air tank on the market ready to be thrown into any gun you want.
Buckets of props to imaseoulman and SomeBob for the inspiration. I'm excited to see what the NIC can do with this, I know I have a few things in the works.