Hey guys. I was trying to build a FrankenFinder the other day, but the plunger head seemed to be shattered, and I didn't have time to buy a new one. I ended up putting the turret from the 2K onto a BBBB. If you would like to replicate this modification, instructions follow below. This mod isn't perfect, as it has got some dead space, but it's fairly effective.
Here's the list of materials.
- 4x lengths of PETG, I used 8" pieces
- 1x Big Blast
- 1x AT2K Turret
- Hot glue and Glue gun
- Dremel/Grinder/Sandpaper
- Hacksaw
First, you'll need to cut down the Big Blast shell so the 2K turret will fit comfortably. Unfortunately, I didn't take a picture of this step.
Next, you'll need to cut and sand down the big blast barrel. Sand the top so the spring of the turret fits snugly against the side of the stock barrel.
Then, You'll want to dremel a groove into the top of the big blast shell, take a piece of the orange ring (the one from the big blast that you have to cut off to open the gun) and glue it into the groove.
After that, you'll want to glue the turret into the BBBB stock barrel, the back of the turret should be snug against the piece of orange ring, glue the ring to the turret.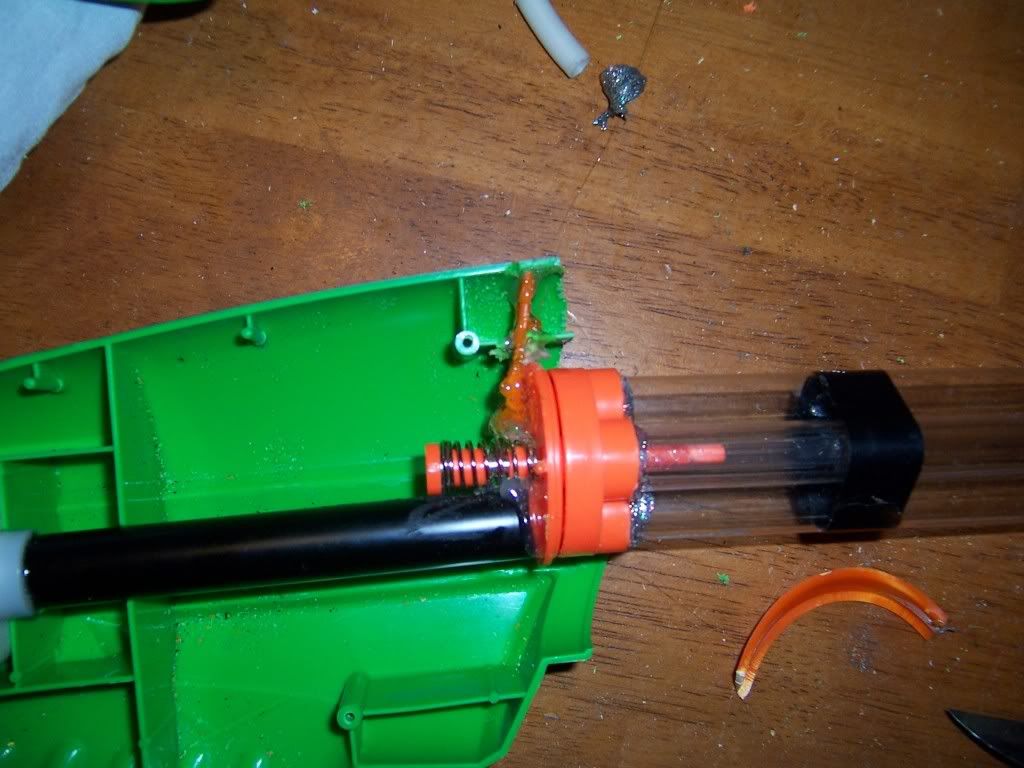 To finish, reassemble your BBBB.
I haven't tested the ranges (ranges are for squares, anyway), but it shoots across my basement at high velocity and has alot of air output. Well, thanks for checking this out. Tell me if you need a video of this, I'm planning on making a quick firing demonstration, later. Also, the barrels are a bit crooked in the picture, but actually they're pretty straight.
Questions? Comments? Constructive criticism?
Thanks
Finn
Edited by bigred1rifleman, 19 June 2009 - 06:48 PM.