Over the last few months I've only been experimenting with air guns. Untill I found the Maxshot, I really disliked springers. Anyway, I was looking for a gun with good RoF and the MS has that. Then I just wanted to add something that gave it that extra umph. Originally I had planned to use an Arachnaphobia pistol under the maxshot but after 2 failed triggers, I gave up that. In the future I'll probably be adding a Marvelous Salvo to this thing, just to make it more beastly.
Here's the gun, pretty simple: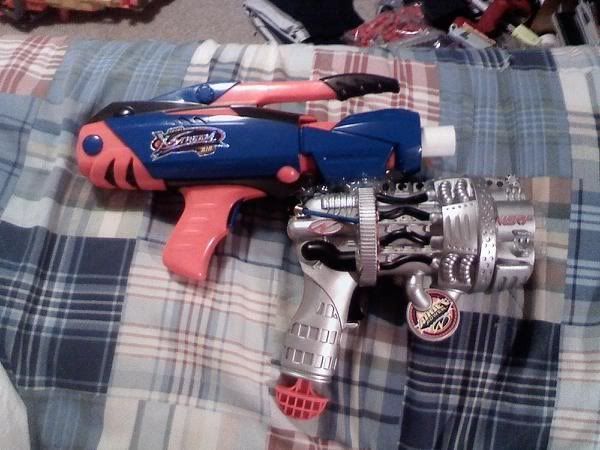 Basically just do everything like normal. Pump the LB while holding the handle of the LB and then pump. Prime the Maxshot the normal way. The LB also has a piece of velcro on the side of it. It's for a pencil that velcro's on to act as a thing to push the darts down the LB barrel. The barrels on both guns are solid, as in completely straight. Maxshot is hitting around 75 feet, but that was in 30 degree weather a couple weks ago. By summer it will be up more I'm guessing. The LB is around 60-70 feet as a shotgun spread.
Another pic:
I really only posted this because it was something unique and different. Also the fact that I haven't posted a mod in like 4 months. Anyway, like I said, I'll be getting a Marvelous salvo on there in the near future. Hope you enjoyed.
Edited by ChiliPepperFender, 02 February 2009 - 10:56 PM.