Hows it goin NH! Finaly I can post. Now down to business.
I am in the process of building a multi-function Vulcan that works as a standard vulcan, remote opperated vulcan and a unsupervised sentry gun. The entire process is going very well. By useing some spare parts from one of my old rc rockcrawlers I can now fire and rotate the gun via remote, I can even control thr ROF it has. A micro speedcontroller fires the gun while a 333 OzIn servo rotates the gun left and right. All the componets store inside the HUGE battery tray beside a Li-Po battery.
Now the problem, I am wanting to use the third channel on the remote to activate a motion sensor and a timer that can reset the system 3 or so seconds after motion is detected and fireing has commenced. Kind of a tall order but it would be pretty sweet if it works. Any ideas? I searched for remote guns, sentry guns and the like and didn't get any hits, if this is a old idea and I just didn't find the tread then I'm sorry...please don't ban me
!
Heres the diagram, sorry for it being so slopy.
This looks complicated but its not, just split the battery wires so they go to the guns original system and to the speed control, then run the speedos motor wires in and splice them into the corect motor wires in the gun. this way you can still use it via the trigger.
EDIT: Finaly some pictures of the rotational system!!!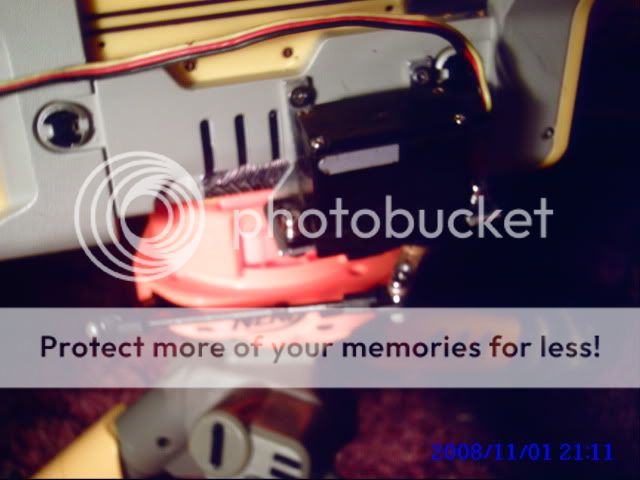 Edited by ex-airsofter, 01 November 2008 - 09:15 PM.