SouthEast Nerf Outing (SENO)
When:
December 13th, from 10AM to 5PM
Where: Garrett Elementary School
1100 Eisenhower Drive
Augusta, Georgia 30904
What to bring:
- Eye protection (this is mandatory)
- Proper clothing (it might be a little chilly in November)
- Enough fluids and edibles to keep you going
- Enough ammo for your weapons
- Your nerf guns (dur)
- Some money just in case we order pizza
Who:
For sure
Shadowblade +1 or more
ShadowFire +2 or more
Myster.E +1
Zaxbys +2 or more
rork
A side of nerf +1
veginator +1
Maybe
Rover
NerfIsNarly
GodOThunder8882
umpshaplapa
CapnTac
Alright, now that the details are out of the way. It is time for Fall SENO! WOOT! I'm glad to see some new faces this time around. I'm afraid Groove will not attend this time and he will be missed
. Other than that, I will see you Saturday morning in Augusta! Nerf on.
Notes
- Eye protection is mandatory for everyone under 18. We are not accountable if you sustain injury due to not wearing eye protection. There were some hi-power guns in play for summer SENO, and this time around, a good majority of the Augusta nerfers will be fielding BBBBs.
- Singled titans are banned. Period. Other than that, guns will be judged on a case-by-case basis, so bring a backup weapon just in case.
Airguns will be heavily regulated.
- Dangerous guns will be banned on the spot. So put that howitzer away...
- Homemades
will be allowed
(SNAPbows, +bows, etc.), unless they violate the rule above.
- Loaner guns will be available for guests.
- We will probably chip in to buy pizza if some of us want to, so bring some money.
- Public facilities (water fountains, restrooms, etc.) may or may not be available, depending on if the Garrett Gym is open on that day, which I doubt. So make sure you're okay with that.
- Park in the parking lot right next to the playground, that is where our staging area is.
- The fields in the pics will have a little more cover. There will be cardboard emplacements to add more cover.
- NERF AND HAVE FUN!!!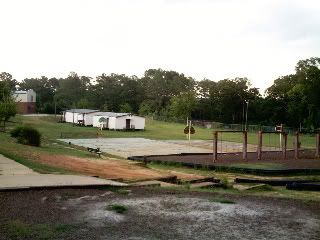 This is the overview picture of the playground. You can see the gym in the background to the top left. The gym marks the north boundary. We'll use that area if we need to.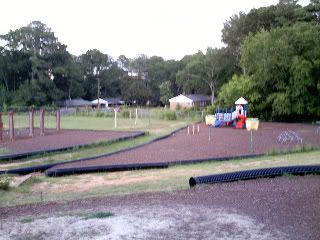 Sorry for the blurry pic. You can see the "trench" dividing the playground in the middle. The other trench is in the treeline in the top right of the picture. This trench marks the east boundary of the playing field.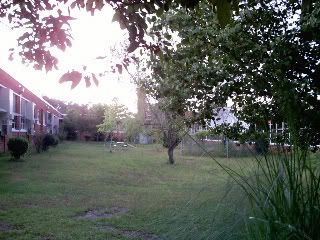 This is the courtyard between the two wings. It's perfect for small, close-range battles.
Here is the front of the school. The left edge of this yard is the west boundary of the field. Besides the few large trees to the right, there is very little cover.
You can get directions from GoogleMaps, MapQuest, etc. They also have an overhead view of the playing field. If you have any problems getting directions or any other concerns, feel free to PM me.
*NOTE* SENO
has
been granted safe zone status for the Greenbriar war. We will play as planned.
Edited by Shadowblade, 11 December 2008 - 08:02 PM.