Obviously all inspiration for this goes to Dayko and the original mod. Here's my version.
Tools & Materials Needed:
Hacksaw
Sandpaper
Rounded File
Screwdrivers, etc. that you'd normally need.
1x Nitefinder shell
1x Diskshot shell
2x Nitefinder internals (Plunger tube & rod)
Plexiglass ( I used .80" 8x10)
1x 1/2" CPVC T-coupler
1x 1/2" CPVC coupler
1x Maverick cocking handle
1/2" CPVC
2x Maverick Springs
1x NF Spring
1x Firefly Spring
Plumber's Goop
2-ton Clear weld Epoxy
Hot glue + Hot Glue Gun
______________________
I've always loved the NF crossbow and how awesome it looks and performs, so when i considered making one, I thought i'd do it a little differently.
I had no second NF shell (its on Vicarious until further notice) but i had the internals of one, and a minimized Disk Shot shell. So i went out and bought a new NF, and then i sortof formed a mental picture to help guide me through the process.
First thing to work on were the internals. Did the 2 tubes together with plumber's goop and e-tape.
Then the rods needed to be put together. I cut one right where the handle was so that the little rivets are still visible when you're looking straight down it. Then i cut the second right before the catch again so rivets were visible, however these were vertically placed rather than horizontally like the first rod.
The first rod has a middle section separating the two rivets on the sides. I cut that away about 1 1/2" of it so its flush with the bottom of the rivets.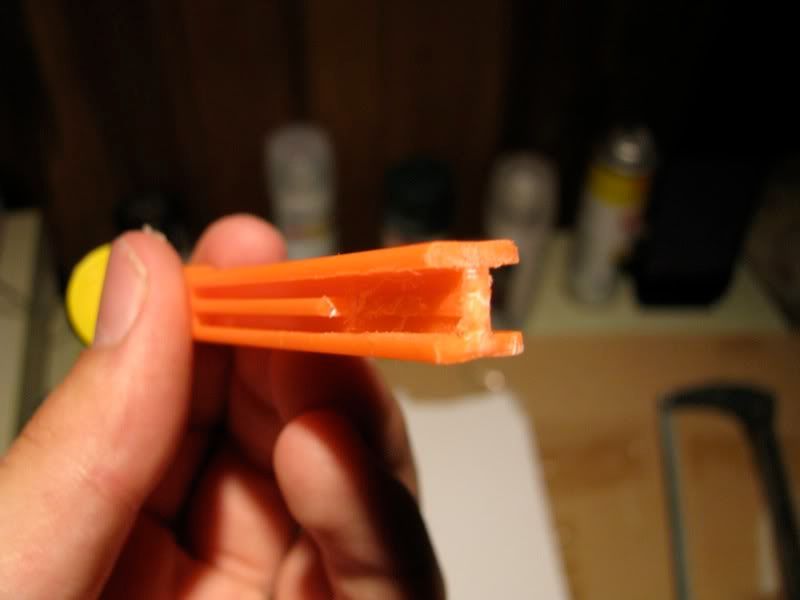 Then on the second rod with the rivets perpendicular to the first's, I added two thin strips of plexiglass and slide them inside the rivets.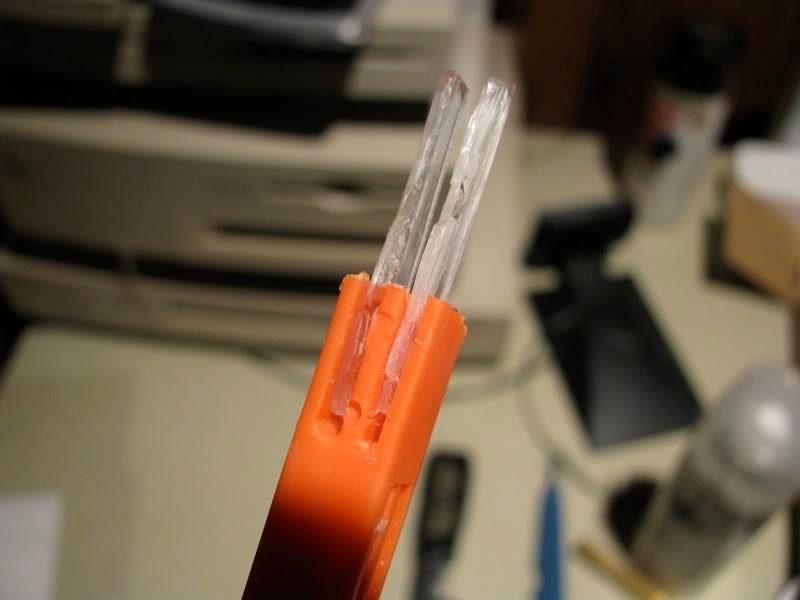 Make sure the cuts you made on the first rod fit the strips snugly.
Epoxy that sucker nicely. Let dry. Sand off any bumps.
Cut the rod inbetween the catch and where the plunger head is screwed on. I took plexiglass that was the same height of the rod and added about 1 1/2" - 2 1/2" between the catch and head to make room for more springs. Epoxied on and let dry, sanded off bumps.
Then put on the 2x Mav springs, the NF spring, and the firefly spring. The NF and Firefly springs should be interlaced.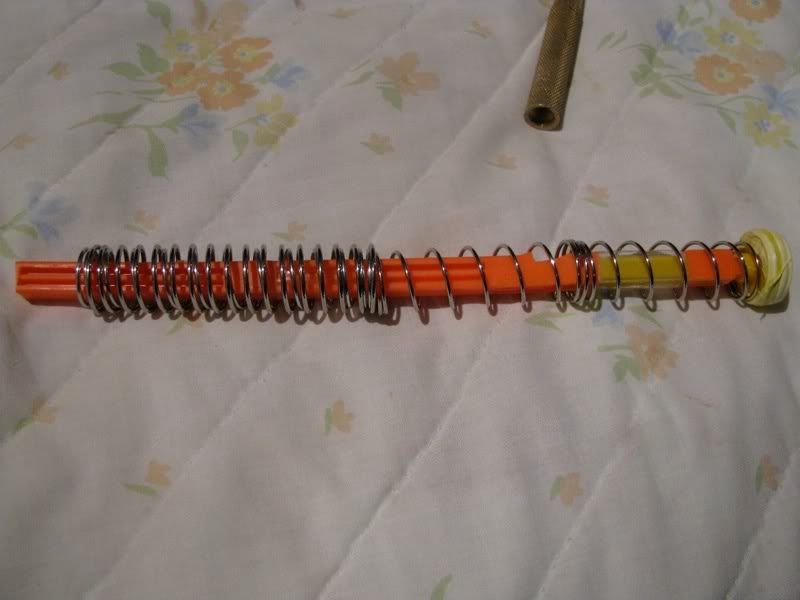 Then take the 1/2" CPVC T-coupler along with a bit of 1/2" CPVC pipe (to fit into the center coupler) and slide the rod inside it, epoxy, let dry.
My plunger head popped off after a few shots, so i epoxied it on. By the way, add on the extra o-ring if you haven't already.
(( CONTINUED ON PAGE 3, SOMETHING MESSED UP WHEN EDITING THE SUBTITLE OF THE TOPIC ))
Edited by Norther_of_Heaven, 30 September 2008 - 11:38 PM.