Om' I wanted to do a mod on my Ertl shotgun like angel, But my parents wouldn't let me buy some brass. So I give You this.
step 1: Cut off the Ball shooting thing.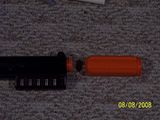 Step2: Sand out the Inside Of the orange part out until a PVC coupler fits In It.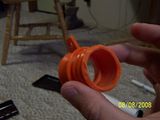 Step 3: Epoxy that coupler In the orange part. Get It as strait as possible.(Sorry no picture)
Step 4: Cut one side of a cpvc coupler up to the ridge in the middle.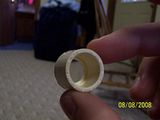 Step 5: Put a cpvc pipe through this brown piece. Put a coupler on the end pull It against the brown piece and put hot glue aroung It.
Step 6: get a 1' piece of cpvc put E-tape around an Inch or so away from one end and put somemore on the other end and slide some Thinwall pvc over It.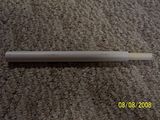 And your done!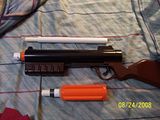 Finished product.
A Look down the front.