My creative juices have really been flowing with alot of unique/special modifications I've been doing lately. So yesterday I saw
Imaseolman's Arachnaphobia Pistols
and I was in awe. I think he does some of the best and most creative mods on this site and I love pretty much all of them. Seeing his gun's just reminded me of how good the SMDTG/BS integration's are. Selling one, but still have one left I decided it was time for an integration. I was looking through my bunch of gun's and was thinking about what may need improvement and an increase in badassim. Most of my good guns would just look awkward with the integration on them except for one. The
Manta

2k
. This gun is good but having the bottom barrel crooked really only had me shooting one of the 2k's instead of both. I decided I needed to revamp the gun a little. So I added a SMDTG/BS integration to it.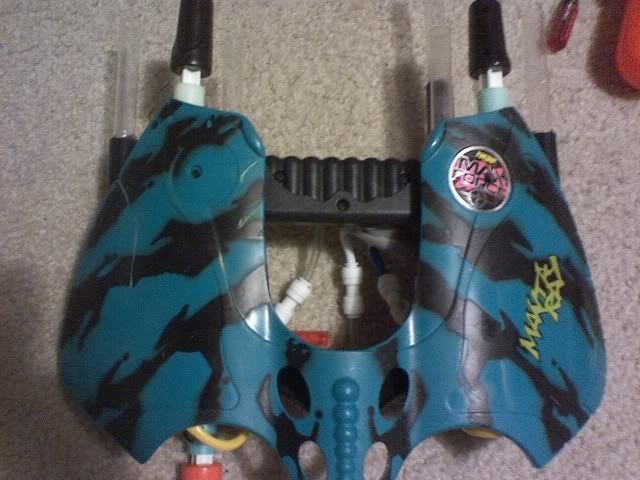 The gun itself is a little less than 2 pounds, not heavy at all. On the right side, when seeing from the bottom, I put one BS barrel and the pump. The pump is on this side because I hold the gun with my right hand, making it easier to pump with it up by my arm, rather than it lower under my arm. The second barrel that would be fired is symetrical to the pump on the other side. The third barrel, symetrical to the 1st barrel. Just like imaseolman, I purposely did this. The first thing I did, actually, was to find out if the SMDTG trigger would be comfortable, which it is.
My thumb slides right on the detonator of the SMDTG and my other fingers barely touch it, if at all touch it. Well after perfectly installing the SMDTG/BS integration my next order of business was to fix the crooked AT2k barrel, which I did with epoxy putty while holding the barrel still. It's 100% straight but around 90%, plus it's the back up "gun" I use on the
Manta
. The tubing doesn't get in the way at all since my wrist slides under it. Since NerfCrazy and Falcon were giving me ideas for puting the trigger by my hand, I figuired I needed one there and having the SMDTG/BS worked out perfectly.
Ok, now the name? Well imaseolman named his original Arachnaphobia because he had 8 barrels and so do spiders, hence the name and being afraid of the gun/spiders. Well what animal/insect has 5 legs you ask? Well, none, unless something got amputated or a mutation but those don't count. A
Star
fish, which is a Echinoderm, has 5 "legs". My gun has 5 barrels, as well as a
star
has 5 ends or points.
Ranges:
I have no official ranges, it's almost midnight here. I'll get some tommarow. Based on my other guns and comparing them to it. I'd say both the AT2k's get around 70-90', with 5 pumps. The BS barrels probably get around 75' with 25 pumps. The pump I'm using is an AT2k pump. At 25 pumps it get's hard to pump. The great thing about the SMDTG/BS integrations is that you can pump it 25 times and fire off the first BS barrel. Then pump it maybe 5 more times and have the first barrel full again. Doing this really utilizes the integration. Getting to shoot one shot 75'+ while having 2 back up 75'+ shots is totally badass.
Questions, comments, flames?
Edited by ChiliPepperFender, 23 July 2008 - 03:35 PM.