To start off, I would like to say that after searching I did not see any posts on this, so to the best of my knowledge this hasn't been done before. And this is also my first posted mod.
This week I received my PETG order from OMC. I had ordered mainly thick walled, but I also ordered some medium walled to experiment with. I started replacing barrels on my guns with thick walled, but when I got to my second Airtech 2000, I decided to use the medium walled. I discovered a very unique thing about the medium walled PETG and my Airtech.
EDIT: After extensive testing, I have decided that this is not a viable long term mod. It is good for experimenting, but once you have decided on a barrel length, glue it in and put a coupler on.
What you need:
Airtech 2000
Screwdriver
Medium walled PETG (any length) (I used 2 barrels: a 6" barrel and a 1' barrel)
Electrical tape
Hot glue or other type of glue (only if you want to plug the overrelease valve)
(Told you this would be very easy)
Ok, start off by opening your Airtech, not too difficult.
Then take off the turret.
See the small barrel-type thing that used to attach to your turret? Slide your PETG over it. Perfect fit, right? I'm not talking about the thin long piece, I am talking about the base of it where it widens out. Medium walled PETG is a perfect snug fit over it.
To add stability, wrap E-tape around the end of the skinny tube until it is about the size of the inside diameter of the PETG.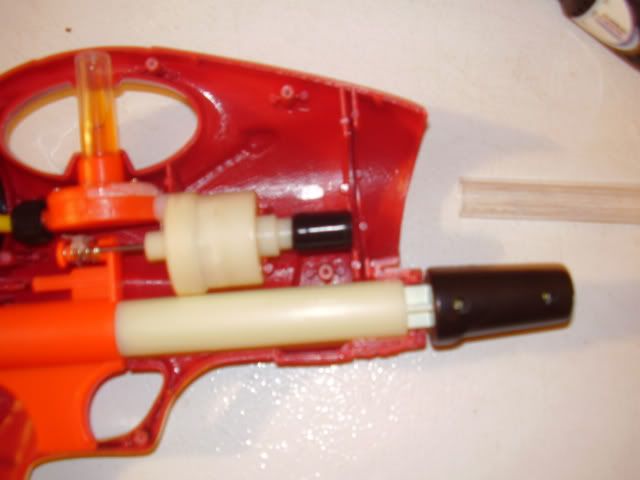 Once you have your E-tape just right, slide your PETG over.
Now plug the over release valve, put it back together, and it's done!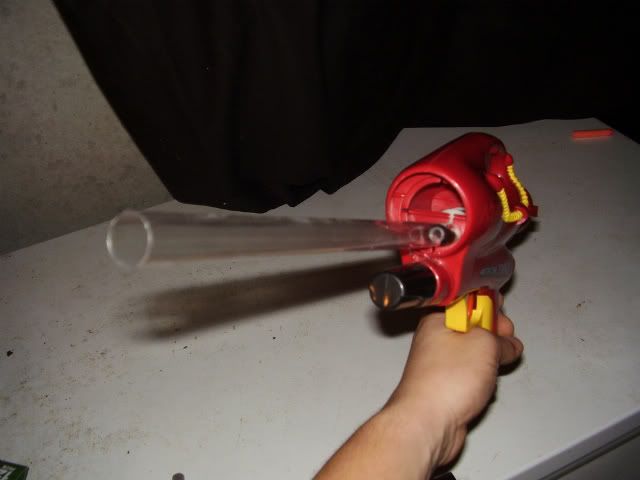 The cool thing about this is that you can replace the barrel without glue and you can even put in different lengths of barrel without opening up the gun.
Now onto what I feel might be a bit controversial.
The ranges that I got with this gun are ridiculous (at least to me) and that is why I am skeptical even myself about them. According to my memory (which isn't that good), I think most airtechs get around 100'. Please correct me if I am wrong. But I got 150 feet.
I tested level, with a streamliner that had been filled with hot glue. It flew very straight, and went about 20' farther than my crappy stefans. There was a small, steady breeze and I fired both with the wind and against the wind. When fired with the wind, they got 170', and when fired against the wind they got 130'. This is how I got the figure of 150'.
I also fired at a mountain dew 12 pack box to test the sheer power of it. I fired 3 stefans into it from 10' away. The BB's in all three broke off and punched right through the first side. One of the BB's actually lodged itself into the other side. This is more power than I have ever seen, but please correct me if this power is standard of a modified airtech.
Here are some pics of the box: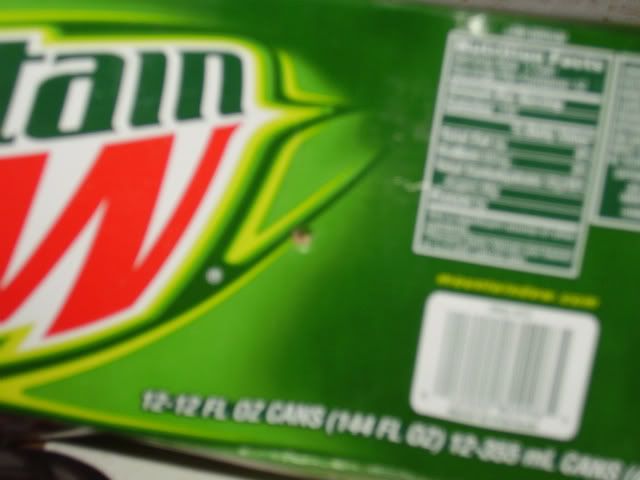 Sorry about the crappy pics
All in all I like the setup and easiness of this mod. It allows for instant changing of barrels and seems to get incredible ranges. Tomorrow I am going to test again and make sure that the ranges are accurate. Please tell me if you think these ranges are reasonable.
Edited by StephenColbert, 21 March 2008 - 11:05 PM.