So I posted a topic awhile ago about this, and a few people asked me to do a write-up, and I apoligize for the delay and to any administrator/moderator/overbearer who reads this, I hope it do this to your liking, this is my first write-up. Thanks to Forsaken_Angel24 for showing me how to resize pictures. So unto the mod...
Parts needed:
-Big Blast
-Super Glue
-Hot glue + Gun
-PETG
-Maverick turret with all parts to it (including the long rod thing that holds it together)
-Dremel (with grinding bit)
-Patience
First off, this is what you'll be making...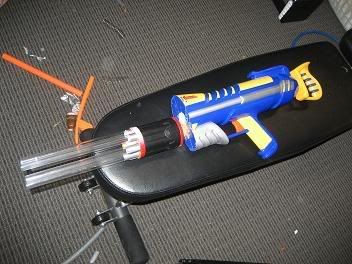 So really the only hard part of all this is actually getting the turret on there. Once you've got it on just coupler/pump-plug mod it and you're done. So first you need this part from the maverick...
And to show where it is on the maverick, it should be in the center hole on a normal Maverick...
Now if you look down the barrel you can see the little barrels inside the turret have been cut away/dremeled so the PETG fits...
So here's what a normal turret looks like, and then taken apart into three sections...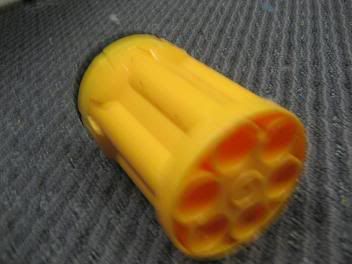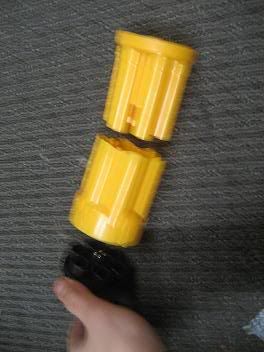 So take this part of the turret and hacksaw/dremel it off. Try to make it as clean as possible, if not just sand it down till its all flat...
Now this is the part where you need a dremel. Grind out those holes until you can fit PETG through it...
Now do the same thing to this part of the turret with the exception that you want to make hole in the bottom of each part of the turret. You want the PETG to fit tightly in it...
And what it should look like at the end...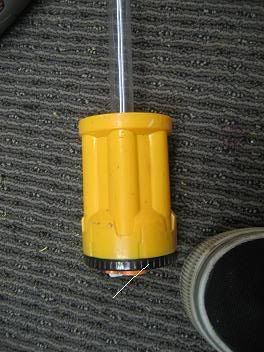 Now do that six more times and then put a piece of PVC in the coupler and dremel it down so that the PETG fits because it won't go in otherwise. Also don't forget the Metal rod that holds the turret together...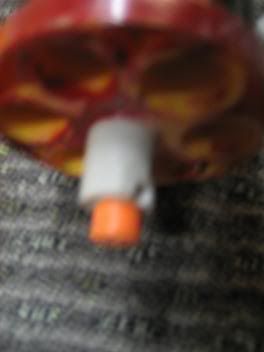 Honestly I wouldn't use this gun in a war, like I said it was more a concept. However use it to your liking. thw whole process took about an hour. You can decide how long you want your barrels to be. Basically you just twist the turret and push in another barrel, pump, and fire. Enjoy!
~Shadow~