Been thinking about this, and this might be worth a discussion.
Hasbro has aquired Kenner, and could easily reproduce some of the toys from their Ghostbusters line once the new movie comes around.
I mean they had previous toys that got quite close already in terms of style (Neutrona Blaster, Rapid-Fire Ecto Blaster, etc).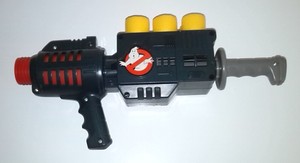 Then I was looking at some of the recent Nerf blasters, and a thought crossed my mind: Which of the current line of blasters would make great Ghostbuster toys?
Not just as in "slap a GB sticker on it" and maybe a white paint job, but as in an actual toy for the (inevitable) GB3 line.
The ones I would think of would of course be the Vortex line, because the Proton already feels like a Hand-held-ghosttrap IMHO.
Dunno, but what do you guys/girls think about this?