So today I tried to modify my Titan to shoot a spray of airsoft BBs designed to discourage avian habitation of the phone lines near my house. Unfortunately, my design was not as functional as I would have liked. In light of my failure, I developed an interest in modifying the Titan for indoor, close-quarters use. All existing mods of this weapon I've seen have focused on extreme-range engagement, so I decided to establish a different role for the weapon. The design I came up with uses a foam pool noodle, a cleaned-out Double Shot shell, and the existing threads beneath the rocket barrel. Here it is: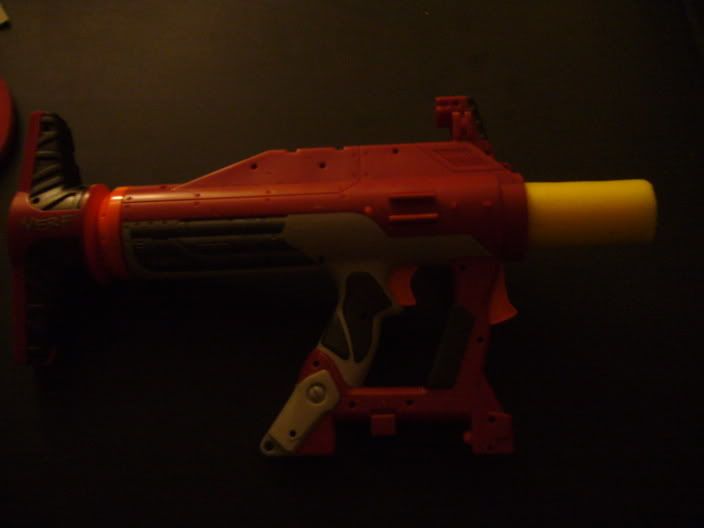 Detail of the "barrel" within the cowling:
Rear view of the "barrel":
My problem lies in the power output I'm getting. My ranges are between 30 and 60 feet, depending on pumps. With five I get ~40 feet, with 10 ~50, and with 15 or more ~60. I haven't removed the air restrictor yet (no dremel, don't know what else would work), so that's one potential issue. I'm also using stock tagger micros, if that helps. I seek advice on how to improve my design WITHOUT having to go to Home Depot, since the nearest one is quite far away. Any suggestions, observations, and helpful flames would be appreciated. I want to keep the gun's ranges between 50 and 100 feet, but keep it a relatively powerful indoor primary.
EDIT: fixed the pictures and some spelling.