I am sort of new to nerfhaven, so please forgive me if I do something wrong.
I was checking out the local Wal-mart's clearance aisle, when I spotted a Star Wars dart gun on clearance for $11. I decided, why not, lets try it out.
When I got back home and tried it out, the dart lobbed to the ground, a mere 10 feet in front of me. I was obviously disappointed. But instead of tossing the gun in the trash, I decided to take a try at modifying it.
Here is the gun, after modification: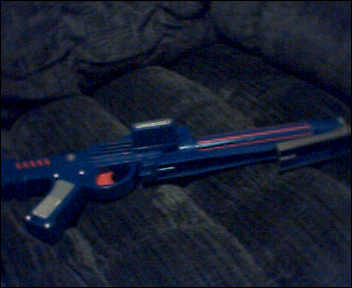 Sorry that the picture is such crappy quality, but all I have is an old webcam that belongs to my friend.
Also, sorry I don't have a picture of the internals. I might try to get some up tomorrow.
It doesn't look much different after modification then it did stock, other than an orange ring on the end I had to pry off to get the gun open.
First and foremost, the gun's air restrictor is a pain to remove. I had to actually cut the plunger barrel to get to it, because it has a plunger stopper that I couldn't get to. I hotglued the plunger barrel on afterwards, and it works fine.
I did a few modifications to it: Added a spring, wrapped a few holes with etape, and put some lube on the plunger (which is almost bone-dry in stock form).
After re-assembling the gun, it fired quite well. I wish I could get ranges for it, but its midnight, and its raining out. It looks like it will get a good 50 feet though, after firing it across my living room.
EDIT: I got the ranges today:
Stock Tagger Darts:
37'
36'
44'
Average: 39'
Stefans:
38'
46'
39'
Average: 41'
Sort of inconsistent, but it was cold out.
I will try sometime this weekend to get some pics of the internals, and try to do a sort of writeup on this, and hopefully get put in the directiory.
Edited by NerfGnome, 20 October 2007 - 07:58 PM.