I did this mod a month or so back, but I've finally found time to post it. I haven't been able to mod at all, being away from home for college and all.
Anyways, here's a mod straight from the hard drive.
The gun is called the Professional by a small company named Airzone (it was kind of like buzzbee or lanard back in Max Force days). Thanks to
orange
for helping me identify the gun.
It's a small pump-operated pistol. The mod is simply a barrel replacement. All that is needed is 1/2" CPVC (or barrel material of your choice), adhesive of your choice (hot glue will do fine), a phillips screwdriver, and a flat-head screwdriver.
First we open the sucker up. Take out the fake magazine in the handle and take off the orange pumping slide (two screws).
The area under the barrel is glued together, so use the flathead screwdriver to pry apart the shells and break the glue. If it doesn't work, you could use an x-acto knife to cut away at the glue until you can separate the gun. Beware when removing screws--they are different sizes. Be sure to remember where the large and small screws go, or just leave them in the case like I do.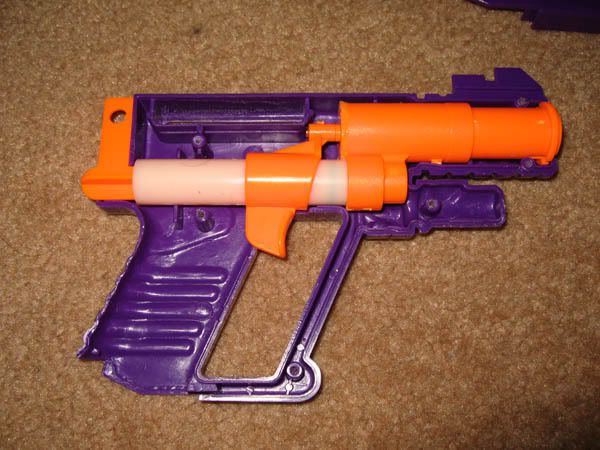 Here are the internals. Notice how the pump is reversed from normal nerf guns (so you can use the orange slide to pump it from the back).
It also seems like there is no overpressure valve. My thought is that since the pump is so small, it can't hold much pressure anyways--or the overpressure valve is located somewhere else? I'm not entirely certain about this.
So onto the barrel replacement. The stock barrel just pulls right out of the air delivery area (similar to how the stock NF barrel just comes off the plunger chamber). The air restrictor is inside the stock barrel, so you don't have to worry about removing any additional air restrictors. Now glue/goop/epoxy your replacement barrel right onto the end of the airtank, making sure it is straight. I used a piece of leftover 1/2" CPVC from another project.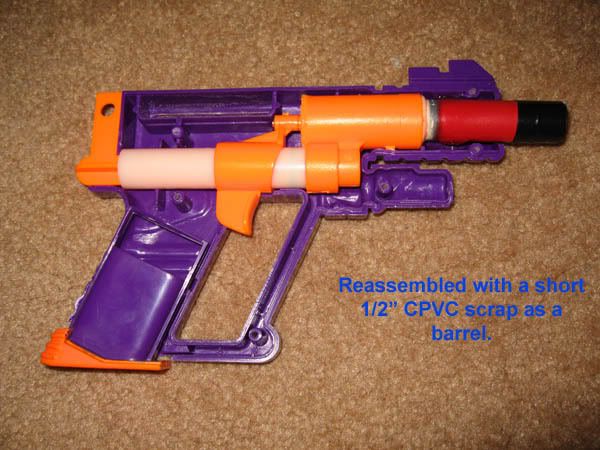 Lay the internals back in place and we're done. Close up the gun.
Not related to the mod, I think this was interesting about the gun: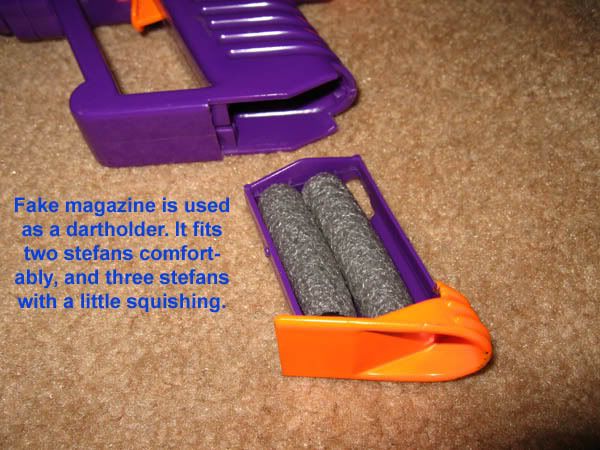 Anyhow, here is the overall gun with barrel: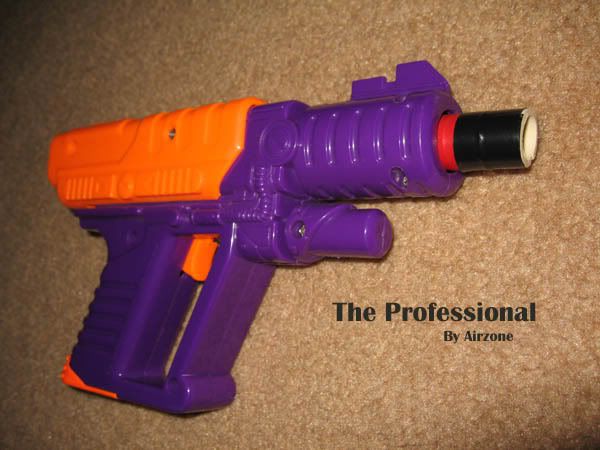 It now gets range in the low 40's (flat range). It's not very high, but it's a very small and cool-looking pistol. The accuracy is great, so long as the barrel is put on there level. Experimentally, it seems that 6-7 pumps is optimal because the pumps are so short and tiny. Enjoy.