I have been experimenting around with inlines the past week or so. This here is the easiest thing to make ever. It will take you literally 5 minutes. Almost anyone can do it.
I'd like to first thank CARBON and FROST VECTRON for there ideas/materials on the inline clip.
I don't think anyone has posted this so, I guess I will.
MATERIALS NEEDED:
1/2" PVC (atlleast a foot probably)
2 inches of perfect fitting material(PETG for me)
coupler (1/2" PVC coupler)
etape
THAT'S IT!
PROCEDURE
1)Cut your PVC down to how long you want it. I made mine hold 4 darts.... It's 10 inches long.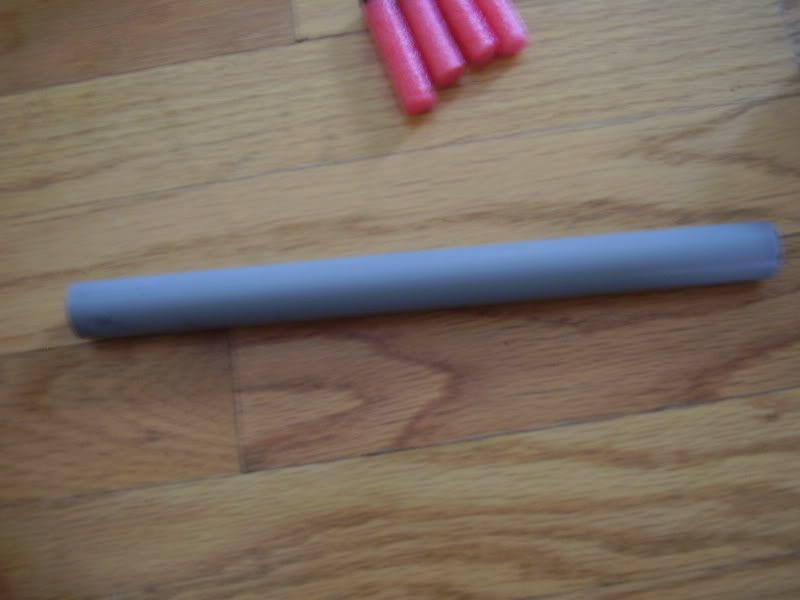 2) ETAPE(yes etape) your 2 inch barrel in on one end of the PVC. The etape should make it very tight and the barrel should NOT move in the PVC.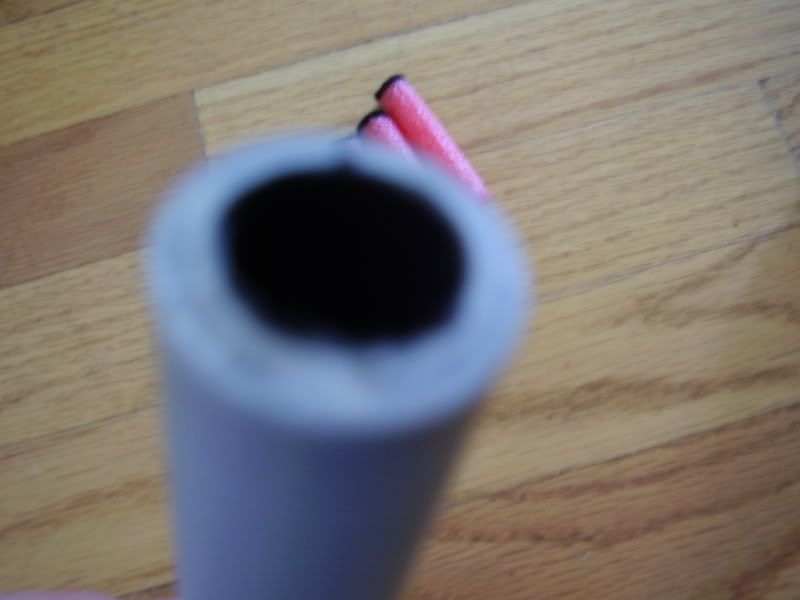 3) Put a coupler system on a powerful gun like the at2k or maxshot. You can use the regular quick in slip coupler or a screw on adapter(Thanks FV). Either one works fine.
4) Load 4 darts down the blank end(none barrel end of your PVC). ANd shoot!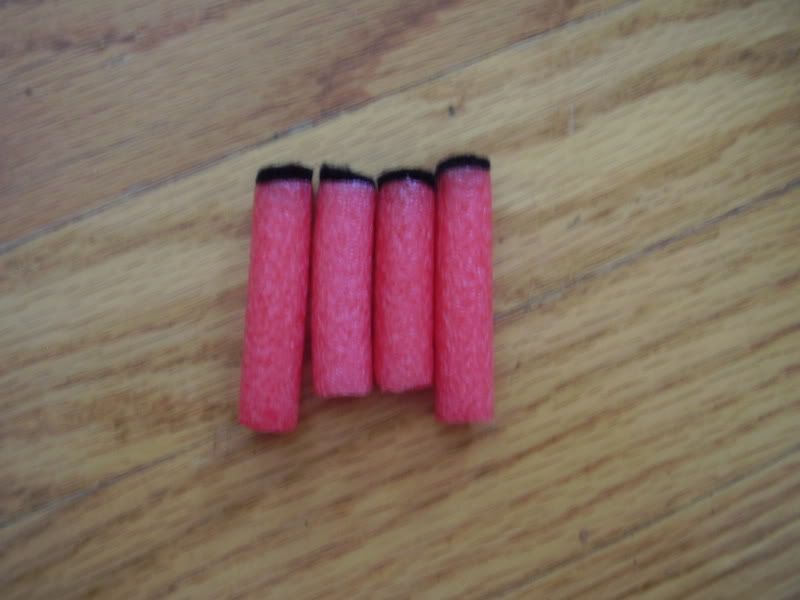 IF YOU ARE USING A TIGHT FITTING BARREL, ADD A WEIGHT! YOu can use brass, cpvc, etc. Frost vectron sent me a couple 1/2" steel spacers. They work great! Here are some pics. I etaped one of them, so it would not slide through the PETG.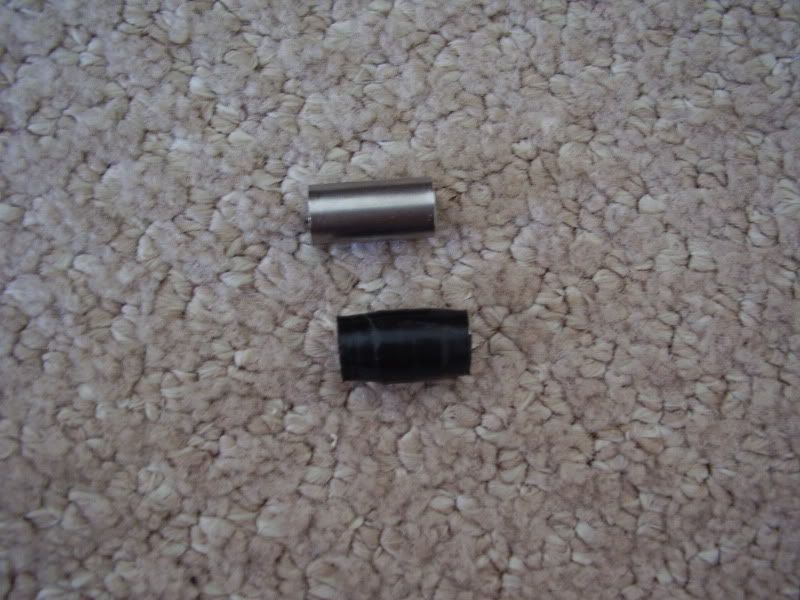 They also fit well in at2k turret stubs!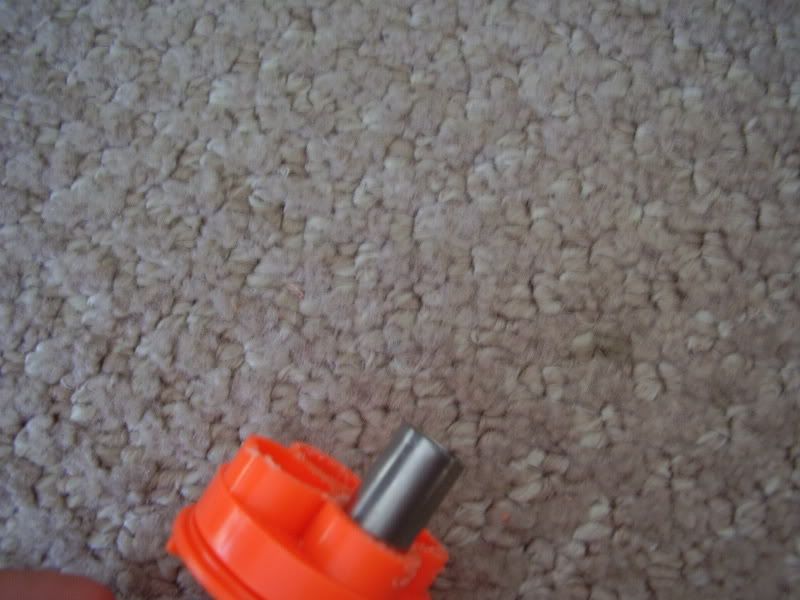 HOW TO SHOOT/RELOAD.
1) load the number of darts in.
2)point slightly to the ground. VERY quickly or your most likely going to get a double shot.
3) shoot.
4)repeat step 2 and 3 untill no shots are left.
RESULTS
There has never been a misfire(no dart leaves the barrel) on this yet. I've shot this over 75 times for sure. The only SLIGHT problem I've had is that about oncve in every 5 loads I double shot. I personally don't like it, but it does give a mean shotgun!
To prevent the double shot just point it like 5-10 degrees DOWNWARD. Thats's all. This thing has been great to me so far. It's awesome dealing with no weights, etc/
RANGES
With the maxshot single barreled I averaged about 90-95'. With this Inline Simple Clip ALL 4 shots end up in the mid 80's. My max hit 90'. So I'm losing about probably 7' in range, but have 3 more shots.....
The ranges are VERY consistent. You wouldn't believe it. All the shots end up within a foot of each other.
IF YOU ARE HAVING TROUBLE:
Here's a quick problem and solution guide.....
PROBLEM- NO DARTS COME OUT WHEN I SHOOT
Answer- tilt the gun more downward AND/OR add a weight. Also your barrel material may be TOO tight.
PROBLEM- WHEN I SHOOT 2 OR MORE DARTS COME OUT AT ONCE AND I DON'T LIKE IT.
Answer- Tilt the gun less and if you are using a weight, try using the inline clip without the weight. Also your barrel material may be too loose.
Thanks for looking. Questions?
Edited by nerfer34, 05 November 2008 - 10:01 PM.